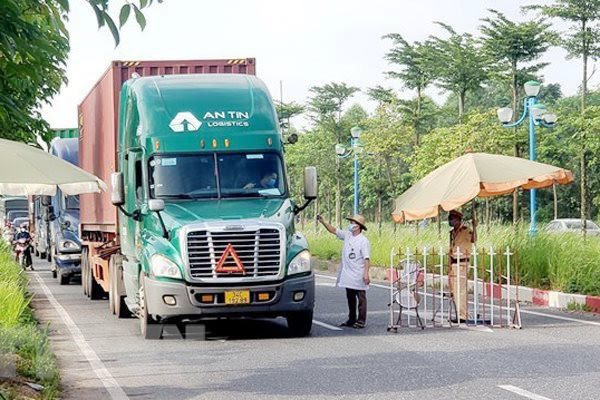 Trucks are stopped at a Covid-19 checkpoint for inspection - PHOTO: VNA
HCMC - The Ministry of Health has asked 63 cities and provinces nationwide to conduct quick Covid-19 tests for truckers transporting goods.
In Official Dispatch No. 5982 signed by Deputy Minister of Health Do Xuan Tuyen, the Ministry of Health asked the Ministry of Transport and provincial governments to distribute quick Covid-19 test kits that have been allocated to the local authorities to perform Covid-19 tests on truckers in an effort to ensure the smooth transportation of goods amid the complicated Covid-19 situation.
The provincial departments of transport and health are in charge of conducting the tests and confirming the test results. They are asked to work closely together to ensure the efficiency of Covid-19 testing.
Based on the Covid-19 situation, the local governments can adjust the number of test kits allocated to each locality.
On July 19, Deputy Minister of Health Do Xuan Tuyen signed an urgent document on Covid-19 testing for truckers and facilitating the transportation of goods, which was sent to the Ministries of Industry and Trade, Transport, and Public Security, and the governments of cities and provinces.
Accordingly, drivers must hold negative Covid-19 test certificates when transporting goods from areas imposing social distancing in accordance with the prime minister's Directive No. 16 to areas with more relaxed social distancing measures.
The tests can be conducted following real-time polymerase chain reaction or quick tests and the test results are valid for 72 hours.
Besides, the drivers are required to restrict contact with others and stick to their routes.
You might be interested in