Russia is ready to provide Covid-19 vaccines and transfer vaccine production technology to Vietnam, said Gennady Bezdetko, newly-appointed Russian ambassador to Vietnam, on Thursday.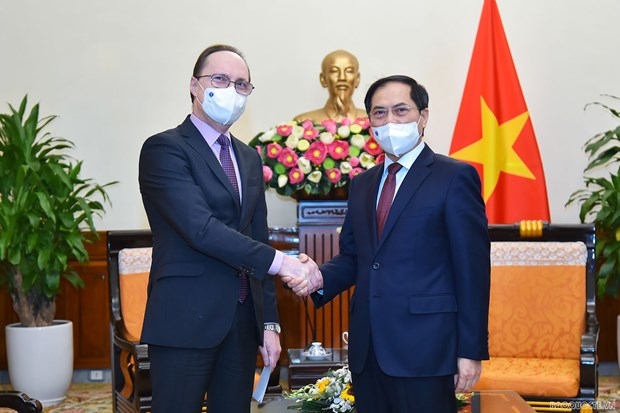 Vietnamese Minister of Foreign Affairs Bui Thanh Son (right) shakes hands with newly-appointed Russian Ambassador Gennady Bezdetko on Thursday. Photo Bao Quoc Te
During a face-to-face meeting with Vietnamese Minister of Foreign Affairs Bui Thanh Son in Hanoi on Thursday, Bezdetko affirmed that Russia will closely collaborate with Vietnam in COVID-19 prevention and control.
Bezdetko spoke highly of Vietnam's accomplishments in national development and heightening its position on the international arena.
Vietnam is among Russia's top priorities in Southeast Asia and Asia-Pacific as well, the ambassador affirmed, pledging that in his new position, he will exert efforts to deepen the bilateral relationship, practically benefiting people of both countries.
Minister Son said that the Vietnam-Russia relations have been flourishing despite adverse impacts from the Covid-19 pandemic, voicing his hope that Russia will continue helping Vietnam to get access to Covid-19 vaccines, transfer Covid-19 vaccine production technology and provide medical supplies, equipment and medicines for the Southeast Asian nation.
Vietnam always treasures its traditional friendship and comprehensive strategic partnership with Russia, considering it one of the top priorities in Vietnam's foreign policy, he said.
Son asked the ambassador to foster cooperation in the fields of politics, economy-trade, energy-oil and gas, along with relations between the two foreign ministries in an effort to strengthen the bilateral ties.
Russia is viewed as a great potential market for foreign businesses, including those from Vietnam, whilst also serving as a gateway for goods to enter the European market.
In return, Russian businesses entering the Vietnamese market will not only have the opportunity to invest in the nation, but can also consider the country to be a bridge between Russia and the community of 10 ASEAN member states that consists of over 600 million consumers.
The Vietnamese Ministry of Foreign Affairs will create optimal conditions for the Russian diplomat to well fulfill his tasks, Son said.
"Vietnam wants to step up cooperation in multiple spheres, including the exchange of delegations, especially high-ranking delegations," he was quoted as saying by Vietnam News Agency.
The Vietnamese Government has reached agreements relating to the transfer of technology for COVID-19 vaccines from Russia.
On Wednesday, Vietnam announced that it had manufactured the first test batch of Covid vaccine Sputnik V.
The first samples taken from this batch will be transported to the Gamaleya Center, the Russian research institute that develops the Sputnik V vaccine, for quality control.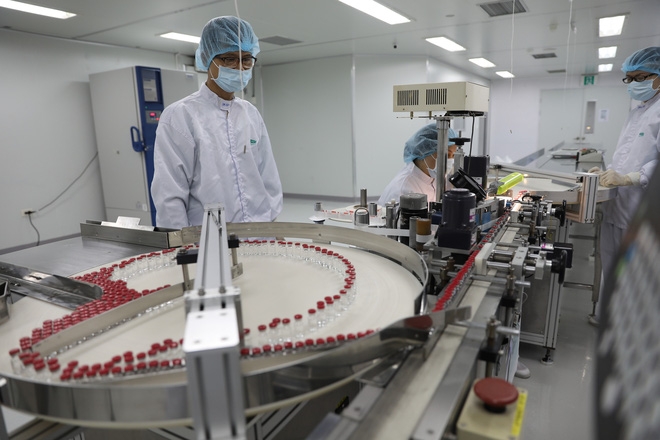 A Sputnik V vaccine production chain in Vietnam. Photo Nguoi Lao Dong
The vaccines manufactured in Vietnam will be used in the country's National Expanded Programme for Immunization, as it is dealing with a severe fourth wave of infections while the vaccine supply is still limited, Viet Nam News reported.
Sputnik V vaccine, which enjoys the title of the world's first Covid-19 vaccine to be approved for use, was given conditional authorization in Vietnam on March 23, following AstraZeneca.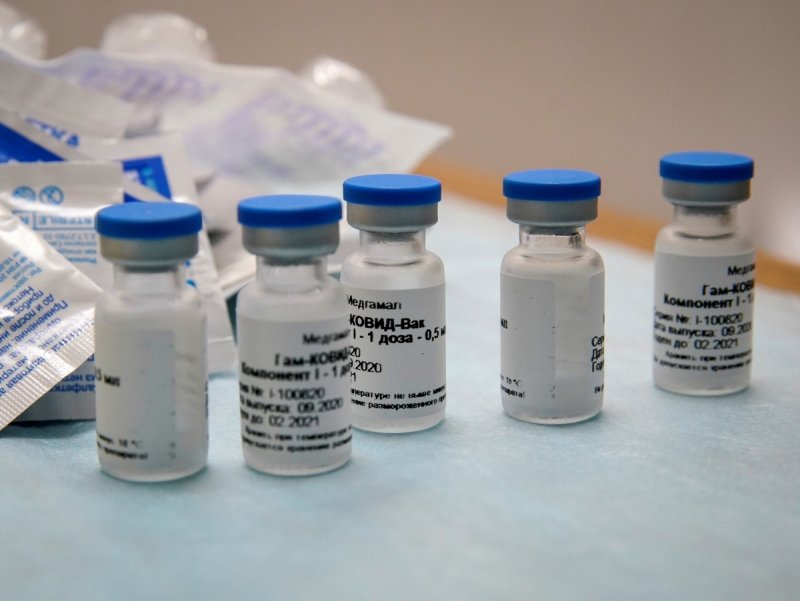 Rusia's Sputnik V vaccine proves to be more than 97% effective against COVID-19, acccording to the developer. Photo Reuters
T&T, a private group in Vietnam, has been approved by the Government to have negotiations with the Russian Direct Investment Fund for a deal of 40 million Sputnik V vaccine doses, using the budget that the group mobilized without touching the State budget.
Sputnik V is one of the Covid-19 vaccines that have a publicly available price (less than US$10 a jab), and also can be stored at standard refrigerator temperatures (2-8 degrees Celsius) without the need for ultra cold chain storage.
The vaccine makes use of heterogeneous boosting, meaning that it employs two different vectors for the two shots in a course of vaccination, which the developer claims to provide longer immunity than the ones that use the same delivery mechanism.
" "
Rosemary Nguyen
You might be interested in