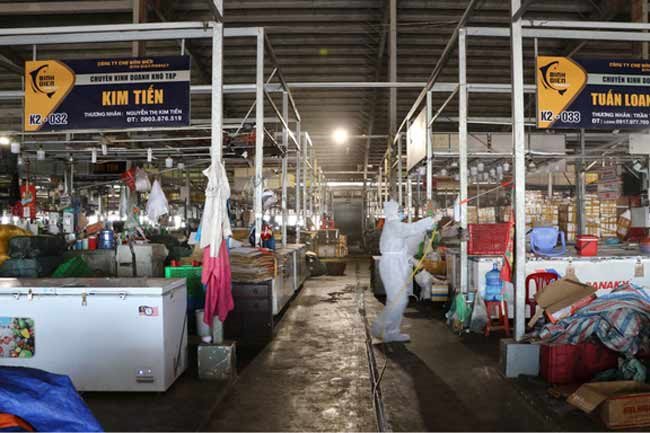 A health worker disinfects Binh Dien wholesale market in HCMC. A working team of the Ministry of Agriculture and Rural Development has suggested reopening three wholesale markets in the city - PHOTO: NLDO
HCMC – A working team of the Ministry of Agriculture and Rural Development has asked the HCMC government to reopen the Binh Dien, Thu Duc and Hoc Mon wholesale markets in HCMC as soon as possible to stop food and produce supply chain disruptions.
Two weeks ago the government of HCMC closed all its three wholesale markets and most of its traditional wet markets where Covid-19 infection clusters were found, leading to severe shortages of food and fresh agricultural products.
According to a report by Deputy Minister of Agriculture and Rural Development Tran Thanh Nam, head of the ministry's team which is in charge of directing the production and consumption of agricultural products in 19 coronavirus-hit southern cities and provinces, agricultural production had been stabilized and supplies of agricultural products had remained sufficient.
However, five issues must be addressed to cope with the unbalance between demand and supply of agricultural products, the local media reported.
Traditional wet markets and wholesale markets help consume 70% of the agricultural products in HCMC but the closure of the three wholesale markets in particular has disrupted the consumption of agricultural products which come from other provinces.
The Ministry of Agriculture and Rural Development also proposed the prime minister consider wholesale markets as providers of essential goods and services and allow them to operate during the implementation of the stay-at-home mandate. In addition, plant varieties, breeds and materials serving agricultural production and processing should be added to the list of essential commodities to ensure the long-term supply of farm produce.
The ministry also suggested extending the validity of food safety and hygiene certificates for three months for units producing and trading in agro-forestry-fishery products.
According to the HCMC Department of Industry and Trade, only 32 traditional wet markets in the city remain operational. Nine others have resumed operations after being suspended.
To reopen the other markets, the department has sent an urgent dispatch to the governments of Thu Duc City and districts and the management boards of three wholesale markets in the city providing instructions on how to make these markets safe.
Besides employing anti-pandemic measures, the three wholesale markets need to arrange accommodation and meals for laborers and staff to monitor people going to and from the markets.
The Ministry of Industry and Trade had earlier proposed reopening wholesale markets. During an inspection into some traditional wet markets in HCMC on July 21, Deputy Minister of Industry and Trade Do Thang Hai asked the management boards of markets to comply with the anti-virus regulations of the Ministry of Health and the city when the stay-at-home order is lifted.
You might be interested in