Colorful Vietnamese cuisine is the "super big, huge" attraction of the S-shaped country. Discover with Vinlove Vietnam which Vietnamese street food is "storming" food forums around the world. Please! From wrapped rolls, fried lace to mixed rice paper, street food is the best way to "enjoy" the cultural beauty of a land. Although local tastes may be different, in general, Vietnamese cuisine from the North to the South possesses a rich flavor – extremely "addictive" from the first taste. What Vietnamese street food is international tourists most excited about? Just find the answer below.   
1. Pho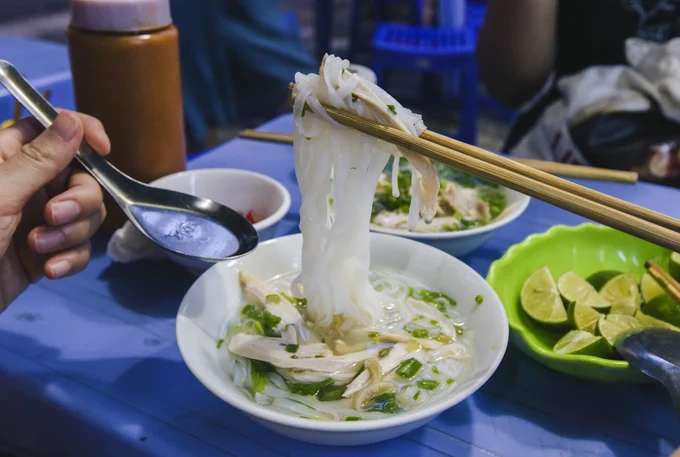 Pho is the choice that cannot be more obvious when talking about Vietnamese specialties. The soft and chewy noodle soup – usually made from rice flour – is served with savory bone broth, beef, chicken, coriander, and soy sauce. This seemingly simple combination turns out to create a real "taste explosion" – making pho a popular "national dish" in many famous tourist centers; such as Hanoi, Da Nang, Nha Trang, Vung Tau. Vietnamese pho is also transformed into many dry versions such as crispy fried noodles, fried noodles, noodle rolls… extremely attractive.
2. Bread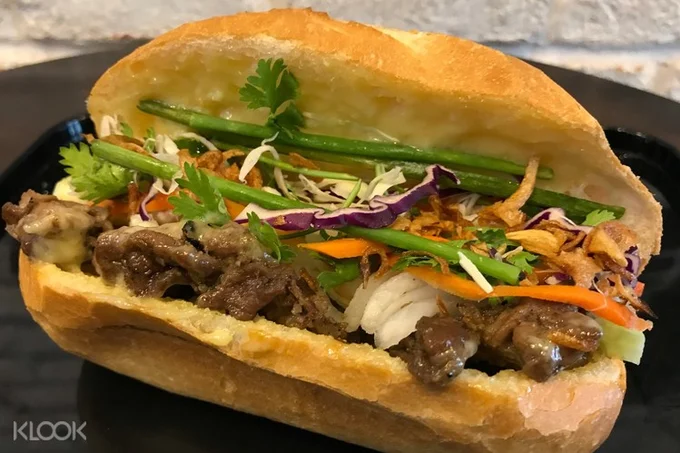 Inspired by the French baguette, Vietnamese bread quickly made its mark on the international culinary map with its distinct colors. Vietnamese bread has a crispy crust, soft and chewy inside – often served with coriander, onions, spring rolls, pate, eggs, pork, chicken… The bread filling is combined relatively randomly. , depending on the taste of buyers and sellers, so there was the birth of "legendary" names such as ancestral bread, banh mi dipped in milk, bread dotted with sugar, ice cream sandwich… 
3. Mixed Rice Paper
Ever since then, rice paper has become an indispensable name when talking about famous Vietnamese street foods. Mixed rice paper is simply riced paper cut into small pieces, mixed with beef sauce, coriander, shredded mango, roasted peanuts, dried beef or dried chicken. You can find mixed rice paper in most provinces and cities in Vietnam, mainly in the office, workplace and school areas. The price of a piece of mixed rice paper is quite soft – only from 10,000 VND to 50,000 VND. 
4. Baked Rice Paper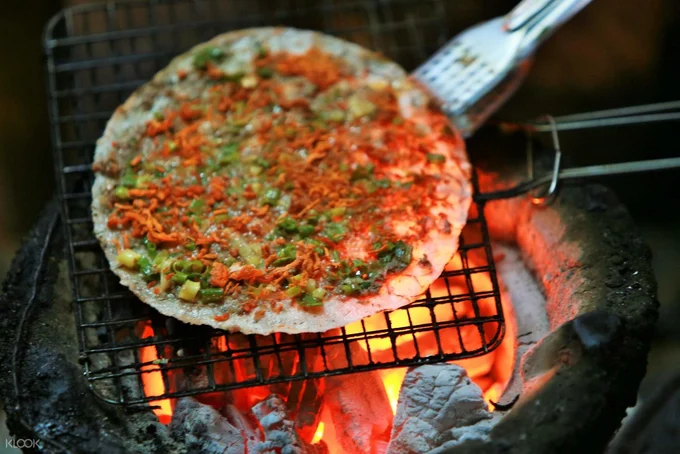 "When will grilled rice paper be available in Vietnam?" This is still an unsolved mystery. Just know that in the past 10 years, grilled rice paper is a "familiar" street food in Saigon, Da Lat, Da Nang, and more. Over the years, the version of grilled rice paper in each region has also changed a lot. If Saigon's grilled rice paper is simple with quail egg filling, onion fat, and shrimp paste, Da Lat's grilled rice paper is "fuller" than with sausages, meatballs… On drizzly days, you can take a bite What's more refreshing than drinking hot, crispy baked rice and then drinking a glass of iced tea? 
5. Beef Dry Salad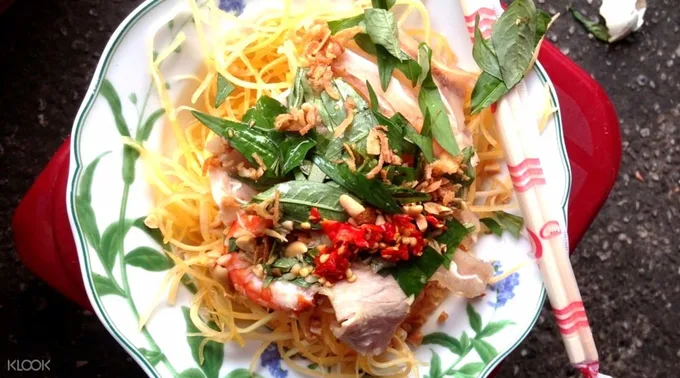 Many foreign tourists mistake Vietnamese beef jerky salad for Thai Som Tam salad. Although it is made with the same ingredients as grated green papaya, roasted peanuts, coriander, dried black beef… the taste of these two specialties is completely different. Beef dry salad is a harmonious combination of three flavors sweet – salty – spicy, eaten with crispy shrimp crackers is even more perfect. This is a popular snack among women because it is both delicious and not afraid of… gaining weight. 
6. Rolled Salad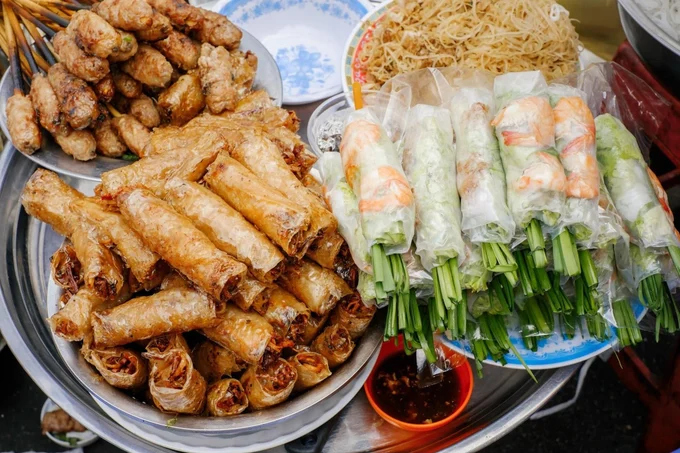 If you are looking for "healthy & balanced" street food, spring rolls are a great suggestion for you. Goi cuon is made from rice paper rolls, fresh vermicelli, shrimp meat, raw vegetables – dipped with black sauce or sweet and salty fish sauce depending on your preference. Besides shrimp and meat salad, spring rolls with skin or squid are also very popular among international foodies. Maybe you don't know: if spring roll in English is "spring roll", then spring roll is called "summer roll". 
7. Can cake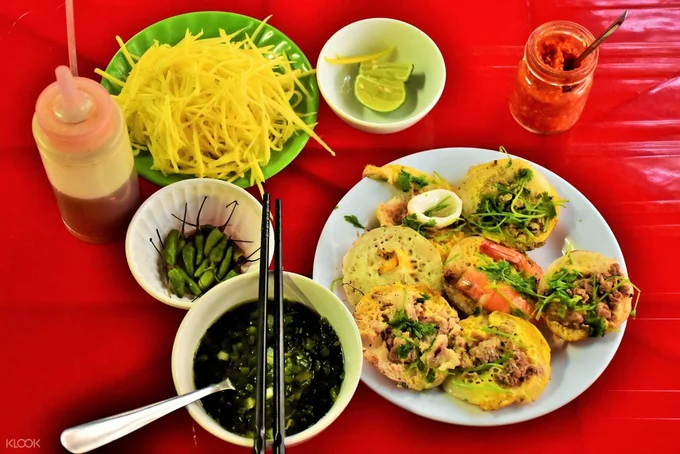 Can cake is a favorite specialty in many coastal cities, such as Da Nang, Phan Thiet, Vung Tau and Nha Trang. The crispy crust hugs the hot egg, squid or shrimp filling – add a little onion fat and then eat with spicy fish sauce or scad sauce are "excellently delicious". Banh Can brings a feeling of fullness for a long time, so it is a popular choice for lunch or dinner in Vietnam.
8. Banh Xeo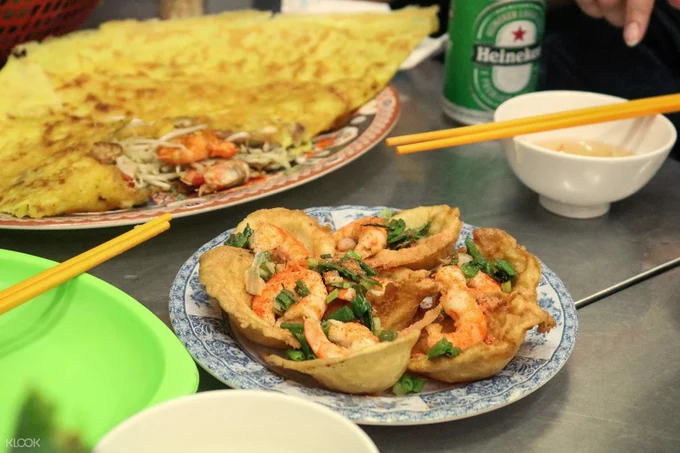 Famous as the "Vietnamese version of pancakes", but Banh xeo is a completely different culinary experience compared to the pancakes of European and American countries. Banh xeo is a savory dish, with an eye-catching golden crispy crust; The filling includes chives, shrimp meat or squid. When eating, people pack a piece of cake with raw vegetables and then dip it with spicy and sour fish sauce. Central pancakes are small in size with a fuller filling than Southern pancakes, but in general, this street food always "scores" because of its delicious taste and "chestnut" price.
9. Breaking Lau
To be fair, Pha Lau is quite a "difficult" street food for tourists from the West. The reason is that this specialty is made from animal organs – the part that is considered "unclean" in some cultures. The intestines – after being cleaned and seasoned with spices – will be fried until golden brown and then stewed with coconut milk. Pha Lau served with bread or instant noodles is a favorite dish of Vietnamese students, students and office workers.
10. Egg Coffee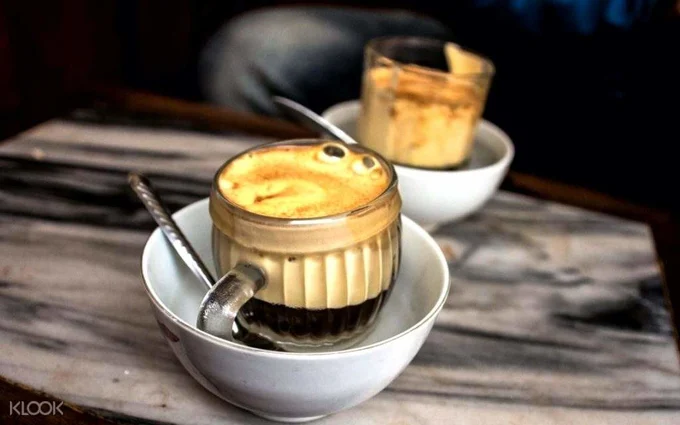 Vietnam is known as the land of smiles and… coffee. Vietnamese coffee is not only delicious but also rich – having the ability to "knock down" the most "heavy" #Vinlove. So, when knowing about egg coffee, many international friends were captivated by its lovely appearance and novel fatty and aromatic taste. If you want to drink standard egg coffee, you must definitely go to Hanoi capital – where the brand Cafe Giang has existed for more than 50 years. Just a cup of egg coffee for 30,000 VND is enough to recharge for a long active day.
11. Sweet Soup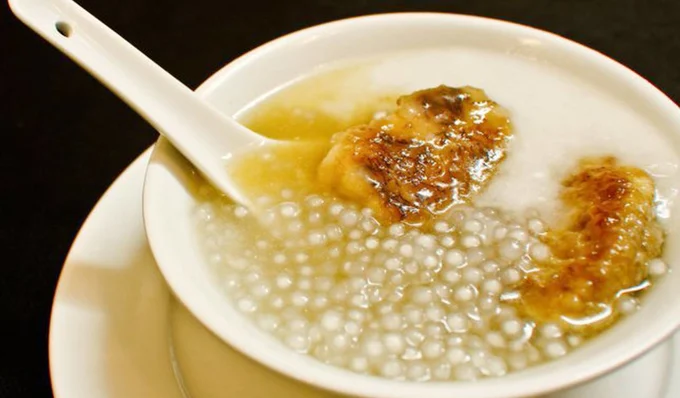 Just one word "Sweet Soup" encapsulates hundreds of super delicious and super sweet Vietnamese dessert recipes. The list of teas in Vietnam is unspeakable – varied from color, size to taste. The main ingredients commonly found in tea shops are coconut milk, glutinous rice, beans, sugar, fruit jelly, etc. Those who love the freshness can choose tonic ginseng, Khuc Bach Sweet Soup, Lotus seed Sweet Soup; and the sweet festival will surely love green bean Sweet Soup, three-color Sweet Soup…Does the above list of Vietnamese street foods make your stomach… throbbing? Plan to "eat clean" specialties of all regions in the upcoming self-sufficient trip.
You might be interested in