People in the Central Highlands have a famous dish of fried rice and grilled chicken near and far, while people in the South prefer broken rice "skin, palm".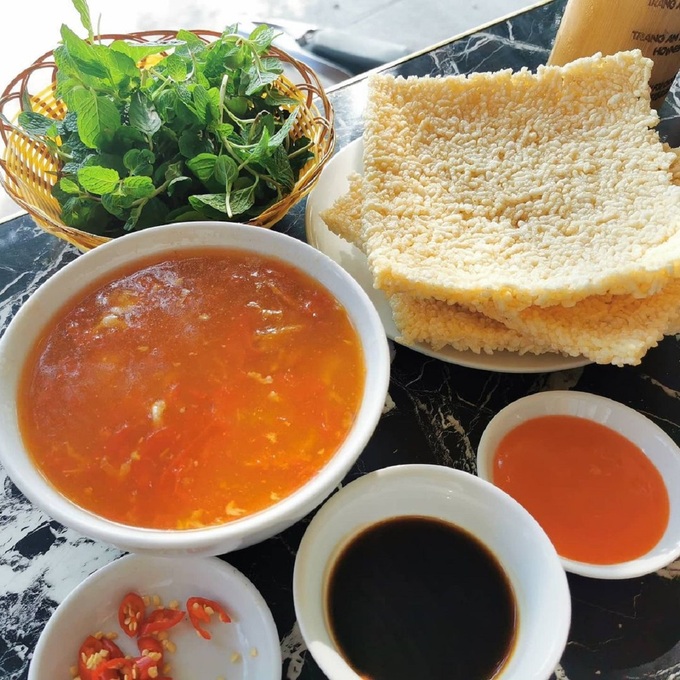 Burnt rice
 is a famous specialty in Ninh Binh. Cooks choose flexible rice, especially Hai Hau (Nam Dinh) eight fragrant rice cooked in thick cast iron pots. The rice taken from the pot is dried and preserved hygienically, avoiding mold, when it's almost ready to eat, it's crispy. Delicious elderberry is light yellow, evenly grained, crispy, and still flexible, often eaten with sauces, especially goat meat sauce. Visitors can enjoy this dish in Ninh Binh city, Hoa Lu district, Tam Diep district, or tourist areas are served. Photo: chopsticks_journey/Instagram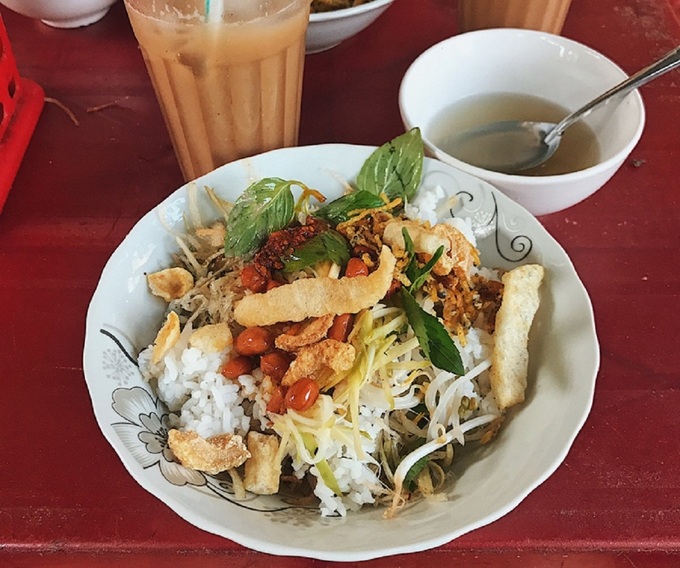 Mussel rice
 is a rustic dish associated with Hue. The most delicious mussels used to make rice are the mussels caught in the Hen islet floating on the Perfume River, in the territory of Con village, Vi Da ward. After the mussels are boiled, they must be washed thoroughly, removed the shells, and then put on the stove to stir-fry and season to taste.
When it's ready, the mussel rice vendors take a clean medium-sized bowl for raw vegetables including bananas, bamboo shoots, pineapple, star fruit and herbs, stir-fried chili peppers, stir the cold rice, then pour the mussels over the rice. in turn arrange other ingredients such as rice paper, pork skin, pounded peanuts, roasted sesame, grease on top, and drizzle a spoonful of fish sauce. The acrid, sour, numb, pungent, cool taste of raw vegetables and ingredients mixed together makes the taste of the mussel rice bowl more passionate. Photo: Ngan Duong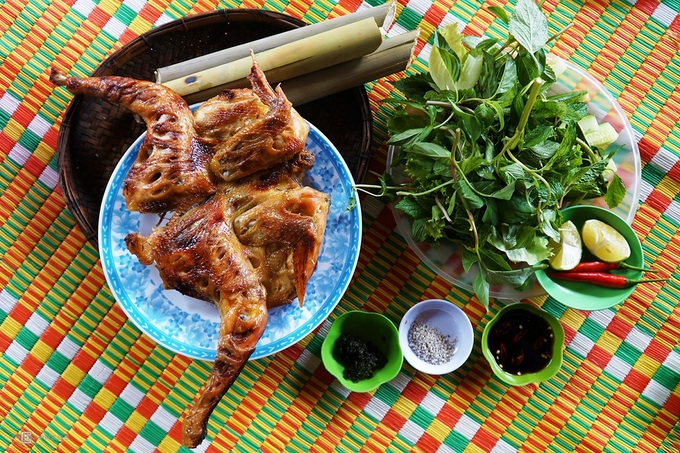 Lam rice and grilled chicken
 are some of the famous mountain specialties of the Central Highlands people. Lam rice is cooked in a young bamboo tube and covered with forest leaves. The cooked rice is soft and fragrant. A delicious rice dish must have delicious chicken, they are marinated with lemongrass, honey, red onion, crushed garlic, five flavors … clamped with bamboo sticks and grilled to golden, giving off a fragrant aroma. When enjoying, you peel the bamboo outside to see the rice inside, dip the rice with peanut salt, made from roasted peanuts, salt and a little sugar. Hot cooked chicken left whole, when eaten, chopped, and dipped with spicy basil salt, salt and pepper or soy sauce as you like and indispensable for a plate of green raw vegetables. Photo: Di Vy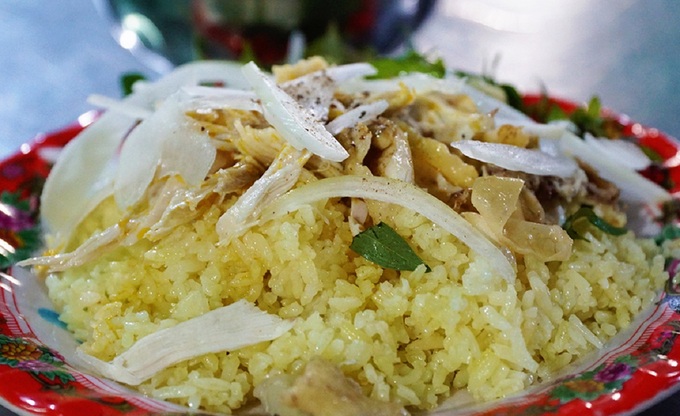 Famous 
chicken rice
 in localities such as Hoi An, Tam Ky (Quang Nam), Nhan mountain (Phu Yen) is characterized by dry, loose rice grains that are not friable. Chicken broth is used to cook rice, so the rice grains are naturally golden, smooth, and sweet with chicken flavor. Boil the chicken until cooked, filter the meat, shred and squeeze the salad with onions, fried onions, salt, lemon, laksa leaves. A cup of cabbage soup cooked with fresh ginger is a great support ingredient to enhance the flavor of the chicken rice dish. Photo: Di Vy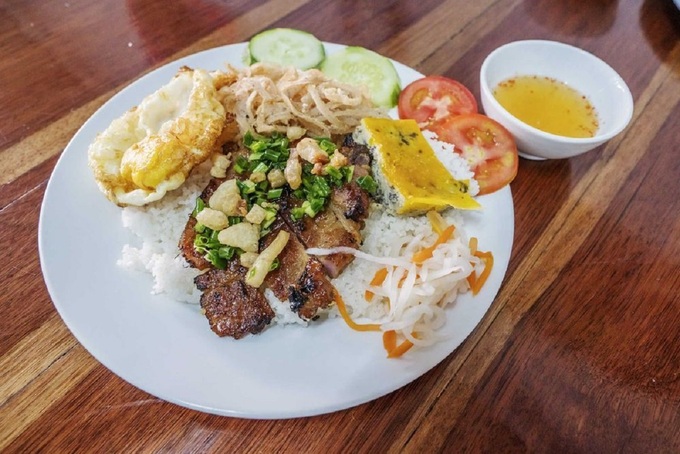 Saigon broken rice
 is a familiar dish found everywhere in Saigon, can be used as breakfast, lunch or dinner. The plate of rice "sa, ta, thuong" in the right style is cooked with broken rice, small, loose, non-porous rice grains, adding sour foods such as water spinach, white radish, cucumber, topped with grilled ribs, skin. , not fragrant. Those who like to eat eggs can order an extra piece of fried omelet. Grilled ribs are marinated with honey so they are not dry, soft and rich in flavor, the skin is covered with aromatic hearing and fatty onions, when eaten with a bit of fish sauce mixed slightly, it is delicious meal. Photo: Shutterstock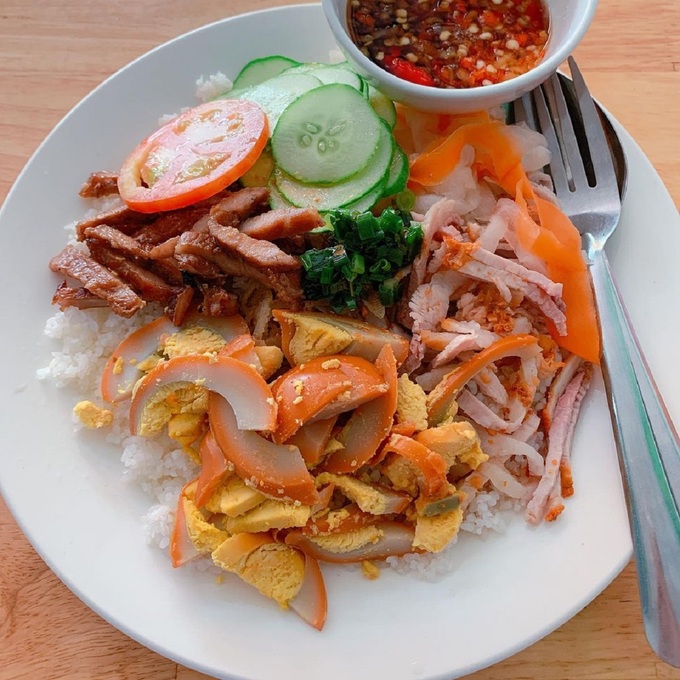 Long Xuyen broken rice is
 different from Saigon broken rice plate in that instead of using big grilled ribs, all ingredients in the plate of rice are beautifully thinly sliced and do not create a feeling of boredom for the eater. The plate of rice also has grilled ribs, kebabs, pickles, and a piece of braised egg that is thinly sliced ​​into small pieces. Long Xuyen broken rice uses broken rice, the rice grains are fine, but not as clear as ordinary rice, when cooked, the rice has a fragrant, sweet taste and is nutritious. Just smear the onion fat on the face and dip the well-mixed fish sauce, the broken rice is enough to feel delicious. Photo: utcung2108/Instagram. Follow vnexpress
You might be interested in