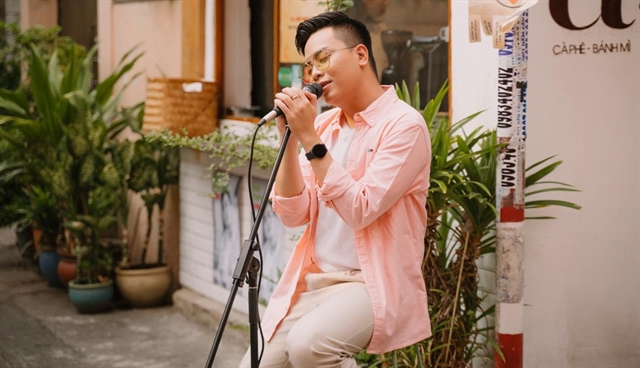 Young songwriter Hua Kim Tuyền performs in Eye Contact Live, a show on YouTube featuring street performances of Vietnamese singers. Photo courtesy of the producer
HCM CITY — Young songwriter Hua Kim Tuyền of HCM City, one of the most outstanding composers in the Vietnamese music industry, has written many hit songs and is known for his sweet voice.
The 26-year-old musician became popular after competing in Bai Hat Hay Nhất (Sing My Song), a TV reality show about original songs, launched by Viet Nam Television in 2016.
Tuyền said: "I began to write songs in 2011, but my mom didn't want me to follow a music career because she thought it was unstable. However, my passion and love for music changed her mind."
After Sing My Song, Tuyền was invited to write music for pop stars like Tóc Tien, Văn Mai Hương and Truc Nhan and well-known rapper Đen Vau, all of whom earned success with his songs.
"Working with these pop stars allows me to professionally experiment and improve," said Tuyền, who has been working as a music producer for St.319 Entertainment, one of the country's leading entertainment companies since 2017.
He wrote and produced six songs for young singer Amee's debut album "dreAMEE" in 2019.
His songs like Yeu Thì Yeu Khong Yeu Thì Yeu (To Love or Not to Love), Em Be (Baby) and Ex's Hate Me have become hits among young Vietnamese.
The album brought Amee the Best New Asian Artist Vietnam award at South Korea's MNET Asian Music Awards 2020.
On May 15, Tuyền along with Amee and rapper Grey-D released a MV Bai Ca Bầu Cử (Song of Election) to encourage young people to vote for the 15th National Assembly (NA) and all-level People's Councils for the 2021-26 tenure on May 23.
The song, part of the communication campaign "Toi Đi Bầu Cử" (I Go to Vote) launched by VTV Digital, quickly became viral.
Tuyền's latest composition is Giữa Đại Lo Đong Tay (Riding through East-West Highway), sung by Uyen Linh, winner of the TV reality music show Vietnam Idol 2010.
The ballad has gentle melodies and lyrics as a girl whispers to her loved one. The music video has attracted more than 1.8 million views on YouTube since its release on May 17.
Hồng Phượng Le, a YouTube viewer, said the song and Linh's voice reminded her of her innocent and playful youth, when she had no worries and responsibilities.
Singing career
Although Tuyền is popular with dozens of favourite hits, he is known for his sweet voice. In July 2020, Tuyền debuted as a singer with his song Hoa Kỳ (American Dream) as a way to send best wishes to overseas Vietnamese. 
The song featuring young singer Hoang Dũng was popular among many people in Viet Nam and abroad.
Trần Minh Thư, a resident in Đồng Nai Province, said: "Both Tuyền and Dũng's voices are sweet. Thanks to such a meaningful song, I miss my best friend so much."
Hoa Kỳ is a song from Tuyền's music project called Colours consisting of compositions reflecting different facets of life and love.
The project has introduced two songs Ưoc Mơ Của Mẹ (Mother's Wish) about a mother who devotes her life to her children, Nếu Mot Mai Toi Bay Len Trời (If I Fly to Heaven One Day), which tells stories of children who suffer from congenital heart disease, featuring Văn Mai Hương and Truc Nhan.
Tuyền said: "I also want to encourage people to live optimistically and treasure their life, and remind them of appreciating those who are always standing by them, and what they have done for them."
On March 28, Tuyền released Sai Gòn Đau Lòng Qua (Dear Sai Gòn! It's Hurt), a ballad about sad memories of a couple after a breakup.
The song featuring Hoang Duyen became a viral hit among music fans, attracting more than 35.6 million views on YouTube.
Tuyền received a great welcome from music fans while performing in Xuan Hạ Thu Đong Rồi Lại Xuan (Spring, Summer, Autumn, Winter, and Spring) broadcast on HCM City Television (HTV) from January to May.
Its videos have earned tens of millions of views on YouTube.
He is also participating in Eye Contact Live, a show featuring street performances of Vietnamese singers, which is being streamed on YouTube. — VNS
You might be interested in