A trade fair featuring more than 150 quality Vietnamese products is being held from June 24-27 in Udon Thani province, Thailand, to celebrate the 45th anniversary of Vietnam-Thailand diplomatic relations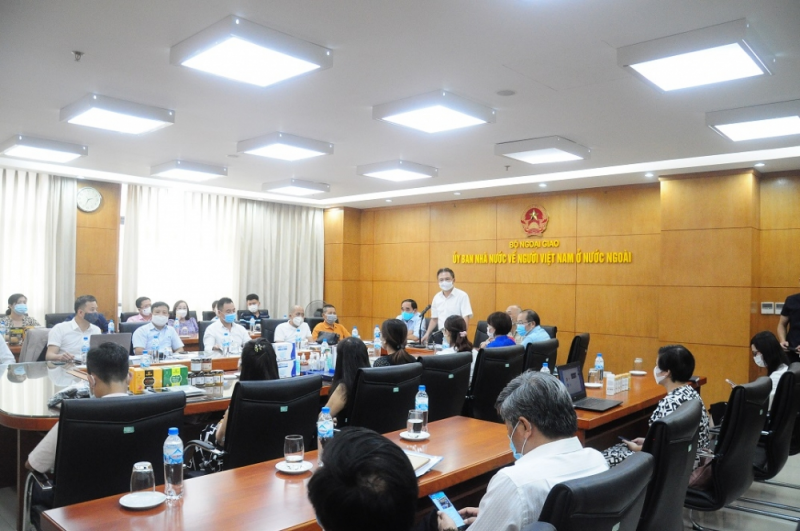 Vietnamese products to make an impact in European markets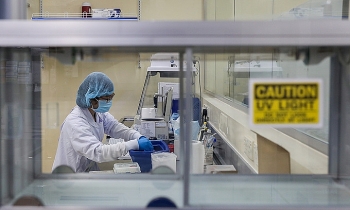 Vietnam news today (January 3): Numerous key Vietnamese products to enjoy advantages from UKVFTA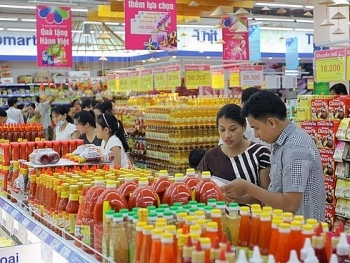 "Vietnamese people use Vietnamese goods" campaign dominating local distribution network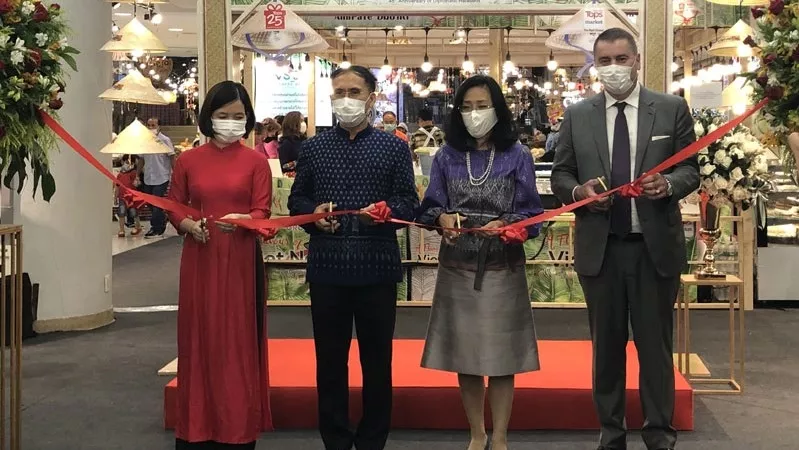 Delegates cut the ribbon to open the event. Photo: Nhan Dan
"Vietnamese Goods Week in Thailand - Udon Thani 2021" themed "A Flavour of Vietnam" aims to strengthen relations between the two countries, promote Vietnamese products in Udon Thani, and create opportunities for Vietnamese businesses to introduce their products to Thai customers.
The event's opening ceremony saw the attendance of representatives of the Vietnamese Embassy in Thailand, the Vietnamese Consulate General in Khon Kaen, the Vietnam Trade Office in Thailand, the authority of Udon Thani province, the Central Group, the Vietnamese Association in Udon Thani province, Thai- Vietnamese Business Association and a number of overseas Vietnamese in the Northeastern provinces and Thai customers.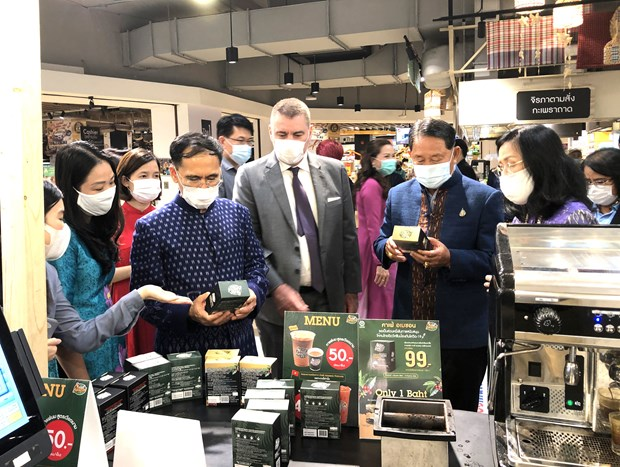 Delegates visit a booth at Vietnamese Goods Week in Thailand - Udon Thani 2021. Photo: Vietnamplus
Speaking at the opening ceremony, Emmananuel Couronne, merchandise director of Central Food Retail, said that the Vietnamese Goods Week in Thailand was an important annual event for the Central Group.
This year's event is special when it is held on the 45th anniversary of diplomatic relations between Vietnam and Thailand.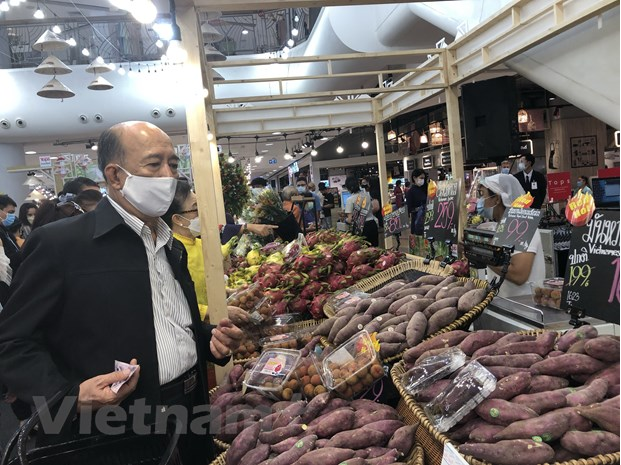 Customers shop for Vietnamese agricultural products. Photo: Vietnamplus
Emmananuel Couronne said that the event served as a good opportunity to foster the Vietnam-Thailand ties, as well as help businesses learn, expand connection channels and meet the needs of consumers of the two countries.
In addition, Central Group and its partners hoped they would act as a channel to promote Vietnamese products in Thailand and around the world.
Tran Thi Thanh My, Vietnamese trade counsellor in Thailand, said that through the event, Vietnamese businesses would have more opportunities to introduce their goods to Thai people and international friends.
She added that amid the complex Covid-19 situation, Vietnamese Goods Week was significanct as it could opening up a consumption channel and assist businesses in delivering products to consumers.
She said that although the number of businesses and products were limited due to difficulties caused by the pandemic, Vietnamese products displayed at the event would conquer in the local market.
She also hoped that the Vietnamese Goods Week along with other trade promotion activities such as fairs, exhibitions and trade delegations would continue to be held to beef up economic and trade cooperation, contributing to the good relationship between the business community and the the two countries.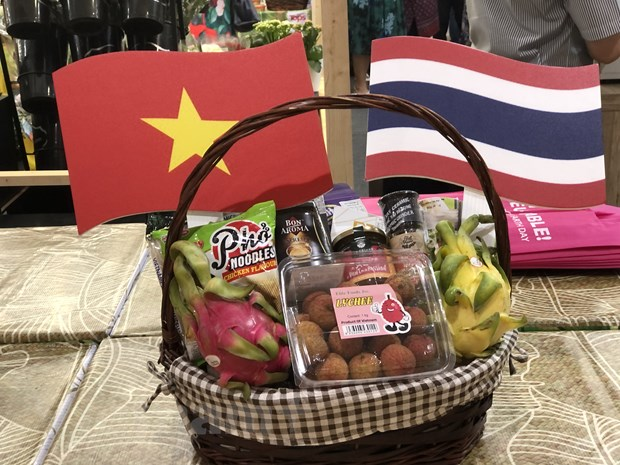 Vietnamese agricultural products are sold at the event. Photo: Vietnamplus
Wanchai Janporn, deputy governor of Udon Thani, said that the locality had a lot of potential because it was located on Thailand's main transport route and identified as one of the 10 tourist destinations combining meetings, incentives, conferences and exhibitions.
Udon Thani is not only the trade and investment center of Northeastern Thailand, but it is also a crossroads in terms of railways, roads and air routes, connecting Laos and Vietnam.
More importantly, the province is home to the largest number of overseas Vietnamese in Thailand, which demonstrates the close relationship between the peoples of Udon Thani and Vietnam. Wanchai said that he believed Vietnamese Goods Week would be successful.
The organizing committee has displayed and sold a number of agricultural products imported by the Central Group from Vietnam such as lychees, dragon fruits and sweet potato. In particular, nearly 200 kg of Vietnamese lycheesquickly sold out. The stalls selling traditional Vietnamese dishes such as pho and spring rolls were also warmly welcomed by customers.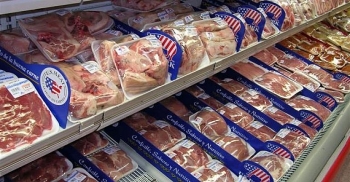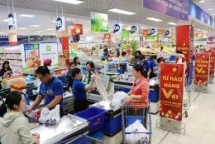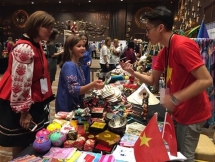 Malie Nguyen
You might be interested in