Vermicelli in Hanoi has deep-fried fish and sour broth, Thai Binh vermicelli with turmeric fish, and in Da Nang, mackerel vermicelli, fried fish ball.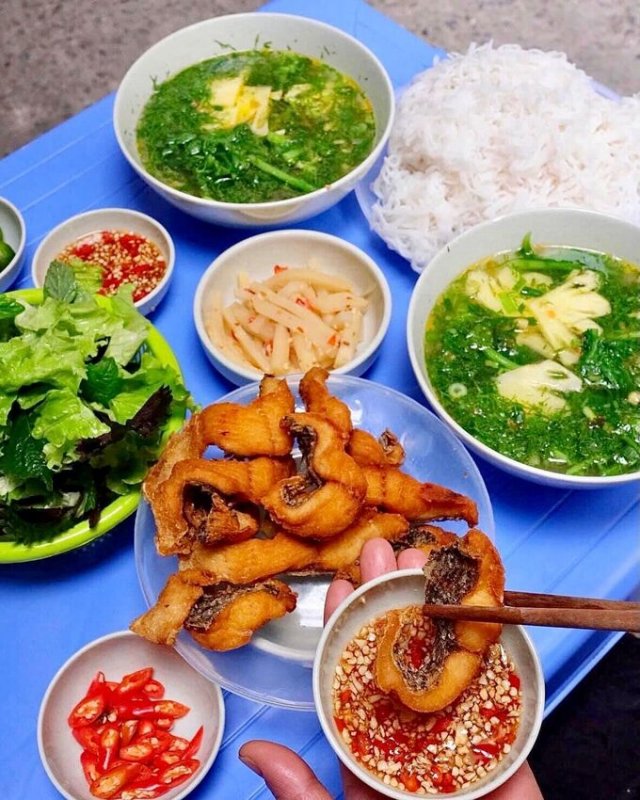 In Hanoi, fish noodles are often used in breakfast or lunch for people who want to change their taste. In which the broth is cooked sour with vinegar, tomatoes served with vegetables such as longan, vegetables, dill, onion, pineapple. The fish is usually cut into pieces with about 2 fingers and marinated with ginger, spices, and crispy lemongrass. In addition to eating vermicelli, diners can enjoy vermicelli with separate fried fish, sweet and sour chili garlic sauce. Photo: Wintoie/Instagram.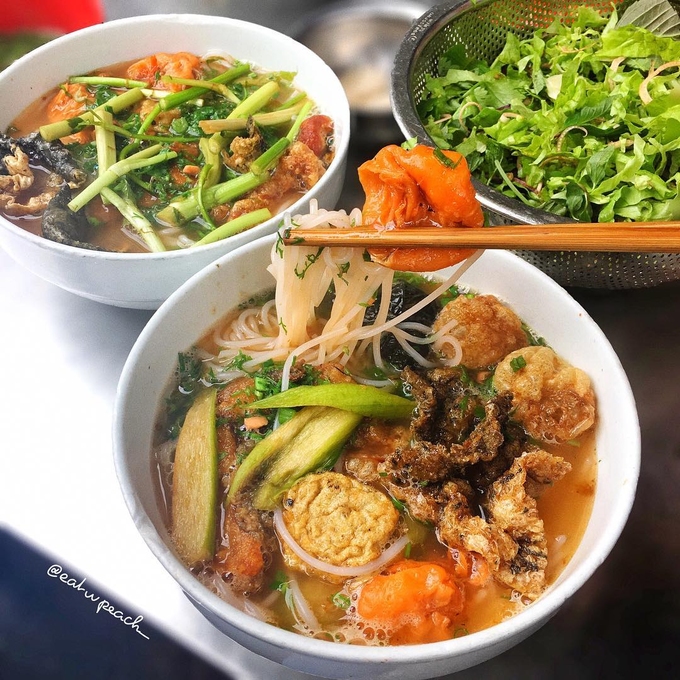 Spicy fish vermicelli is one of the famous dishes of Hai Phong besides banh mi, crab cakes… In which, the broth is cooked with sour similar to Hanoi fish noodle soup but with more pungent taste. Filled with various vermicelli such as fish, deep-fried fish skin, fish heart, fish cake, sausage, along the mosquito net… When eating, diners should add kumquats and chili peppers to make the dish more flavorful. Photo: Eatwpeach/Instagram.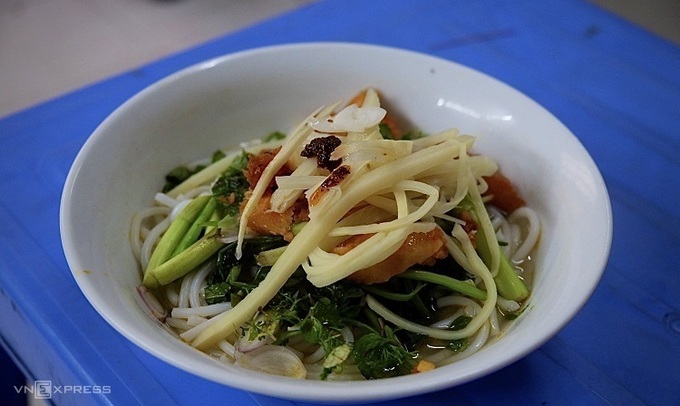 Thai Binh fish vermicelli has a thick broth cooked from pork bone broth, fish bones do not have a sour taste. When eating the broth, it is soaked in the same way as mixed vermicelli. Fish served with vermicelli must be boiled until cooked, then remove the large and small bones, finally rim with fat with fresh turmeric and rich fish sauce. The accompanying vermicelli is brewed to expand, in addition, it is indispensable for pickled bamboo shoots and pickled vegetables. Photo: Lan Huong.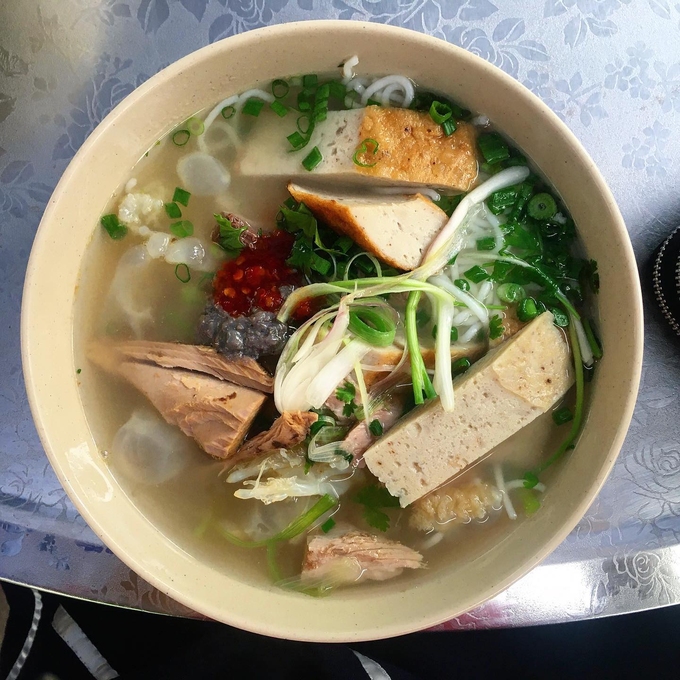 Other Nha Trang fish vermicelli has a clear broth, less fat, is simmered from fish bones and does not add many spices, so it has a sweet taste. The filling served with vermicelli is usually jellyfish, boiled fish torn into pieces and steamed mackerel cake, which is both crispy and chewy but still retains its natural sweetness. The vermicelli here is also smaller and softer, the herbs are served with shredded lettuce, lettuce… When eating, diners should add a piece of green lemon, green chili and sweet chili. Page. Photo: tiramisu_valori/Instagram.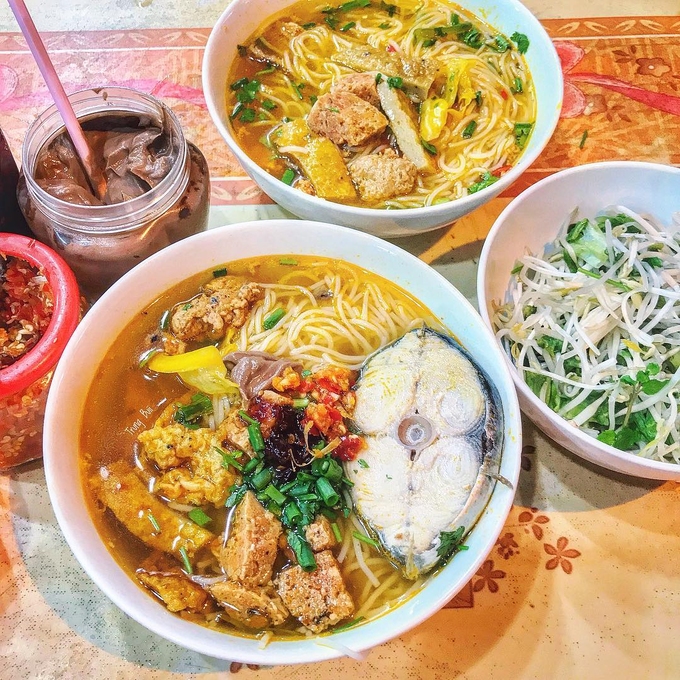 Da Nang also has fish vermicelli similar to Nha Trang, but with tuna noodles, thinly sliced ​​mackerel and vegetables such as bean sprouts, basil… blanched. Photo: Trungbuii/Instagram.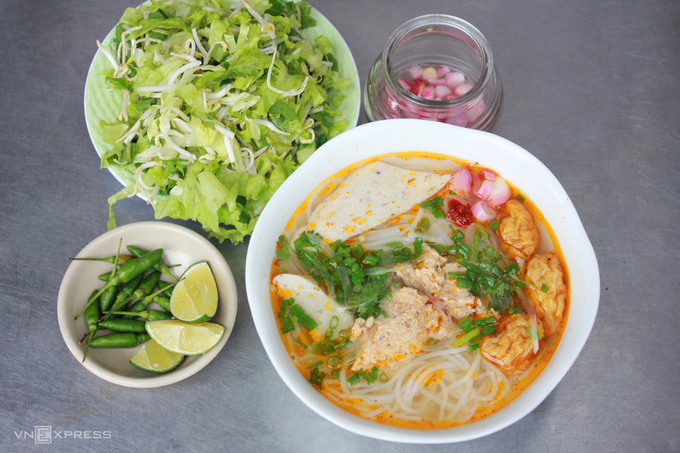 Also the broth cooked from fish bones, Quy Nhon vermicelli with fish cakes has a different way of making it. The ingredients for making fish cakes are mackerel, barracuda, mackerel, termite, strabismus, etc., pureed with pig skin, mixed with pepper, garlic and chili spices before dividing into thin pieces for steaming or frying. Photo: Tam Linh.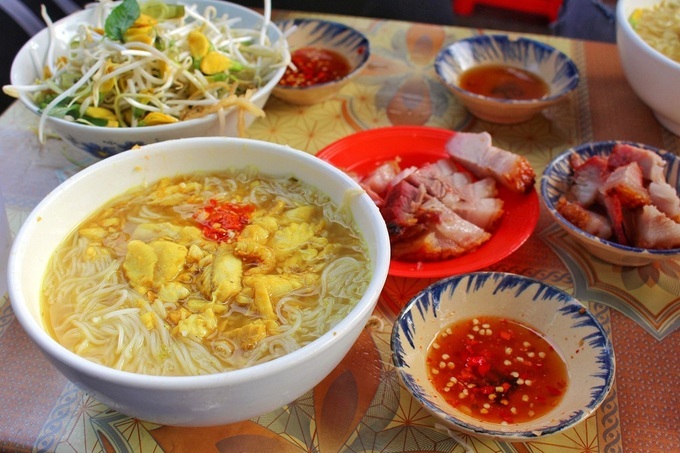 Chau Doc fish noodle soup is a famous specialty of An Giang. In which the broth is made from simmered bones, indispensable spices such as fish sauce, fish sauce and wormwood noodles. The side dish is boiled snakehead fish, boneless and stir-fried with turmeric or roasted pork. Photo: Quang Thien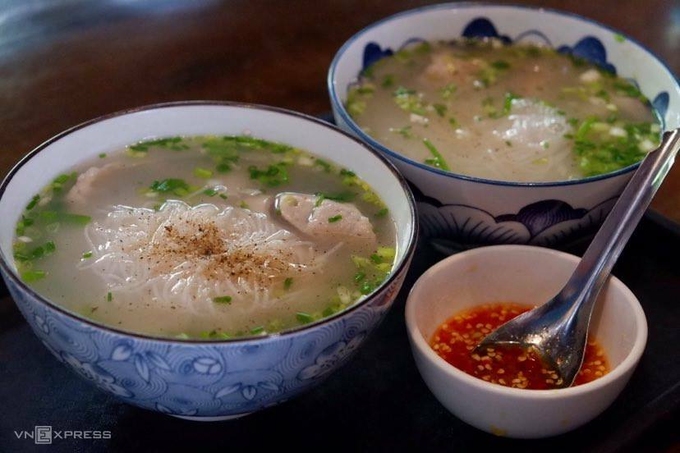 Vermicelli "stir" is one of the favorite dishes of diners when coming to Phu Quoc, Kien Giang. Different from fish vermicelli dishes in other localities, "stir" vermicelli is scored by fish cakes, shrimp cakes spread thinly when the broth is cooked, still retaining the sweetness and aroma of seafood. In addition, noodles are also served with steamed egg squid, herring or beef. The vermicelli in the dish is also freshly made vermicelli and the broth is seafood broth, thick and ivory color. The most special feature or the name of the dish is that diners have to make their own dips according to the instructions of the staff and then stir quickly and evenly to melt them all. Dipping sauces can be used to add flavor to the broth. Photo: Lan Huong.
Follow vnexpress
You might be interested in