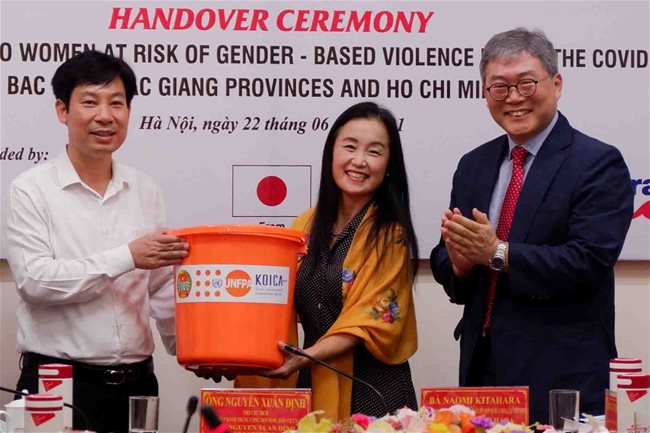 UNFPA representative for Vietnam Naomi Kitahara hands over a Dignity Kit to vice chairman of the Central Committee of the Vietnam Farmers' Union Nguyen Xuan Dinh – PHOTO: COURTESY OF UNDP
HCMC - The United Nations Population Fund (UNFPA) in Vietnam has donated 5,100 Dignity Kits to women and girls at risk of gender-based violence as a result of the Covid-19 pandemic in Bac Giang, Bac Ninh and HCMC, which are currently the country's biggest Covid-19 hotspots.
The Dignity Kits were handed over to vice chairman of the Central Committee of the Vietnam Farmers' Union Nguyen Xuan Dinh by UNFPA representative for Vietnam Naomi Kitahara early this week before being distributed to the beneficiaries.
Since late April, the fourth Covid-19 wave has affected many provinces and cities across Vietnam, and these three localities are the most affected areas. The containment measures, especially social distancing and quarantine applied to control the pandemic, have exacerbated the existing inequalities and disproportionately affected vulnerable populations, especially women and girls.
The social and family pressures as a result of Covid-19 containment measures, job loss, uncertainties and reduced household income have made women even more vulnerable to domestic violence.
Dignity Kits are a signature product of UNFPA's comprehensive package of humanitarian assistance. Each kit comprises basic items that women and girls need to protect themselves and maintain their basic hygiene, respect and dignity in the face of Covid-19.
The delivery of the kits was made possible in partnership with the Korea International Cooperation Agency, the Government of Australia and the Government of Japan.
The aim is to safeguard the sexual and reproductive health and rights of women and girls, mitigate the risk of gender-based violence and protect the dignity of women and girls adversely affected by the crisis.
According to Kitahara, preserving their dignity is essential to maintain the self-esteem and confidence of women, which is crucial in stressful and potentially overwhelming humanitarian situations.
"All women and children in Vietnam, including those most vulnerable, have the right to live a life free of violence, and support to meet their special needs has to be prioritized as part of the Covid-19 response. It is about making sure that everyone is part of the country's sustainable development process, leaving no one behind," she said.
Nguyen Xuan Dinh said at the handover ceremony, "The Dignity Kits, especially information and knowledge on how to protect themselves from gender-based violence, are very useful for women. The Vietnam Farmers' Union promises to immediately deliver all the kits to women in need."
The union will distribute 2,397 kits to Bac Giang, 1,438 kits to Bac Ninh and 1,259 kits to HCMC.
The National Study on Violence against Women in Vietnam showed that nearly two in three married women (almost 63%) have experienced one or more forms of physical, sexual, emotional and economic violence and controlling behaviors by their husbands in their lifetime.
Some 48% of victims did not tell anyone about the violence they endured and 90.4% did not seek any help from public services. The overall productivity loss caused by violence against women was estimated at 1.81% of gross domestic product in 2018.
You might be interested in