The annual review of Global Firepower ranked Vietnam's Navy strength 38th globally for the year 2021.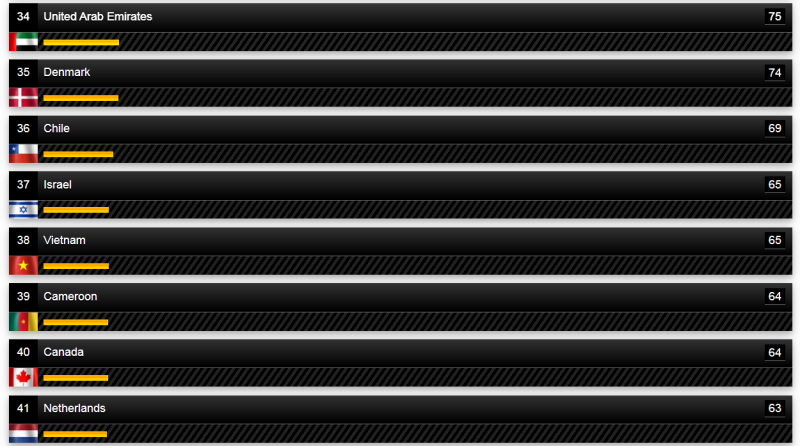 Vietnam's navy strength ranks 38th globally in 2021. Source: Global Firepower
Global Firepower is a U.S.-based non-governmental military website that assesses the military power of countries around the world. Vietnam ranks 38th globally and 5th in Southeast Asia with 65 assests of all kinds, according to the 2021 Navy Fleet Strength Ranking.
Also according to Global Firepower, the annual review tracks naval surface and underwater elements for each national power taken into consideration for the annual GFP ranking. The list is made up of all warship types including aircraft carriers, submarines, helicopter carriers, corvettes, frigates, coastal types, amphibious assault/support vessels, and auxiliaries.
Even though, Vietnam ranks behind a number of Southeast Asian countries that have unappreciated navies like Myanmar and the Philippines, because our fleet of warships is smaller than theirs. However, if assessed as a whole, the potential of the Vietnam People's Navy has far exceeded the available Global Firepower data, reported VTC News on June 21.
The combat ability of the Vietnamese Navy does not rely entirely on surface ships and submarines, it also comes from forces such as naval aviation, artillery - shore missiles, marines and marines. even naval commandos. This also clearly shows that the Vietnamese Navy is gradually building up its force, to contributing to ensuring Vietnam's sovereignty over its seas, islands, and continental shelf regardless of circumstances.
Russian state-owned news agency Sputnik quoted Dr. Pham Cao Cuong, Deputy Director of the Vietnam Institute of American Studies under the Vietnam Academy of Social Sciences, says that Vietnam has in hands one of the most modern navy in Southeast Asia. The Vietnamese navy has been developing fully with service branches: surface ships-submarines, coastal defence missiles, naval infantry, naval commando, naval aviation and marine corps.
Not all navies in Southeast Asia have a full staff of forces like the Vietnamese Navy. For example, Indonesia lacks shore artillery and missile units, and Thailand lacks submarine forces.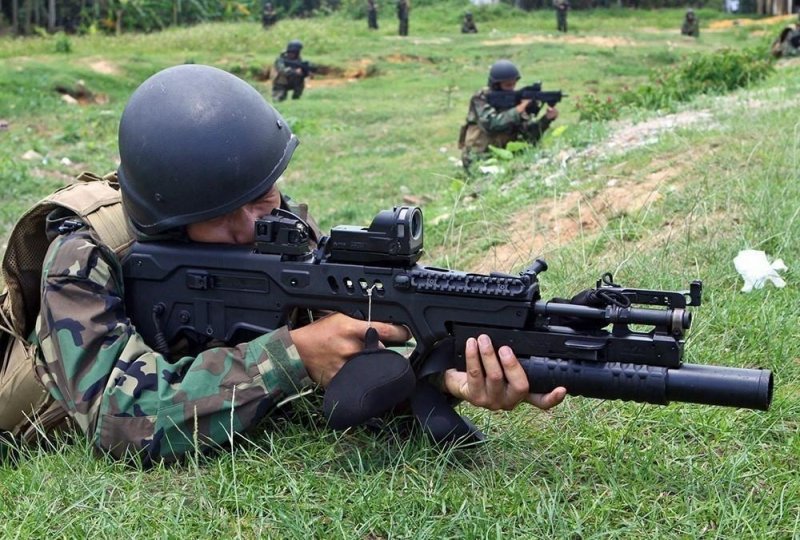 A drill of the naval commando forces. Photo: VNA
Surface Fleet
According to data from Global Firepower, the Vietnamese Navy currently has 65 warships of all kinds, including 4 missile defense ships, 7 submarine hunting corvettes (most of which have been replaced), 13 fast attack crafts, 8 missile boats, 12 artillery ships, 5 torpedo boats and some other warships.
It can be seen that the core force of Vietnam's surface fleet is currently missile defense ships and fast attack missile ships. Leading the way are four Gepard 3.9 class frigates, followed by Molniya (8), Tarantul (4) and BPS-500 (1) missile ships.
The above assets are all equipped with anti-ship missiles, and two Gepard ships - Tran Hung Dao (015) and Quang Trung (016) also have additional anti-submarine capabilities with PTA-53-11661 torpedo system.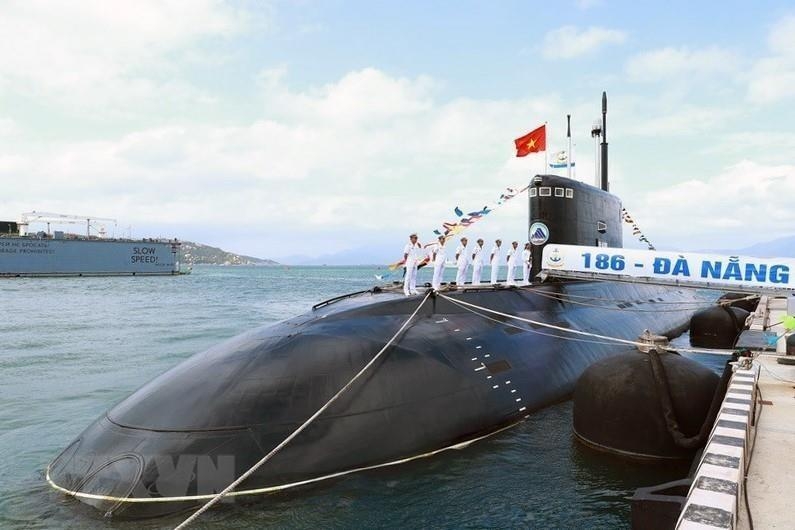 HQ-186 Da Nang, one of the six Vietnam's Russian-made submarines with the quietest engine in the world and are the best choice for reconnaissance and patrols. Photo: VNA
Submarine Force
Currently, the Vietnamese Navy has six Kilo-class diesel-electric submarines built by Russia, the first one has been put into service since 2014.
Compared to other countries in the region, Vietnam's submarine force was established quite late. However, with the commissioning of Kilo submarines as well as the establishment of the first submarine brigade (the 189th Brigade, established in 2013) it is considered to have opened a new page in the development history of the Vietnam's Navy.
In Southeast Asia, Vietnam is currently the only nation possessing submarines that can perform attack missions on land and sea targets with Kalibr cruise missiles.
Navy Air Force
This force was established in 2013 with the 954th Naval Aviation Brigade which its main task is military transport, reconnaissance, patrols, search and rescue.
According to the Vietnam Navy Newspaper, Brigade 954 is currently staffed with many modern military aircraft such as Ka-28 anti-submarine helicopters, Ka-32, Mi-8, Mi-17 armed helicopters and DHC-6 seaplane.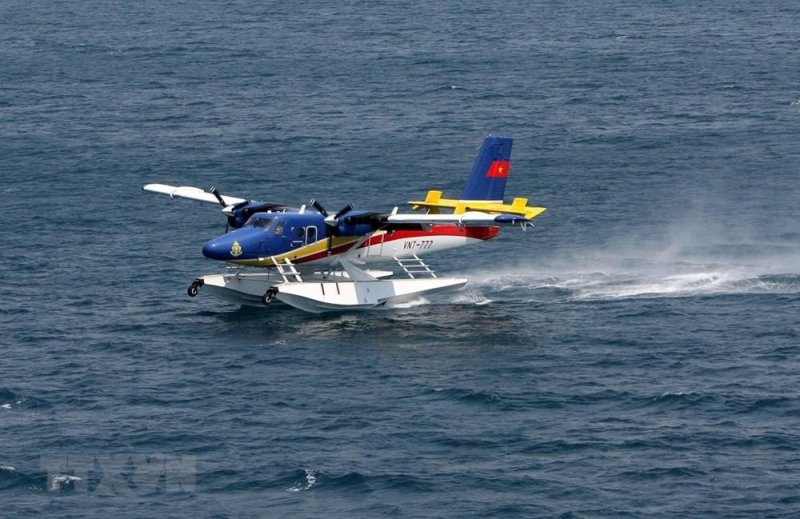 DHC-6 seaplane of Naval Aviation Brigade 954 in a drill. Photo: VNA
Coastal Missile-and-Artillery Troops
This is one of the five main combat forces of the Vietnamese Navy.
With special missions, the troops are equipped with many modern weapons such as coastal defense missile systems 4K44 Rubezh-A, 4K44 Redut-M and K-300P Bastion-P along with EXTRA rocket systems.
The Rubezh-A system is equipped with P-15M anti-ship missiles with a range of 40-80km. The Redut-M system is equipped with P-35 anti-ship cruise missiles with a range of up to 550km.
Meanwhile, the Bastion-P Mobile Coastal Defense Systems with the P-800 Yakhont supersonic anti-ship cruise missile has a range of 300km, its speed can reach Mach 2.5 (2.5 times the speed of sound).
The EXTRA rocket system has a maximum range of about 150km.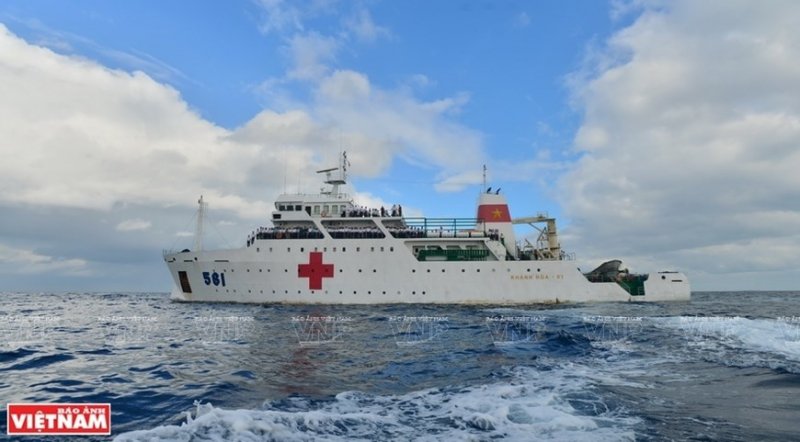 Ship Khanh Hoa 01, coded HQ-561, is evaluated as one of the most advanced medical ships in Southeast Asia. Photo: VNP/VNA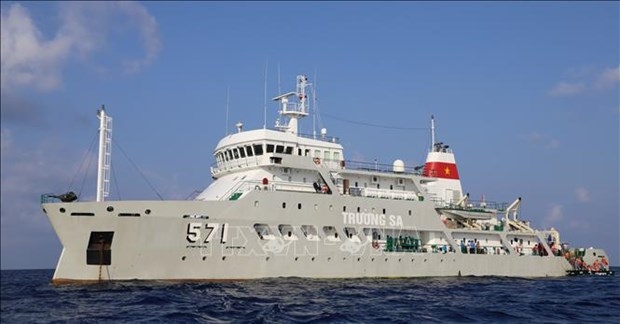 Vessel of Brigade 955 takes officers, soldiers to Truong Sa (Spratly) archipelago in May 2021. Photo: VNA
Marine Corps
The Vietnam Marine Corps is an elite special combat force of the Navy, tasked with protecting islands/reefs or attacking, make landings on the mainland or on islands occupied by foreign countries, firmly safeguarding national sovereignty over sea and islands.
Marine brigades are all equipped with many advanced weapons and equipment. Due to the characteristics of the mission, the armament of the Marine Corps is mainly infantry guns. One of those weapons is the Tavor TAR-21 assault rifle.
The Vietnam Marine Corps is also equipped with the "tank killer" Matador, capable of penetrating tank armor and breaking brick or reinforced concrete walls.
Hannah Nguyen
You might be interested in