From the far northern province of Ha Giang to bustling Ho Chi Minh City in the south, each region has its own unique way of preparing these delicious Vietnamese steam rice rolls.
Banh cuon in Ha Giang province
It would be amiss not to mention banh cuon in Ha Giang province.
Like in other regions in northern Vietnam, a roll of Ha Giang's banh cuon has two major parts: A thin layer of steamed rice batter and fillings consisting of sauteed minced pork with wood-ear mushrooms or soft-boiled eggs. Fried shallots are added on top of a banh cuon dish to enhance its flavors.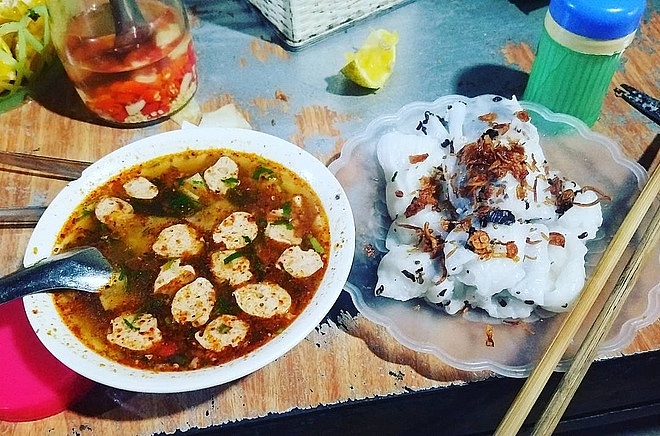 Banh cuon in Ha Giang province / Dantri
Every region in Vietnam seems to have its own twist on preparing banh cuon, one of the country's most iconic dishes.
What sets Ha Giang's banh cuon apart is the dipping sauce. In this province, the sauce is not made of fish sauce but warm pork bone broth with coriander, chopped scallions, and Vietnamese pork sausage.
Locals enjoy banh cuon this way due to the weather. In Ha Giang, the temperature in the morning is often fairly low. Therefore, a bowl of hot broth can help people to warm up their bodies. If coming to Ha Giang, you can visit the traditional market in Dong Van town or some food stalls in Ha Giang province to try this iconic dish sold at about VND 25,000 to 30,000 (just over a U.S. dollar).
Banh cuon in Cao Bang province
Cao Bang, a mountainous province in northeast Vietnam, has a different way of enjoying banh cuon than other northern provinces in the lowland area. In Cao Bang, banh cuon doesn't use wood-ear mushrooms and is not served with Vietnamese pork sausage, fish sauce, or fried shallot.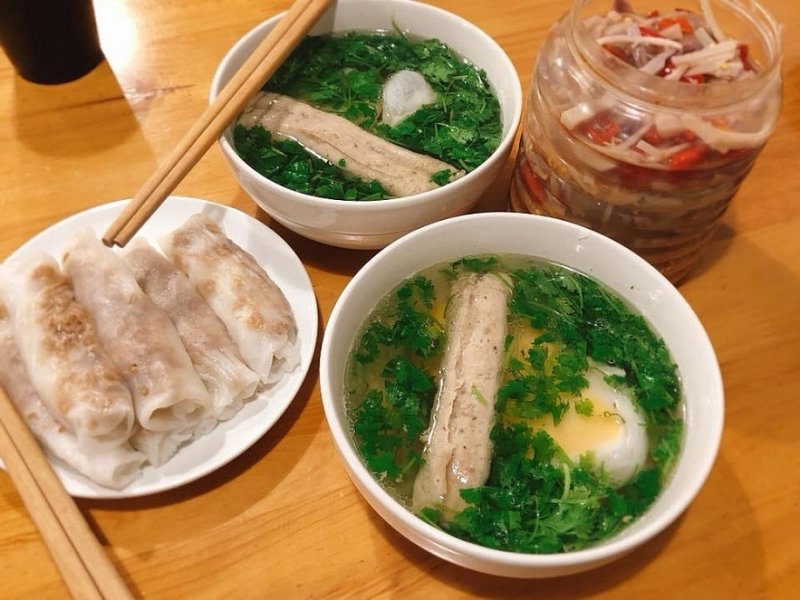 Banh cuon in Cao Bang is served with a pork bone soup/Suckhoedoisong
To make Cao Bang's banh cuon, the chef must use Doan Ket rice grown in Cao Bang to create thin, smooth, satisfyingly stretchy sheets of steamed rice batter.
Making the rice sheets is an art unto itself: The chef must be careful to make the layers not too thin or thick. To do this, the chef first pours the rice batter on a piece of cotton stretched over a pot of boiling water, then covers the lid. The steam seeping through the cloth cooks the rice batter thoroughly, at which point the chef will lift the lid, move the rice sheet with a thin bamboo slat, then add minced pork and roll the cake.
Banh cuon tastes best when eaten hot. The chef doesn't make banh cuon in advance, so visitors will have to wait for a little to enjoy this delightful dish.
Banh cuon in Hanoi
One of the most famous Vietnamese banh cuon has to be Thanh Tri banh cuon in Hanoi, the capital. Traditional Thanh Tri banh cuon consists of just thin rice sheets without any filling.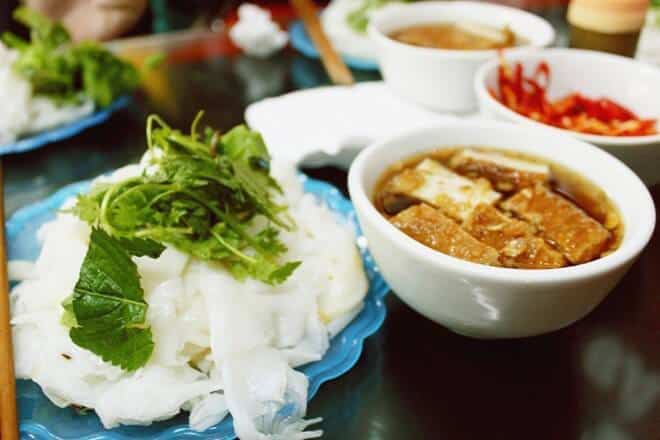 Thanh Tri banh cuon in Hanoi, one of the most well-known versions of Vietnamese banh cuon / VNTrip
Thanh Tri banh cuon is served with Vietnamese pork sausage, roasted cinnamon pork, fried tofu, and fried shallot. Of course, a dish of banh cuon in the capital city can't exist without a perfect dipping sauce made of fish sauce, rice vinegar, fresh chilies, and fried shallot. The dish's aroma is enhanced even further when rare Belostomatid (water bug) essence is added to the sauce.
Banh cuon in Ha Nam
If Hanoi has the iconic Thanh Tri banh cuon, Ha Nam province has another banh cuon – Phu Ly banh cuon. Unlike Thanh Tri's version, which is often eaten with Vietnamese pork sausage, Phu Ly banh cuon is served cold with grilled pork.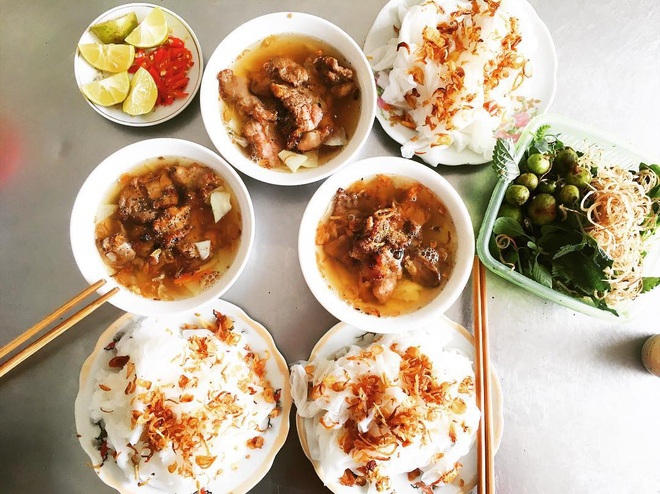 Phu Ly banh cuon in Ha Nam province / Dantri
Pork used for Phu Ly banh cuon is fatty, cut to thin slices, seasoned well with pepper, sugar, and fish sauce, then grilled over charcoal. As such, Phu Ly banh cuon's side dish is always flavorful, wonderfully golden brown, soft and greasy, without getting dry.
The dipping sauce is a decisive factor. The sauce is served hot with some thinly sliced cucumber and herbs, which arouses the taste buds and reduces the greasiness of the pork.
Banh cuon with squid paste in Quang Ninh province
In Quang Ninh province, the dish requires perfection in all three main factors: the steamed rice sheets, the fried squid paste, and the dipping sauce. If the rice sheets don't taste right, the dish fails. If the dipping sauce doesn't have spicy peppers, the dish's flavors are lost. If the fried squid paste is not crunchy and bursting in umami flavor, the dish doesn't work.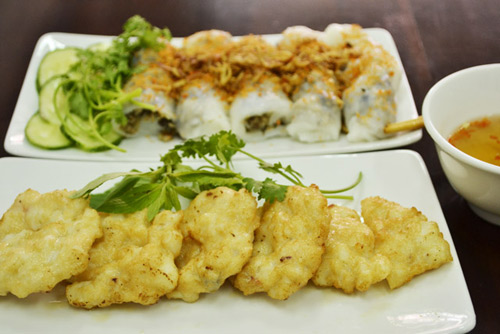 The flavor of Quang Ninh's banh cuon is created with the perfect combination of every ingredient/ Wyndham Legend Halong.
To make squid paste, locals choose the freshest squid and pound it by hand. They then add seasonings to the squid paste and shape them into small, round pieces before frying them golden brown.
The dipping sauce is no less important than the squid, and the chef uses fish sauce, chili, sugar, lime juice, and pepper. The flavorful sauce and crunchy squid paste complement the soft rice sheets filled with lean pork and shrimps making your palate sing from the first bite.
Banh muot in Nghe An province
Tourists coming to Nghe An province will experience a great loss if they don't try the province's iconic banh muot. At first look, Nghe An's banh muot looks like Thanh Tri banh cuon in Hanoi or banh muot in southern Vietnam, but it could not be more different.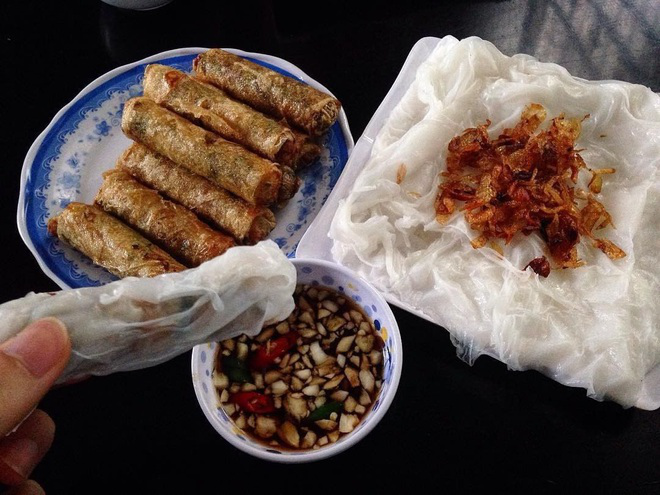 Coming to Nghe An, tourists must try banh muot / Dantri
In Nghe An, banh muot is delicious enough if eaten with just a bowl of sour and spicy dipping sauce, but locals make it even more flavorful by adding toppings such as sauteed entrails, chicken, beef, or pork sausage. The most popular way of enjoying banh muot in Nghe An is eating it together with a hot bowl of eel soup, another specialty of Nghe An province.
Banh cuon in Ho Chi Minh City
Vietnam's street food paradise puts its stamp on banh cuon by serving it with a diverse array of toppings, such as roasted cinnamon pork, fermented pork, shrimp cake, blanched bean sprouts, and Vietnamese herbs.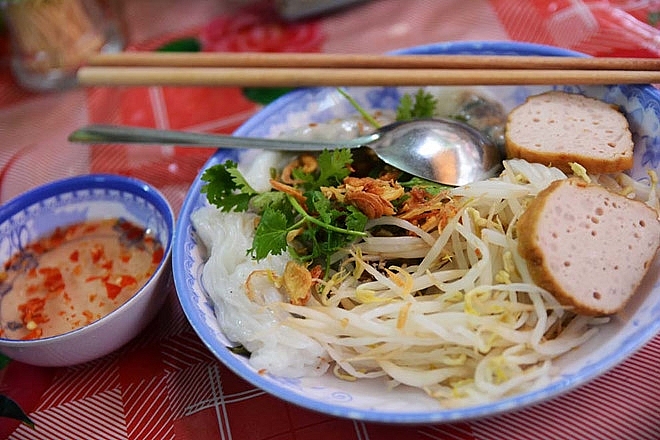 Banh cuon in Ho Chi Minh city/Vietgiaitri
Banh cuon in Ho Chi Minh city originates from northern Vietnam but has been adjusted to suit people's tastes in the southern region. The biggest difference lies in the dipping sauce, which is sweeter than that in the north.
In Ho Chi Minh, you can try its unique banh cuon with Quang Nam province's beef sausage, which is served at a restaurant located in District 10.
You might be interested in