After being recognized as a national intangible cultural heritage, fish sauce making, a traditional practice on the Phu Quoc Island of Vietnam, aims to be recognized by UNESCO as a world intangible cultural heritage.
The art of making fish sauce, or nưoc mắm, has been around for over 200 years. It has become a way of life for locals on Phu Quoc Island.
In late May, the Ministry of Culture, Tourism, and Sports of Vietnam officially recognized fish sauce making on Phu Quoc Island of Kien Giang province as a national intangible cultural heritage.
As locals face immense challenges from the COVID-19 pandemic, the Ministry's recognition has brought great joy and motivated fish sauce makers in Phu Quoc to continue preserving their age-old tradition.
The main ingredient for Phu Quoc's trademark fish sauce is black anchovies, or ca cơm. Ho Kim Lien, President of the Fish Sauce Association of Phu Quoc, said the sea surrounding Phu Quoc Island is rich in seaweed and planktons, the main source of nourishment for this type of fish.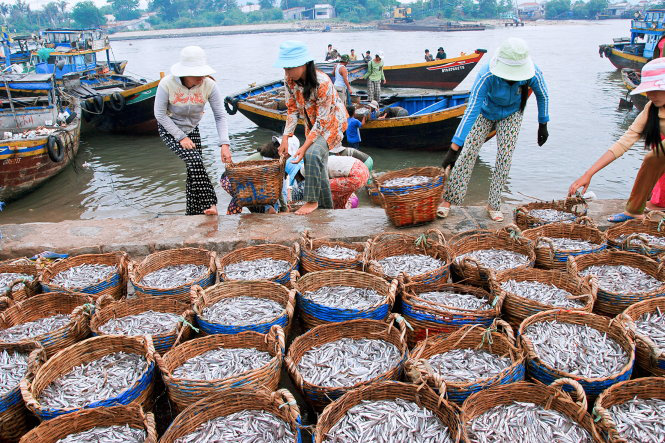 Photo: Tranferring black anchovies on land / Tuoitre.vn
Black anchovies are layered with salt right on boat before being brought back to the island and transferred to premium wooden barrels.
Aging anchovies in wooden barrels is a trademark practice on Phu Quoc Island. The wood to make fish sauce barrels is taken from the forest on the island. The quality and type of wood add to the quality of the fish sauce.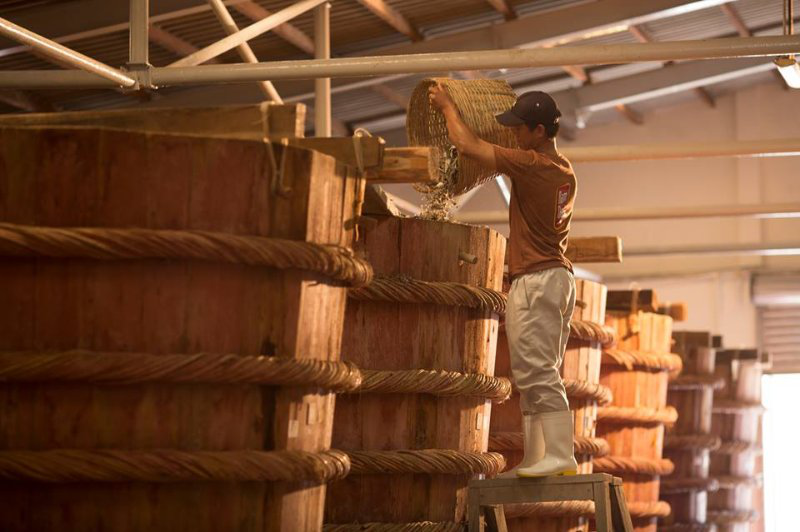 Photo: A local transferring black anchovies into a fish sauce barrel / Kiengiangtravel.vn
Barrels used to make the fish sauce in Phu Quoc have a cylinder shape and wide mouth. They are made from 55 wooden boards with equal sizes, specifically 2.2 meters (height) x 20 centimeters (width) x 6 centimeters (thickness). The barrel has a diameter of about 3.2 meters at the mouth and 2.6 meters at the bottom. The barrels are secured with thick bands made from rattan, also found on Phu Quoc island's forest.
Lien said traditional fish sauce is made with the following ratio: Three portions of fish per one portion of salt. The aging process can last from 10 to 15 months.
The finished product has a deep brown color and a rich umami taste. The price of Phu Quoc fish sauce may vary, depending on its protein content.
In Phu Quoc, there are about 100 fish sauce facilities, found mostly in Duong Dong and An Thoi districts.
Fish sauce facilities are also a unique tourism product on Phu Quoc Island. Visitors coming to these facilities not only to see the fish sauce barrels but also to learn about the art of making fish sauce and the cultural values nurtured by locals.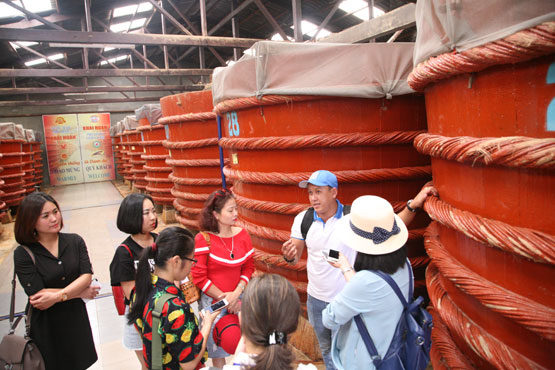 Photo: Visitors coming to a fish sauce making facility in Phu Quoc / Hanoimoi
Determining to reaffirm and enhance the quality of Phu Quoc's signature product, Lien said the future strategy for developing fish sauce making on Phu Quoc island would be "quality over quantity."
In the coming time, Phu Quoc's fish sauce will seek UNESCO's recognition as a world intangible cultural heritage.
The UNESCO's recognition will elevate the values of Phu Quoc fish sauce brands and local cultural heritage, thereby promoting Phu Quoc's tourism.
You might be interested in