If you are looking for a place to have fun with family and friends in District 7 Saigon, then Sky Park Vivocity Saigon is the ideal destination that you should not miss. Coming to this entertainment paradise, you will enjoy bathing, playing and shopping with many interesting experiences.
Where is Sky Park Vivocity Saigon in Saigon? 
Sky Park Vivocity Saigon, also known as Sky Park rooftop park, is located at 1058 Nguyen Van Linh, Tan Phong Ward, District 7, Ho Chi Minh City. The park has an outdoor space at the rooftop area, which is an attractive entertainment complex for children and their families. This is also the first outdoor terrace park in Vietnam, including a 3D wall painting area and Vivo Playground area. 

Sky Park Vivocity Saigon is also known as Sky Park rooftop park

Experience Saigon travel to explore Sky Park Vivocity, you just need to move in the direction from Ong Lon bridge, go straight along Nguyen Van Linh street about 200m, you will reach this famous entertainment place in Ho Chi Minh City. Opening time: From 8:30 a.m. to 6:00 p.m. (from Monday to Sunday). Free entertainment ticket price.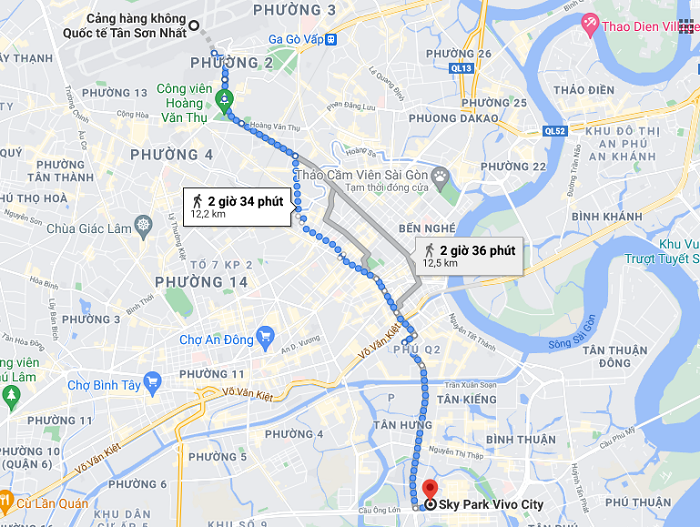 How to get to Sky Park Vivocity Saigon

Explore the entertainment paradise at Sky Park Vivocity Saigon
Sky Park Vivocity Saigon is considered the highlight of SC VivoCity shopping center, attracting all ages with many indoor and outdoor entertaining games. In the terrace area, there are many wet and dry games along with modern equipment to ensure safety, promising to bring relaxing moments for children and their families.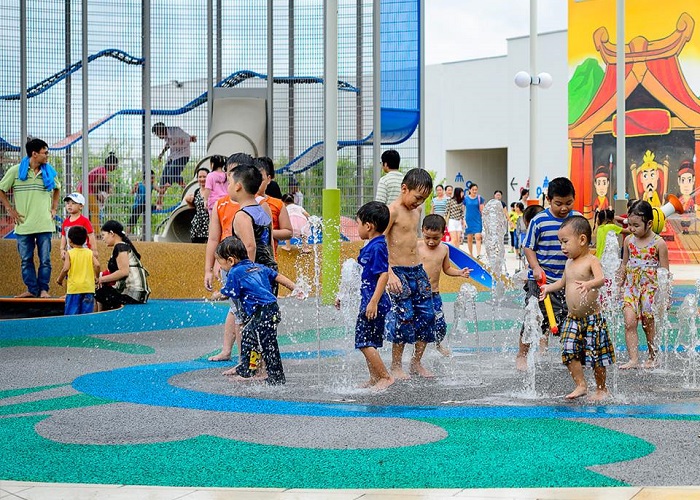 Sky Park Vivocity Saigon attracts children with many interesting games

At Sky Park Ho Chi Minh City , you will be able to participate in a variety of games, from spring cushions and seesaws to vigorous activities such as water guns, cable cars, escape tunnels, and exciting bracelets. and decorated 3D drawings are reproduced extremely realistically. Participating in these games not only helps to move the body, but also enhances the spirit of solidarity when moving.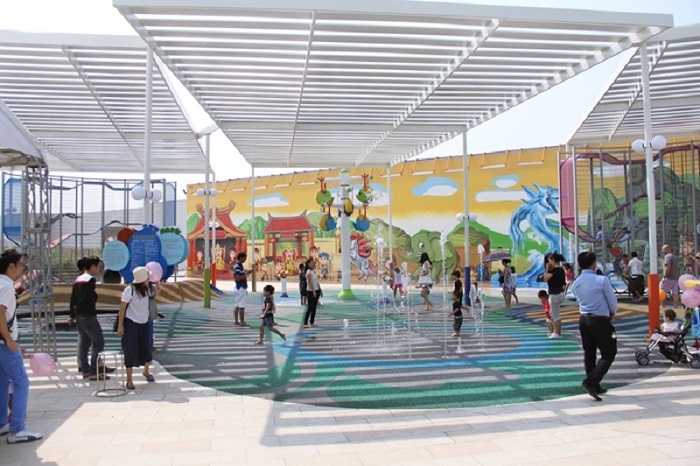 Many exciting water games

In addition to the amusement park, on the terrace, there are also many attractive food stalls with delicious dishes such as hot dogs, hamburgers, sandwiches, pizza, spaghetti, milk tea, ice cream, soft drinks, etc. .. After enjoying the exciting entertainment, it's time to recharge and start the journey to discover many other interesting games at Vivocity.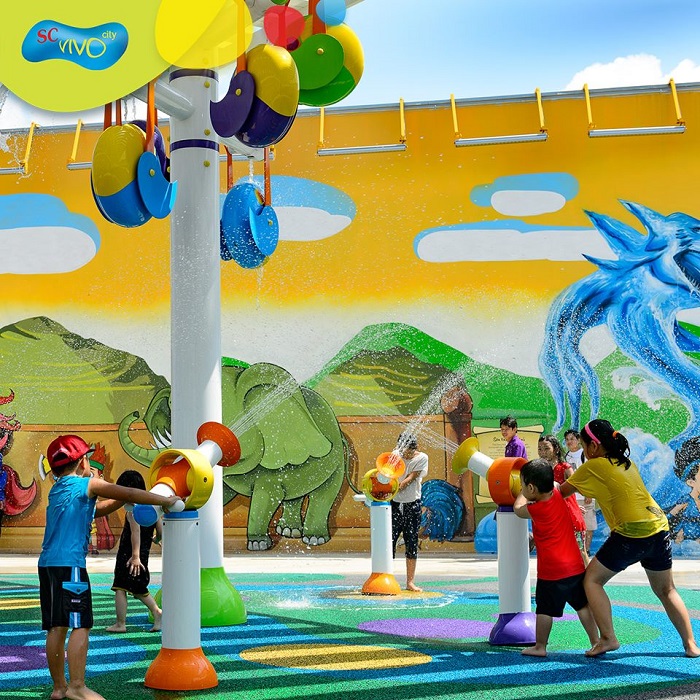 Have fun at Sky Park Vivocity Saigon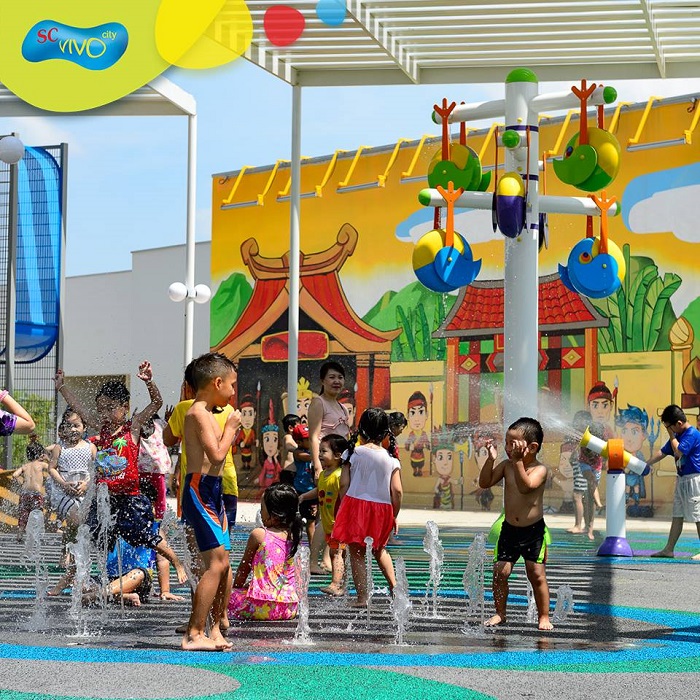 Sky Park Vivocity Saigon is an attractive destination for families and children

After having fun at the Sky Park Vivocity Saigon area , parents can let their children go to the downstairs area with a variety of games to help children develop skills as well as physical. The first must mention the challenging area, suitable for children with active personalities and love to explore. Children can take part in the adventure of crossing a small bridge on a rope with full safety gear. Or the brick house for children who like to be creative, with blocks of many colors and sizes. The most impressive is the large block for children to create funny works. The sand house is a new world that attracts children to develop their creativity as well as practice ingenuity.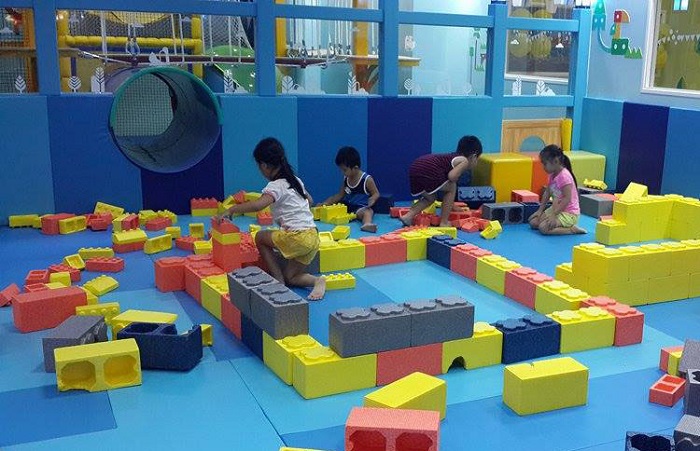 Indoor game area

There is also a ball house for hyperactive children, a kitchen area to help children develop good EQ, a video game area to help develop agility and visual skills, and a train game. 
While the kids are having fun, parents can go sightseeing, shopping and discovering food at VivoCity. Shopping with many famous brands in the world in fashion, bags, shoes… Along with that is a diverse food court such as: Bistro 48 Ly Anh Tu, BreadTalk, Chang Kang Kung smoke seafood, restaurants. Fish Wok, Chili's American Grill & Bar, Cali broken rice, Dairy Queen, Danny Green, Dookki, Golden Jade, Gogi House, Highland Coffee… Especially, VivoCity has a CGV cinema which is an attractive destination for young people with movies blockbuster movie.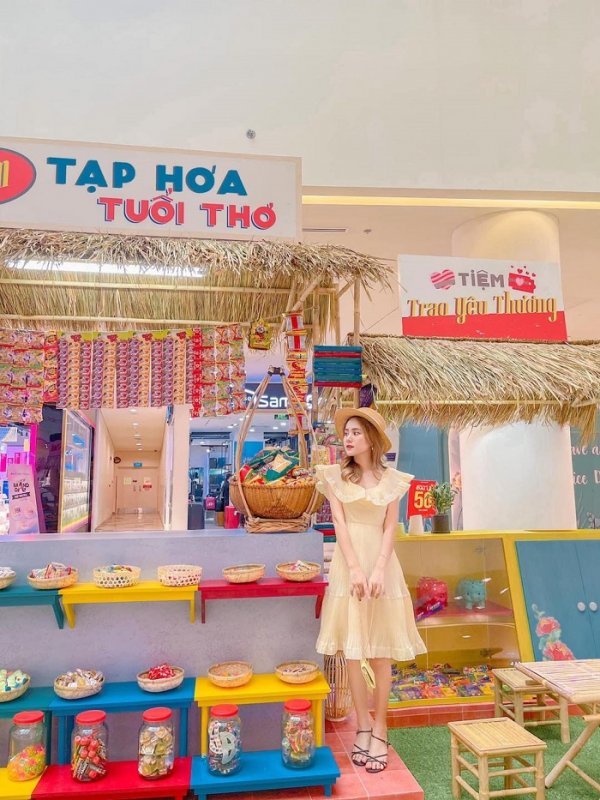 Explore the delicious food court. Photo: FB. SCVivoCity

Combined with famous amusement parks in District 7 Saigon 
Besides attractive entertainment games at Sky Park Vivocity Saigon , you can also combine exploring many other famous entertainment places in District 7 such as:
– Artinus 3D Museum: You feel like you are lost in the new world of art with vivid 3D pictures. The museum was recreated with many different themes from the ocean, explore nature, the ancient art and Egypt … Guests will be satisfied to check-in live virtual beautiful images in security Artinus 3D painting museum .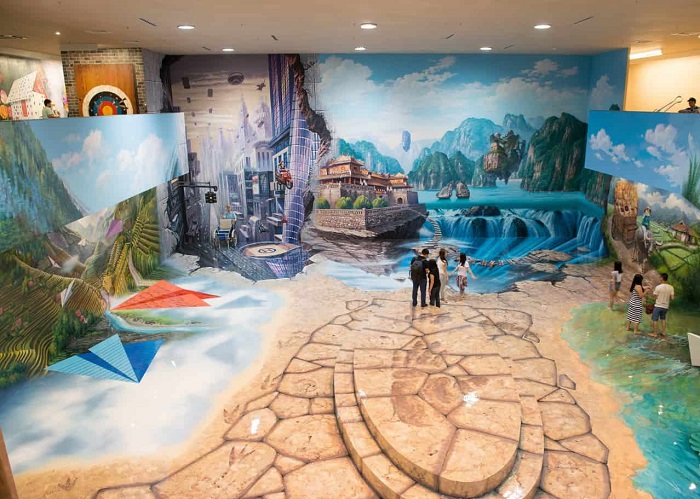 Artinus 3D Painting Museum
>See more: Discover the amusement parks in District 7 that attract tourists in Saigon

– Lawrensting Park: Impressed with the decoration and quiet, natural space, bringing a moment of relaxation. 
– 2-storey waterfall swimming pool: The next entertainment place in District 7 must be the 2-storey waterfall swimming pool with beautiful space, ideal for enjoying the fresh air and relaxing, taking a cool bath.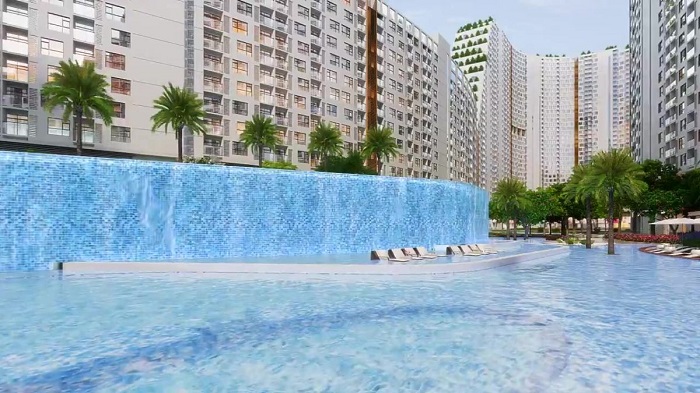 2 floors waterfall swimming pool

– Vietopia: An entertainment paradise with many interesting games for tourists in District 7 Saigon. 
– Snow House Saigon Polar Expo: An attractive destination for both adults and children with a frozen space like being in the Arctic. All items from the path, playground and dining area at the snow house are made from ice. Come here, remember to bring warm clothes to protect your body. 
Sky Park Vivocity Saigon is truly an attractive entertainment paradise that you should not miss to enjoy moments of entertainment with your family and loved ones on the weekend. Let's experience to enjoy a relaxing trip and enjoy shopping, discovering food when traveling to Saigon . 
Photo: Internet
You might be interested in