PHU THO – Lang Suong Temple is associated with many anecdotes about Tan Vien Son Thanh, the only temple in the country to worship his family.
Tan Vien Son Thanh, whose birth name is Nguyen Tuan, is also known as Son Tinh in the story "Son Tinh – Thuy Tinh" imprinted in the minds of Vietnamese people. According to legend, he was the son-in-law of the 18th Hung King, who had merit in helping the people rule the water, civilize the wasteland, kill wild animals, and defeat foreign invaders, so he was revered by the people as the leader of the Four Immortals. Belief in worshiping Saint Tan Vien has deeply penetrated into the spiritual life of Vietnamese people for many generations, there are main places of worship and places of worship, but Lang Suong is the land where Thanh Tan was born.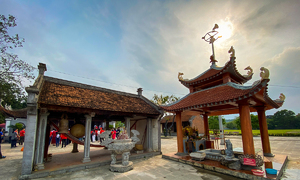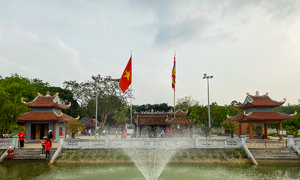 Lang Suong Temple historical site is located in Trung Nghia commune, Thanh Thuy district, about 45 km from Viet Tri city. According to records in the book Ngoc Pha was compiled in 1011, before at Lang Suong cave, Nguyen Cao Hanh and his wife Thai Vy (whose name is Dinh Thi Den) lived and did many good deeds.
One day, a golden dragon swooped down to the well to suck water, spit out pearls. Mrs. Vy went to the well to carry water, sat on a rock to bathe, and suddenly her body was fragrant. After that, she was 14 months pregnant and gave birth to a handsome and handsome son named Nguyen Tuan, who is Thanh Tan Vien Son, who later made many contributions to the people and country.
When the 18th King Hung handed over the throne, he did not accept it, but advised the king to cede the throne to Thuc Phan so that the people could avoid chaos, marking the transition from Van Lang state to Au Lac state of Vietnamese history Male. Appreciating that heart, Thuc An Duong Vuong erected a swearing-stone pillar on Nghia Linh mountain, and at the same time granted a decree to establish Thanh Tan temple at Lang Suong cave.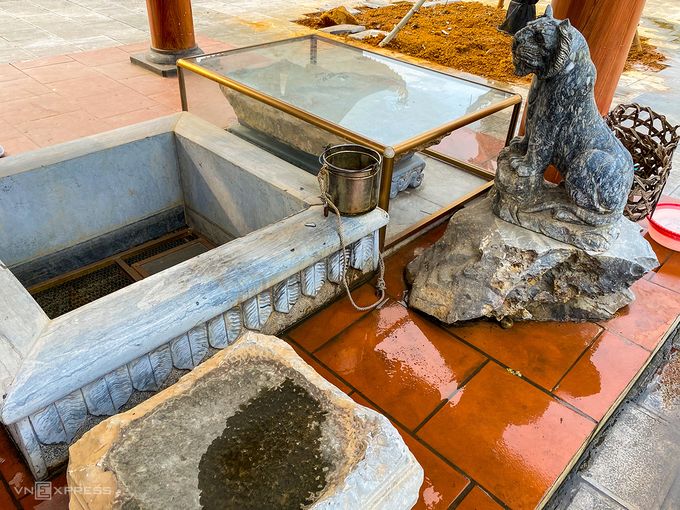 Thien Thanh well has clear water all year round, next to it is Quy stone. When Thanh Mau was in labor and gave birth to Thanh Tan Vien, she knelt down and put her hands on the stone, her fingers imprinted up to this day. Photo: Trung Nghia
In addition to worshiping Thanh Tan and Thanh Mau, Lang Suong Temple also worships Nguyen Cao Hanh's father; nursing model Ma Thi Cao Son; Generals Quy Minh and Cao Son were instrumental in helping Thanh Tan fight the enemy; Princess Ngoc Hoa – wife of Thanh Tan. In addition, here also worships the female spirit Bach, the earthquake lord Lang Suong and the two maids of Princess Ngoc Hoa, Dao Hoa and Que Hoa. Currently, this is the only temple in the country that worships the whole family of Duc Thanh Tan and is also the original place of worship in the system of relics worshiping Tan Vien Son in Vietnam.
The temple is a complex of many architectural works such as Nghi Mon, Hai Co Temple, Thien Thanh Well, Chu Vuong pond, stele house, hammock house, 2 left-hand buildings, main temple and Thanh Mau's Tomb.
Currently, the temple has a fairly large ground, about more than 3,000 square meters. Up to now, the temple still preserves many ancient documents and artifacts proving the ancient origin and long history of the temple such as ancient bronze seals engraved with the Chinese characters "Gia Hung Tu, Lang Suong Tich, Dang". King cave", stone inscription carved in 1848, a number of ordinations of feudal dynasties…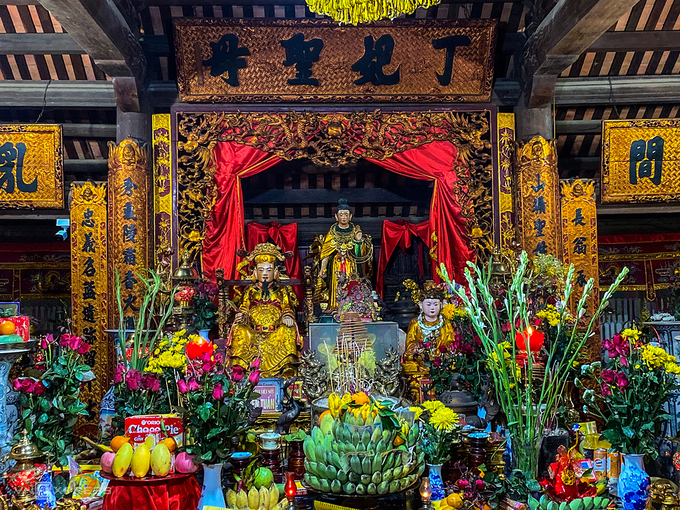 Inside the main temple of Lang Suong temple. Photo: Trung Nghia
Lang Suong Temple Festival is held on January 15 every year, which is said to be the birthday of Thanh Tan. This festival was recognized by the Ministry of Culture, Sports, and Tourism as a national intangible cultural heritage in September 2018. Follow vnexpress
You might be interested in