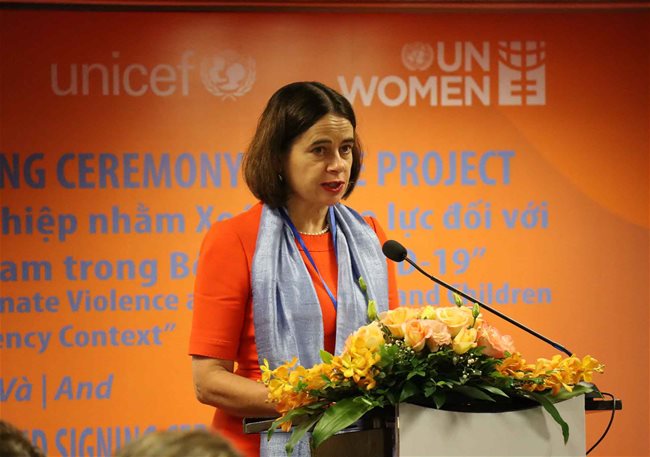 Australian Ambassador to Vietnam Robyn Mudie speaks at the launch ceremony of the "Elimination of Violence against Women and Children in Vietnam 2021-2025" project on April 24 – PHOTO: COURTESY OF AUSTRALIAN EMBASSY IN VIETNAM
HCMC – The governments of Vietnam and Australia on May 24 launched a new joint project aimed at strengthening the national prevention and response mechanisms to address violence against women and children in the context of Covid-19.
They were joined by United Nations agencies such as the United Nations Population Fund (UNFPA), the United Nations Children's Fund (UNICEF) and the United Nations Entity for Gender Equality and the Empowerment of Women (UN Women).
Addressing the project launch ceremony, Australian Ambassador to Vietnam Robyn Mudie said, "Over the last 12 months, all countries have learned that a comprehensive response to the pandemic means responding to the challenges faced by women and children and working to ensure their safety."
Under this new four-year initiative, which is worth AUD9.5 million, Australia will work with Vietnam, UNFPA Vietnam, UNICEF Vietnam and UN Women Vietnam to support women and children survivors of violence. Over the next four years, the program will strengthen prevention strategies and response efforts to end violence against women and children.
"We hope that this long-term, practical approach will make a difference where it matters most, and that women and children will be able to seek and receive help when they need it," she added.
According to Rana Flowers, UNICEF Representative to Vietnam, violence against women and children has been a major societal problem prior to Covid-19.
"We have reached a point where we need to understand that violence against women and children costs our economic growth in the future and it's time to stand up, to change the situation and to draw a line where we indicate that we have zero tolerance to violence against women and children," Flowers said.
"The Covid-19 pandemic has made evident the need for available, quality essential services to provide an effective response to cases of violence against women and children. It also taught us that collaboration among all stakeholders is needed to make a substantive difference in times of crisis," shared Elisa Fernandez Saenz, UN Women Representative in Vietnam.
"As we move forward to the next four-year project, we are offered a key opportunity to sustain our joint efforts so that capacities, resources and systems are in place to adequately respond to every case of gender-based violence and prevent new ones. UN Women is pleased to embark on this journey together," she added.
The new initiative is built on the success of the "Supporting interventions to eliminate violence against women and children in Vietnam under Covid-19" project, which ended one year after implementation.
The project distributed a total of 145,000 leaflets on gender-based violence, safety and mental health instructions in quarantine to more than 500 pharmacies, supermarkets and quarantine centers nationwide.
It also distributed 6,644 dignity kits with 21 essential items to women who undergo and who are at risk of violence in quarantine centers, shelters and lockdown areas.
You might be interested in