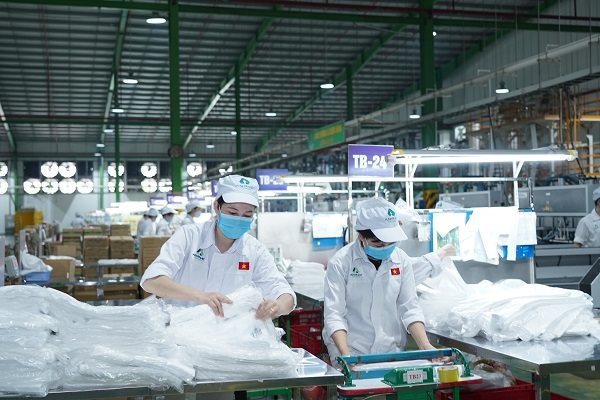 A view of a factory producing compostable products of An Phat Holdings - PHOTOS: AN PHAT HOLDINGS
Owners of all enterprises do their business to earn profits. So does An Phat Holdings. However, its purposes of doing business are not just about money. At An Phat Holdings, earning profits and protecting the environment as well as supporting the community are attached with equal attention, especially in the areas where it operates.
Towards eco-friendly goods production
Having been operating for nearly 20 years in the plastics sector, An Phat Holdings understands the increasing importance of environmentally-friendly products to replace traditional plastic ones. This is also a global trend amid the rampant environmental pollution.
In Vietnam, An Phat Holdings is among pioneers in researching and successfully developing completely compostable products, including AnBio compostable raw materials and AnEco compostable products.
Dinh Xuan Cuong, vice chairman and general director of An Phat Holdings, said the group had acquired technologies to produce green products and materials.
With AnBio compostable raw materials, An Phat Holdings has successfully produced goods replacing single-use plastic products, which is the main cause of the white pollution.
AnEco compostable products not only help protect consumers' health but also demonstrate An Phat Holdings' responsibility to the society and future generations as they can completely decompose into water, carbon dioxide and bio-humus after being buried for six to 12 months.
In Vietnam, An Phat Holdings is the first producer of compostable raw materials and products meeting international standards, Cương said. It has received many of the world's most prestigious certificates, such as OK Compost Home & OK Compost Industrial of TUV Austria, BPI Compostable of the United States and Food Contact by SGS.
In order to enhance the distribution and consumption of eco-friendly products, An Phat Holdings has joined forces with the Ministry of Industry and Trade and the BRGMart supermarket chain to launch the "Green transformation-piloting the green distribution and use of AnEco completely compostable products" program. This is the first step of the firm's plan to put AnEco products on shelves of all supermarkets nationwide, helping consumers live green and protect the environment.
From September 18 to 20 last year, when shopping at the BRGMart supermarket at 174 Lac Long Quan Street in Hanoi, customers were provided with AnEco starch-based bags at no charge. The bags are now sold at only VND1,000 each.
These days, the Covid-19 pandemic is showing more complicated developments, and fast food orders and online shopping have become more popular. As a result, the demand for bags and boxes of restaurants, coffee shops and food stalls has surged.
Many F&B outlets tend to use styrofoam and plastic boxes for food packaging. However, these products are harmful to the people's health as they even have carcinogens.
Therefore, An Phat Holdings has developed alternative products made of bagasse.
After its completely compostable products have been exported to many countries, such as France, Italy and the United States, and preferred by Vietnamese consumers and enterprises, An Phat Holdings has seen the potential of the market. Therefore, it has established a research and development center in South Korea and another in Vietnam and become one of a few enterprises in the world to own leading technologies in completely compostable products after investing in a firm in South Korea.
The group will build a completely compostable raw material factory in Vietnam. Work on the factory is expected to start this year for completion at the end of next year.
"At An Phat Holdings, we ceaselessly develop green materials for a sustainable environment," Cuong said.
Besides compostable products, the firm has produced hi-tech architecture plastic products branded AnPro, such as floors, wall panels and ceilings. These products can replace natural and industrial wood, thus reducing forest exploitation and protecting the environment.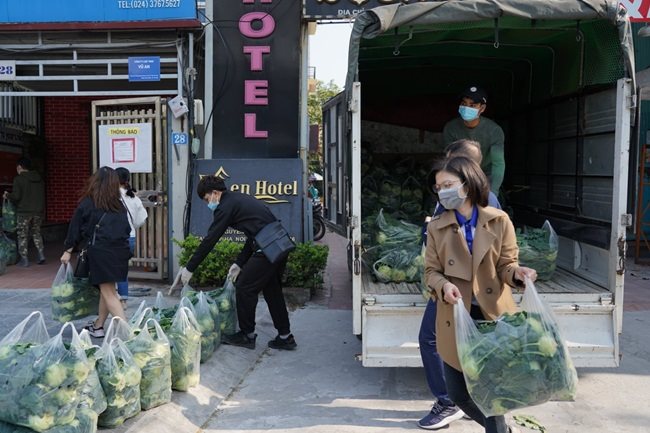 An Phat Holdings' employees help Hai Duong's farmers sell vegetables
You might be interested in