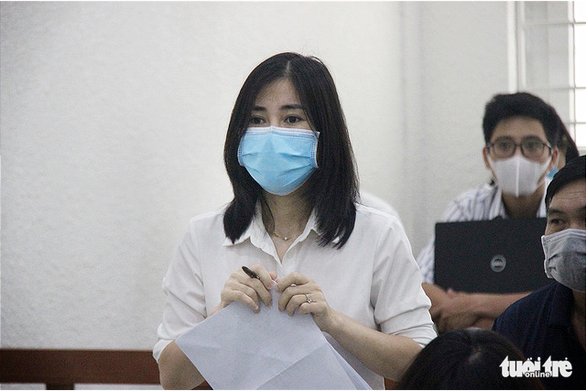 A businesswoman has been sentenced to five years in prison for organizing the illegal exit of nine people on an outbound flight of the then-Vietnamese National Assembly chairperson in 2018.
The Ho Chi Minh People's Court on Thursday tried Le Thi Lieu, former director of GVA Joint Stock Company, and her seven accomplices in the case.
Lieu, determined to be the mastermind of the illegal sending of nine people under the cover of business people to South Korea, was charged with arranging for people to flee abroad illegally.
Two other defendants indicted for the same offense as Lieu included Tran Thi Tuyet, a former official of a magazine under the Ministry of Planning and Investment, and Luong Manh Hung, former director of TD Vietnam Education Consulting and Training Joint Stock Company.
Tuyet and Hung got 20 months in prison each for their offenses.
Five others received terms ranging from 18-month suspended imprisonment to three years in jail for brokering so the nine could go abroad.
The acts of the defendants affected not only social order but also the diplomatic relations between Vietnam and South Korea, the jury said.
As shown in the indictment, on August 6, 2018, the Foreign Affairs Committee of the National Assembly (NA) asked the Ministry of Planning and Investment to make a list of enterprises accompanying the NA chairperson to China and South Korea.
After hearing the news, Lieu made contact with Hoang Anh, who was living in Germany, and discovered that many residents in Anh's hometown -- Nghe An Province -- wanted to travel to South Korea for work.
Through her uncle Trinh Bang Dung, Anh introduced Lieu to some of these people, who had to pay US$10,000 each to be taken to South Korea.
Lieu directed her staff to prepare all necessity dossiers and procedures so that the nine people, under the guise of entrepreneurs, and her could accompany the NA delegation.
The nine paid $11,500 each for their illegal trip so that Dung could earn a profit.
Due to schedule changes, the NA delegation later visited South Korea only, from December 4 to December 7, 2018.
After arriving in South Korea on December 4, 2018, the nine impersonators managed to separate from the delegation and fled away to find jobs.
Police have identified six of the nine people, of whom four have been deported by South Korea while the remaining two have hidden themselves away.
At the court, Lieu told the jury that she had advised these so-called business people not to flee.
She also rejected the allegation that she had earned $30,000 from them, saying it was "too high" while the actual amount was "very little."
Investigators will handle the case of Anh later as she is now living in Germany.
You might be interested in