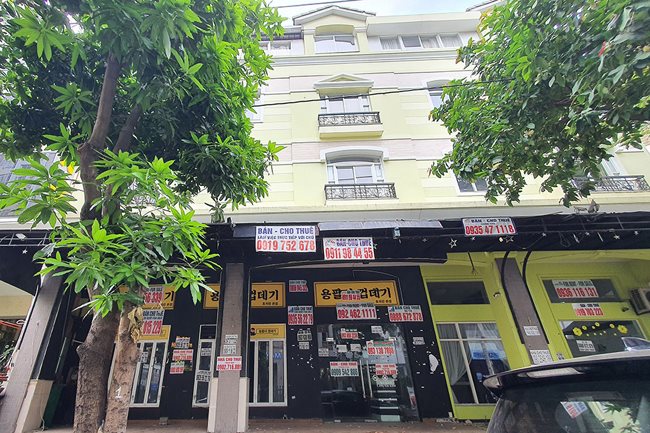 Advertisements for apartments for lease are stuck on the façade of a building. Owners of apartments for lease will be subject to higher taxes than other service providers - PHOTO: TNO
HCMC – The regulation that people with annual incomes exceeding VND100 million have to pay value added tax (VAT) and personal income tax (PIT), which was issued six years ago, is no longer appropriate, especially for those leasing their apartments in large cities, while the HCMC and Hanoi Tax Departments have plans to tax apartments for lease.
The HCMC Tax Department will pilot the plan in five apartment buildings in District 11--Res 11 at 205 Lac Long Quan Street, Thuan Viet at 319 Ly Thuong Kiet Street, Bao Gia at 184 Le Dai Hanh Street, Khai Hoan at 624 Lac Long Quan Street and another at 70 Lu Gia Street, the local media reported.
The rentals of apartments in these buildings are all over VND10 million per month, meaning that all apartment lessors will have to pay taxes, including a VAT and PIT rate of 5% each.
The Hanoi Tax Department has also asked its subordinates to employ measures to avoid tax losses from apartments, offices and retail spaces for lease.
With the regulation, the owners of apartments must pay higher taxes than providers of other services, such as massages, karaoke, computer repair and construction consulting and supervision, which are subject to a PIT rate of 2% and a VAT rate of 5%, and insurance and lottery agents which pay only a VAT rate of 5%.
According to lawyer Tran Xoa, director of Minh Dang Quang Law Firm, the regulation on taxing apartments for lease is outdated, causing disagreements and unfairness among taxpayers.
Therefore, Xoa proposed the Ministry of Finance amend the regulation, raising the revenue cap subject to taxes from VND100 million to VND150 million and allowing apartment lessors to deduct costs before calculating their incomes.
Sharing the view, lawyer Nguyen Duc Nghia, director of the Legal Advisory Center under the HCMC Union of Business Associations, said the revenue cap subject to taxes of VND100 million had not been changed for six years, while the consumer price index had increased remarkably. The cap should be raised by 30%-40%.
Since the Covid-19 outbreak, the Government has issued multiple support policies for enterprises but no considerable support for salaried workers and household businesses.
Taxing apartments for lease is aimed at creating fairness among business entities but experts were concerned that many investors would withdraw from this sector.
Dr Vu Dinh Anh, an economic expert, said paying taxes for the State is compulsory. However, unused land and real estate products should also be taxed to prevent wastefulness.
You might be interested in