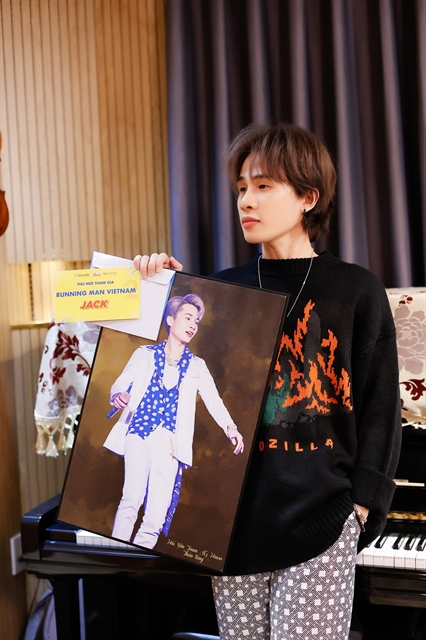 Young singer Jack will take part in the second season of Running Man Vietnam, one of the most popular TV reality shows in Viet Nam in 2019. The show will air in July. Photo courtesy of the producer
HCM CITY   Running Man Vietnam, one of the most popular TV reality shows in Viet Nam in 2019, has returned for a second season.
The 15-episode show is adapted from South Korean reality-variety show Running Man, in which participants complete in various missions in urban areas to win the race.
The Vietnamese version will feature nine participants, including MC Trường Giang, rapper Karik, actors Ninh Dương Lan Ngọc, Jun Phạm, Lien Bỉnh Phat, Trương Thế Vinh and Thuy Ngan, and singers Ngo Kiến Huy and Jack.
The show began filming in April in HCM City, and will travel to famous destinations in Viet Nam such as Phu Quốc, Sa Pa, Đa Nẵng, and Ha Noi.
Jack, 24, the youngest participant, said: "I'm very excited to experience the Running Man Vietnam's  journey from the South to the North. But I am worried because I'm scared of heights, snakes and water, and can't swim well."
"Participating in Running Man Vietnam is an opportunity for me to conquer my fears," he said.
Jack is one of a number of Vietnamese singers reaching great success in 2020. He won the Best Southeast Asia Act category at the 2020 MTV European Music Awards, and the Best Music Video Act the annual 25th Asian Television Awards in January.
Đỗ Hoang Anh, a student at Lạc Hồng University in Đồng Nai Province, and a fan of Jack, said: "Running Man Vietnam is fun and entertaining, and has difficult action games."
"It's the first time my idol is taking parting in a such game show. I can't wait to watch how he survives in the show".
Running Man Vietnam was first broadcast on the HCM City Television (HTV)'s channel HTV7 in April 2019, consisting of 15 parts.
Each episode of the first season of Running Man Vietnam earned 10-31 million views on YouTube.
The Running Man Vietnam season 2 will air on HTV on July 11.  VNS
You might be interested in