Towards Transparency Co., Ltd., has been fined 25 million VND (1.087 US dollars) after posting a map wrongly depicted Vietnam's Hoang Sa (Paracel) and Truong Sa (Spratly) Islands on its internal website.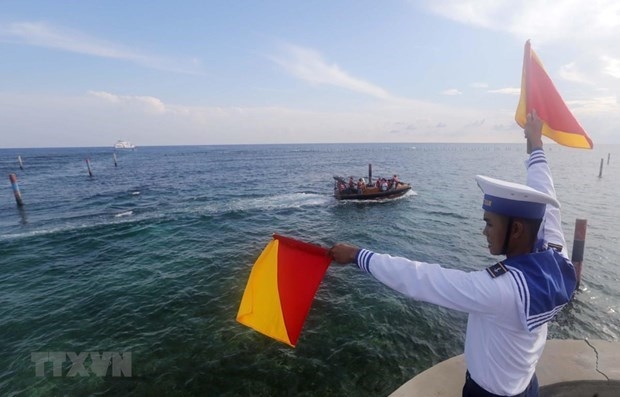 A naval soldier of Vietnam on duty on Da Lat Reef in the country's Truong Sa archipelago. Photo: VNA
On May 14, the Hanoi Department of Information and Communications issued a decision to impose administrative sanctions on Towards Transparency Co., Ltd. for administrative violations in the fields of postal services, telecommunications, radio frequency, information technology and electronic transactions.
According to the department, on January 23, 2020, Towards Transparency Co., Ltd posted an image of Vietnam's map without Hoang Sa and Truong Sa, neglecting to fully represent the country's national sovereignty.
This violates the provisions of Article 5 of Decree No. 72/2013/NĐ-CP dated 15/07/2013 by the Government on the management, provision and use of internet services and information thereon.
For the above violation, Towards Transparency Co., Ltd. was administratively sanctioned with a fine of VND 25 million according to the provisions of Clause 3, Article 4 of Decree 15/2020/NĐ-CP of the Government.
In addition to administrative sanctions, the department also confiscated the domain name towardstransparency.vn.
Vietnam has sufficient legal basis and historical evidence to assert its sovereignty over the two archipelagos in the Bien Dong Sea (known internationally as the South China Sea). Its consistent stance has been expressed many times, including at the UN and has received support and respect from many countries.
The Paracels, claimed by both Vietnam and China, are currently under Chinese control after it was seized by force from Vietnam in 1974. Meanwhile, the Spratlys are claimed and occupied – in entirety or parts – by Vietnam, China, Malaysia, Philippines, and China's Taiwan.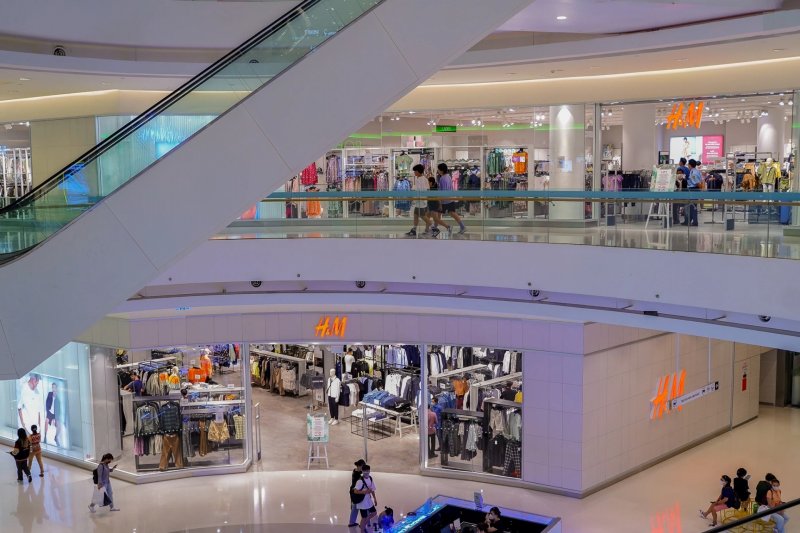 People walk past an H&M store in a shopping area in Hanoi.
Last month, Vietnamese citizens have called for boycotts of several international fashion brands for using a map with China's unlawful nine-dash line, a representation of the country's expansive claim over much of the Bien Dong Sea, including the Hoang Sa and Truong Sa islands.
The Vietnamese backlash started after the Swedish multinational clothing retailer H&M agreed to "rectify" a map it used on its website in China following requests from Chinese authorities.
While neither side revealed details of the problem with the map or how the company changed it, posts claiming that H&M has complied with the order including a graphic with the nine-dash line became widely shared on Chinese social media, which eventually reached the Vietnamese online community.
Many Vietnamese users pointed out that the problematic map is also embedded on the Chinese websites of several other fashion brands including Chanel, Louis Vuitton, Gucci and Zara.
"Businesses operating in Vietnam need to respect and observe Vietnamese laws," foreign spokesperson Le Thi Thu Hang said during a press briefing in Hanoi early April.
"Vietnam requests that all businesses respect its sovereignty over the Paracel and Spratly islands, and its sovereignty, sovereign rights and jurisdiction over relevant waters in the South China Sea," the diplomat added.
Decree 15/2020/ND-CP stipulates penalties for administrative violations in the fields of postal services, telecommunications, radio frequency, information technology and electronic transactions.
It provides clearer regulations on social network users' responsibility compared to Decree 174/2013/ND-CP promulgated in 2013.
In the new decree, Article 101 regulates fines of between 10 million – 20 million VND for the abuse of social networks to post or share false, distorted or slanderous information that offends the reputation of agencies and organisations or the honour and dignity of individuals.
Additionally, the fines will apply to posting or sharing inaccurate maps of Vietnam; advertising or promoting information about banned goods and services; providing or sharing links to websites with banned content; and posting or sharing press, literature and art works or publications without copyright permission, works that haven't been licensed to be published, or those that have been banned or revoked.
Hannah Nguyen
You might be interested in