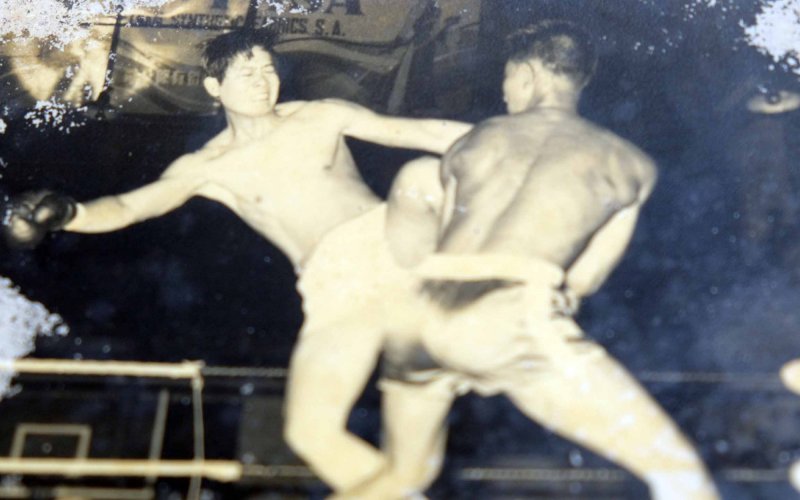 Before 1975, when Vietnam was reunified, Go Cong – nowadays Tien Giang Province in Vietnam's Mekong Delta – was a hub for well-attended martial arts exhibitions, which appealed to highly-skilled fighters from famed schools in the south of the country.
To add drama to the events, two opponents customarily prayed to their coffins before engaging.
Martial arts fights in Go Cong could be comparable to the present-day soccer matches considering the number of spectators.
Thousands would gather around the ring to witness fierce fights similar to modern-day boxing.
Fight to the death? Coffins and pride
In the 1960s, the organizing committee wanted to inject a sense of theater into the fights and placed a coffin on each side of the ring, which the fighters would touch and pray to at the beginning of their match.
Fighting to the death was the spirit, but no one ever died in any actual encounter.
However, the props were effective enough to force younger audience members to keep their light on at bedtime.
According to Le Tan Long, now 65 years old, a once famous boxer at the Trieu Tu Long martial arts center in Go Cong before 1975, what made these fights tick was essentially its sense of naked reality.
Boxers came to the stage with a pair of shorts, no chest and rib guards and very thin boxing gloves.
Their punches, kicks and special moves were as naturally done as they could be.
Long had a genuine passion for martial arts, but it took him years to talk his parents into giving their approval.
The raging ring was the stage where fighters pulled out all the stops in their martial arts center's name.
According to Long, one could earn around VND6,000 (US$0.26) for every fight.
"People stepped into the ring simply for the pride of their center," he said.
"Merely voicing their name was a source of pride and a catalyst for the fight."
Money or not, they all rushed to the ring
Bui Minh Loi, 65, used to escort fighters to their spot and act as their cutman.
He informed that people were wrong to think only the wealthy could afford to attend these combats.
Quite on the contrary, even farmers saved for these events.
"Tickets sold out every time," he said.
"The have-nots and children used to sneak in across the fences or through wall holes."
During festivals like Ky Yen – a peace prayer ceremony by a small local religion in the south of Vietnam – or the mid-February fest of the lunar calendar when people commemorated a local deity, the fiery fights attracted more people than ever.
Whether they were friendly fights, challenges or duels, the crowds were cheering.
When Go Cong began to popularize a lunar new year fun fair in the early 1960s, the authorities decided to add a boxing ring.
The ring was established on a soccer pitch opposite a high school.
It was made from wooden panels and was well lit with bright yellow stage lights, making every single move clearly visible from a distance.
Phan Van Nam, 70, used to live near the governor's mansion in Go Cong.
He recalled that a tournament lasted two to four nights, with as many as six pairs of fighters every night.
According to him, fun fair goers tripled in numbers thanks to this novel feature, amounting to thousands of people.
Some of them crossed over 40 kilometers on either horse carts or mini buses.
"Even my cousin came. He took his whole family there just to watch these fights," Nam said.
Ladies were part of the scene as well. Young girls dressed up nicely and constituted an indispensable proportion of the spectators.
Some simply hoped to hold the hands of victors in their glory. Others could afford to bring over a bunch of flowers or a little lovely card.
One point of interest was that there were as many female fighters as male boxers in the Trieu Tu Long martial arts center.
Fighters' stories
Tan Long was a boxer from the Trieu Tu Long martial arts center.
Beginning his career in 1973, he made four appearances in Go Cong tournaments by 1975, not including undocumented challenges.
He asserted that Go Cong called more spectators than other places.
"Once there were too many people around that I got overwhelmed for a while. It took me some time to regain my vigor," he recalled.
"And there was one fight when spectators were crowding onto the ring.
"The policemen had to step in and protected us."
A few boxers left Go Cong for the urban tournaments. One of the most impressive fights on record was between Nguyen Van Doan from Can Tho and Nguyen Phi Long from Go Cong.
The fight took place in Saigon, which is present-day Ho Chi Minh City.
Based on an article written on the October 28, 1974 by the Sports newspaper, the event occurred on October 27.
"In the first round, Doan tried to win it fast and knock out Long, who remained calm and smartly fought back," the article reads.
"Carefully calculating his moves, Long suddenly sent out his knee attacks, sending Doan to the ground and unable to get up.
"The spectators were disappointed as the KO came too soon – merely 1.25 minutes into the first round."
You might be interested in