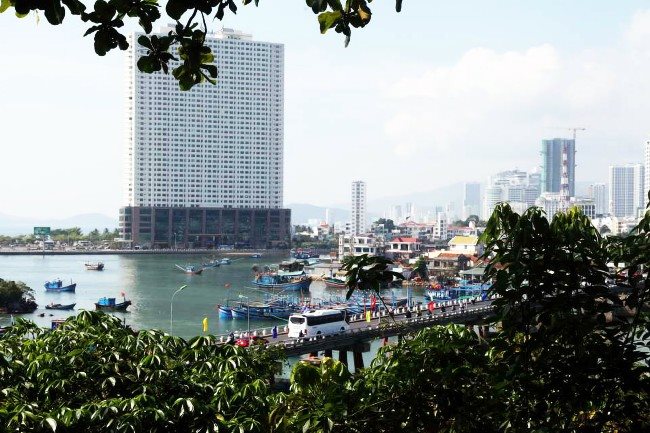 Xom Bong Bridge seen from the Poh Nagar Tower - PHOTOS: KHUE VIET TRUONG
HCMC - The Cai River in Nha Trang stretches 79 kilometers from Gia Le Islet to Khanh Vinh and Dien Khanh districts, and to Nha Trang City. The river flows into Cua Long (Big Estuary), also known as Dai Cu Huan in Vietnamese, across which Ha Ra, Xom Bong and Tran Phu bridges span.
This poetic river has seven tributaries and several old legends about them. One of them says once a log where the soul of Thien Y Thanh Mau, or Mother Poh Nagar, was hidden floated on the river. That's why a tower worshipping Mother Poh Nagar has been built on the bank of the river. The ancient tower is now a favorite tourist site, especially for pilgrims.
A boat ride on the Cai River often starts at 9 a.m. Tourists get on board the boat at a wharf near the Poh Nagar Tower.
The riparian scenes along the river rapidly unfolds before visitors' eyes. In the sunny season, travelers can admire the river being shadowed by bamboo clusters and lined with vast rice fields. Travelers on board can also watch village paths on either side, islets in the middle of it where herbs of buffalo forage for food, and clam catching areas where locals dive to look for aquatic creatures.
Every destination the boat passes may come to travelers as a surprise. Visitors are scheduled to visit a boat making facility where they learn more about how locals make their boats. Meanwhile, Hang Pagoda, which was built against a cliff, is a place where visitors feel peace of mind when listening to Buddhist chants.
Many visitors will not forget the ancient house that is said to have existed for more than 200 years. The old house boasts a vast orchard in which visitors can enjoy a cup of tea and fresh fruits prepared by the house owner. Inside the house are a collection of antiques satisfying their curiosity.
The itinerary continues with an interesting experience, which is a horse-drawn carriage trip around villages by the Cai River. The carriages were once used to carry commodities to local markets. The starting point of this leg is the ancient house. The horse-drawn trip is designed to show visitors the art of the carriage rider and how he establishes control of the horse on bumpy village paths.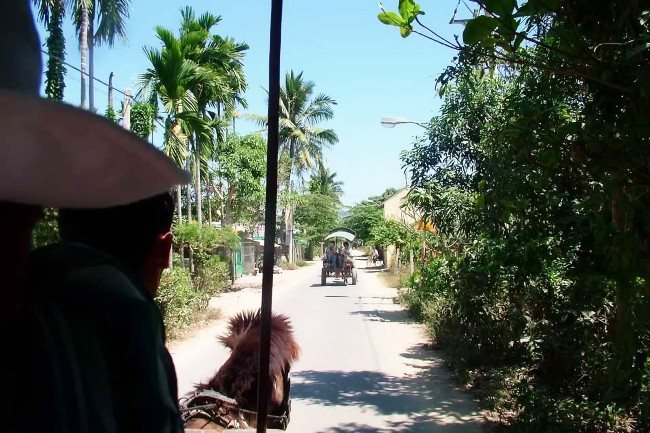 A horse-drawn carriage takes tourists around villages by the Cai River
You might be interested in