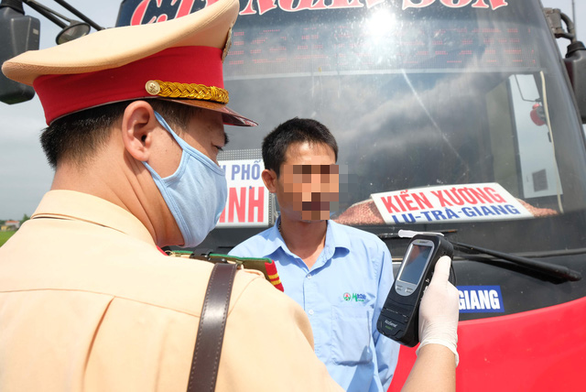 The figures of both road traffic accidents and casualties nationwide on the Reunification Day (April 30) decreased compared to those on the same day of last year, traffic police authority reported.
Twenty-four road traffic accidents occurred in the country on Friday, the first day of the four-day public holiday to celebrate the Reunification Day and the International Labor Day (May 1), taking 13 lives and injuring 11 people, the Traffic Police Department under the Ministry of Public Security said on Friday.
Compared with last year's figures, the accident number reduced by two, while the death toll and the injuries went down by one each.
The holiday saw traffic police forces handle more than 8,388 road traffic violations nationwide, of which 622 cases were involved in driving with excessive alcohol contents and five cases related to drug use, the department said.
Traffic police officers issued penalties totaling nearly VND11 billion (US$477,000) on violators.
They also detained 47 automobiles and 1,319 motorbikes and suspended nearly 700 drivers' licenses.
There was no accident on the waterways and railways in Vietnam on Friday, but waterway traffic police handled 229 violations and fined violators a total of VND522 million ($22,600), the department reported.
Notably, 91 traffic infringements were recorded within only 30 minutes, from 8:06 am to 8:38 am, at a location on the Phap Van - Cau Gie Expressway in Hanoi, which handled a total traffic of as many as 70,000 vehicles on that day.
Among these violations, which were recorded by the surveillance camera system, not fastening seat belts accounted for 49 cases and encroaching the emergency stopping lanes represented the remainder.
In Ho Chi Minh City, more than 73,000 vehicles traveled on the Ho Chi Minh City - Trung Luong Expressway on Friday, an increase of more than 20,000 vehicles from the figure of April 30 last year.
During the holiday, prolonged traffic congestions occurred on many expressways nationwide, including the Phap Van - Cau Gie - Ninh Binh and the Trung Luong - Long Thanh - Dau Giay highways, the department reported.
You might be interested in