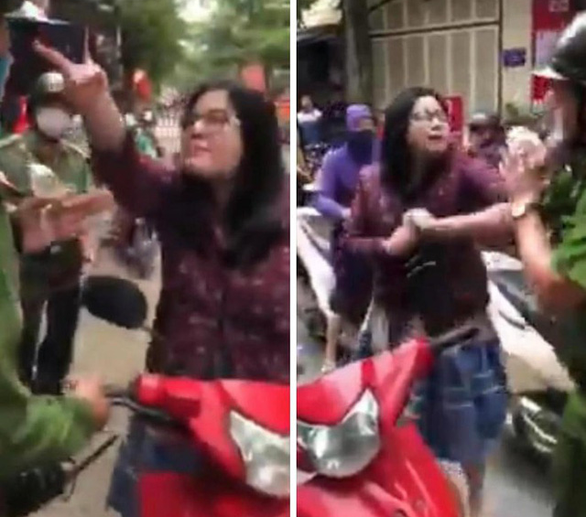 A video capturing a woman insulting, hitting and biting traffic police officers, claiming that she is a police officer as well after she was booked for not wearing helmets while riding a motorbike on a street in Hanoi went viral on social media on Friday.
Police in Hoang Mai District, Hanoi confirmed on Friday evening that the incident recorded in the video had occurred two days before.
At around 5:00 pm on Wednesday, while patrolling, police officers of the district's Giap Bat Ward found Le Nhat Anh, a 30-year-old woman living in the same district, riding a motorbike without wearing a helmet at Alley 24 on Kim Dong Street.
When the officers stopped Anh for an administrative inspection, she disobeyed and started affronting them.
Notably, Anh said that she is also a police officer at Minh Khai Ward.
This video captures a female traffic violator insulting and hitting a police officer in Hanoi, April 28, 2021.
As Dao Trong Thanh, a member of the patrol group, requested Anh to follow the administrative inspection requirement, she kept loudly swearing at the officers at the scene before suddenly using her hand to hit Thanh's hand and shoulder, as well as snatching his face mask.
The officers thus used force to apprehend Anh.
During the process of the arrest, she managed to bite another police officer at his hand.
The woman was then taken to the police station.
The police have verified that Anh is not a police officer.
They are working on document to handle Anh according to regulations.
You might be interested in