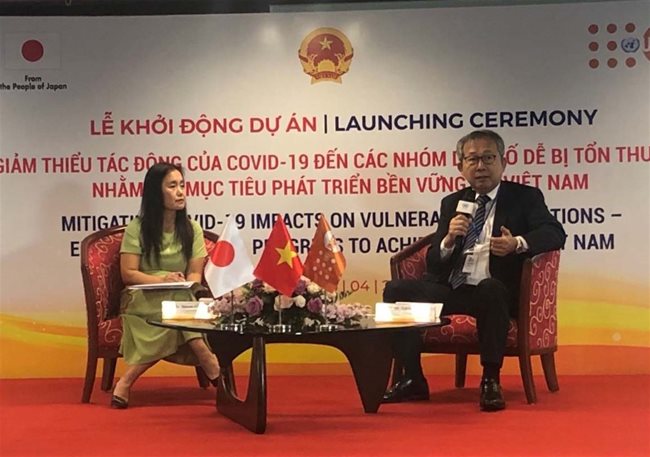 Representative of UNFPA in Vietnam Naomi Kitahara and Japanese Ambassador to Vietnam Yamada Takio address the launch ceremony of the project "Mitigate Covid-19 impacts on vulnerable populations in Vietnam" – PHOTO: COURTESY OF EMBASSY OF JAPAN
HCMC – The Government of Japan is providing more than US$2.8 million to support a project that helps Vietnam mitigate the impacts of Covid-19 on vulnerable populations and ensure national progress in achieving the Sustainable Development Goals of the United Nations.
The project, which was jointly launched by the Embassy of Japan and the United Nations Population Fund (UNFPA) in Vietnam early this week, will be executed from April 2021 to March 2022 in 14 cities and provinces nationwide---Thai Nguyen, Dien Bien, Lao Cai, Thanh Hoa, Nghe An, Ha Tinh, Danang, Quang Tri, Quang Nam, Daklak, An Giang, Can Tho, Vinh Long and HCMC.
It plans to intervene in four areas--gender-based violence, improvements to elderly care, sexual and reproductive healthcare and support for returning Vietnamese migrants.
Addressing the launch ceremony of the project, Japanese Ambassador to Vietnam Yamada Takio said, "The Covid-19 pandemic proved the importance of mutual understanding, sharing of resources and, above all, solidarity and cooperation between communities, societies and countries in tackling unprecedented challenges. This project is also a continuation of the good relationship between Vietnam and Japan."
Although Vietnam has been more effective in dealing with Covid-19 than most countries, the social and economic consequences caused by the pandemic are of great concern, with vulnerable groups such as women and girls, the elderly and adolescents hit the hardest.
According to Naomi Kitahara, representative of UNFPA in Vietnam, vulnerable groups are facing more challenges amid Covid-19 as the pandemic has deepened existing inequalities and exposed social gaps.
For Vietnam to achieve the Sustainable Development Goals, it is necessary to mitigate the impacts of Covid-19 and ensure that all people are included in the country's sustainable development process so that no one is left behind. She expected the project will represent a great leap forward for Vietnam in remaining committed to fulfilling the Sustainable Development Goals.
The project will be co-implemented by the Ministry of Labor, Invalids and Social Affairs, the Ministry of Culture, Sports and Tourism, the Ministry of Health, the Ministry of Home Affairs, UN agencies and other stakeholders.
Three service centers will be set up to protect victims of gender-based violence. The project will also organize 10 innovative campaigns on the prevention of gender-based violence amid Covid-19 and provide training on preventing and responding to gender-based violence for around 500 men and women.
In terms of elderly care, it is expected that 1,000 older people will enjoy high-quality healthcare and support services, while 58,000 others will be provided with remote health services.
Besides, 5,000 women of ethnic minority groups will benefit from a mobile application that offers information and consultation on sexual and reproductive healthcare, while 45 district-level public clinics will receive medical equipment to protect their health workers from Covid-19.
The project will also help 1,000 returning migrants complete training courses on soft skills and comprehensive gender education and provide 300 workers with counseling services on sexual and reproductive health, prevention of gender-based violence and future careers.
You might be interested in