The turquoise water, the highlight is a series of starfish exposed under the smooth sand, mesmerizing those who first come to the fishing village of Rach Vem (Phu Quoc, Kien Giang).
More than 20 km from Duong Dong town, Rach Vem fishing village, north of the pearl island, attracts people moved by the wild picture of floating houses and wooden bridges on the sea. This place is considered the "kingdom" of thousands of red starfish because, in season, they pull together in a herd, hidden under the clear water, creating a spectacle to hold tourists' feet.
If you are familiar with famous destinations such as Bai Dai, Sao beach, Hon Thom … you can go to Rach Vem, immerse in a quiet, rustic space, not yet exploited for tourism too much.
Ideal timing
The dry season, from November to April is an ideal time to visit Rach Vem. At this time, the climate is cool, sunny, and calm, helping visitors enjoy the most beautiful sea views. This is also the starfish season in Phu Quoc.
The rainy season, from May to October, is not the right time to check-in Rach Vem. At this time, the waves are strong, the water is cloudy, you cannot see the starfish, at the same time, moving to the fishing village is also difficult. If you choose to go on this occasion, you should preview the weather forecast to make the trip more convenient.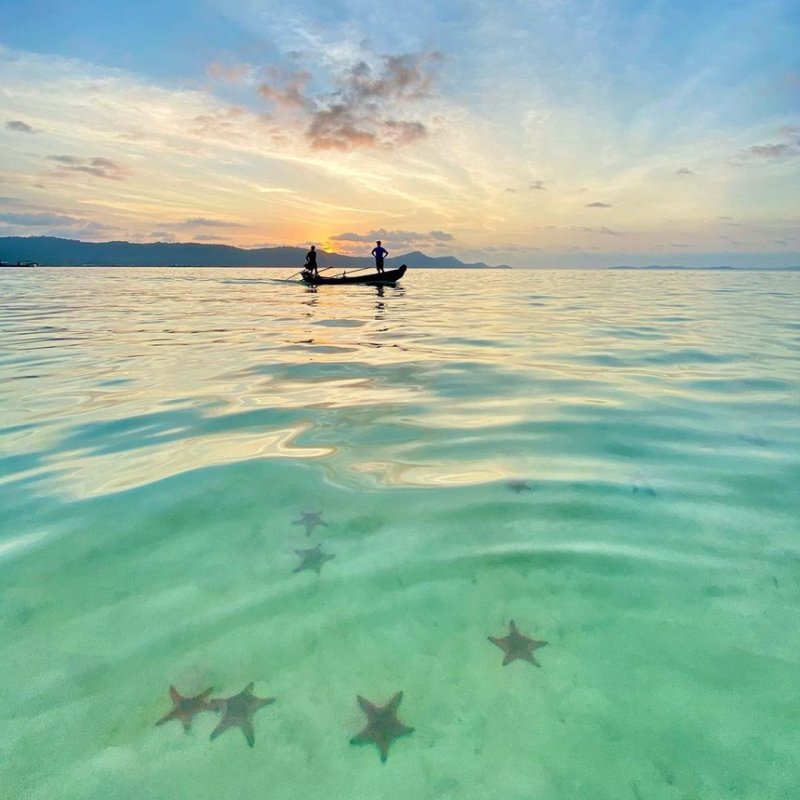 The red color of marine life stands out on the fine sand, looming under the clear water, making many visitors excited.
Move
Motorbike or car is a popular means of transportation to Rach Vem. You can rent a motorbike at the property for between 150,000 and 200,000 VND / day. In addition, a group of friends or family can rent a car from 700,000 VND / day.
There are 3 main roads to the fishing village of Rach Vem.
From the center of Duong Dong : This is the most popular direction. You go straight towards DT973. The road is loved by many people because of its location near the airport, with many resorts, eateries, restaurants …
From Vinpearl Phu Quoc : You go back to Duong Dong town, near Cua Can bridge, turn left when you meet the intersection.
From Thanh Thoi ferry : This line is for those who take the ferry from Ha Tien to Phu Quoc Island. You turn right to Duong Dong, Thom beach and then to Suoi Cai junction.
All three roads reach the Suoi Cai – Ganh Dau junction. Tourists turn left, continue to run for about 30 km to reach the fishing village of Rach Vem. The passage to the fishing village is relatively difficult to go.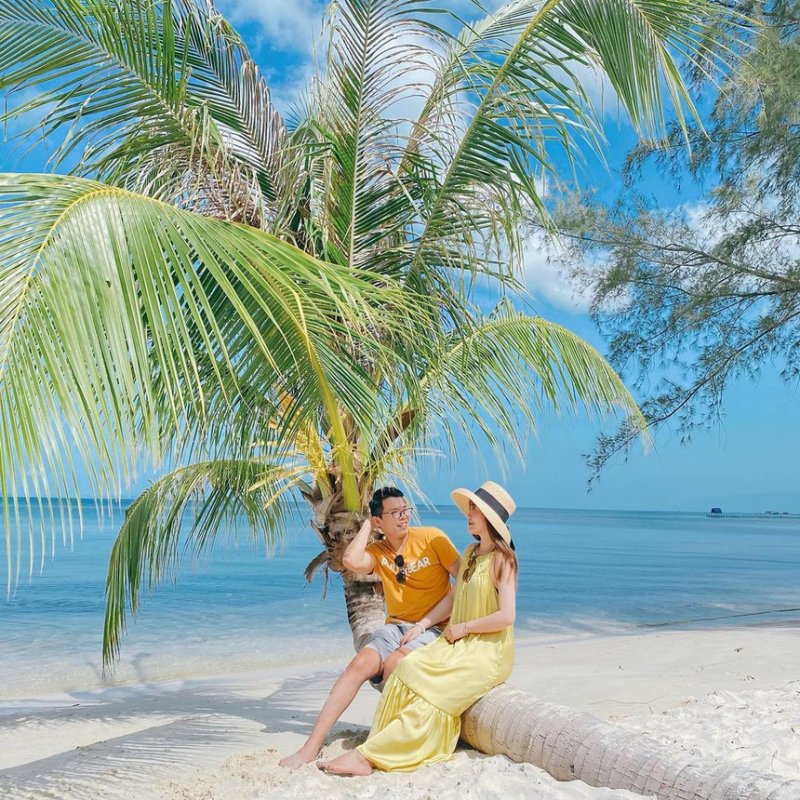 The picturesque scene in Rach Vem will "compensate" for you after your arduous journey here.
Staying
Hotels and resorts in Ganh Dau, Cua Can, 8 to 10 km from Rach Vem are the perfect suggestion for relaxation.
Vinpearl Discovery Greenhill Phu Quoc
– Address: Bai Dai, Ganh Dau
Room rate: From 4.9 million VND / night
Highlights: Owning villas nestled along the mountainside with a broad view of heaven and earth. The interesting combination between the mountains and the sea attracts visitors here.
Fusion Resort Phu Quoc
– Address: Bai Vung Bau, Cua Can
Room rate: From VND 4 million / night
Highlights: Villas with private swimming pool, sea view or green garden. Luxurious amenities combined with natural scenery bring a relaxing vacation for visitors.
VinOasis Phu Quoc
– Address: Bai Dai, Ganh Dau
Room rate: From 1.3 million VND / night
Highlights: This is a high-tech entertainment, dining, shopping, events and entertainment complex. The hotel has a mini water park, suitable for guests staying with children.
What play?
Virtual living with starfish: This is an experience not to be missed in "starfish kingdom". The sea in Rach Vem is not too deep. In the dry season, you can see the bottom, starfish are also easier to see. You are welcome to take pictures with starfish but do not bring them to hot sand as they are sensitive to sudden temperature changes.
Midday, when the sun is high, the bright sunlight will help brighten the frame. Photo: Dang Ngoc Yen Phi.
Bathing, exploring the raft houses on the sea : The beach here is still wild, but the water level is not too deep, so it is quite safe for visitors. After swimming, you can explore the raft houses along the sea. House of Love, with clear and clean water, is a popular place for tourists. Here, you can sunbathe, enjoy the fresh nature of the sunny and windy sea.
Enjoy seafood: In Rach Vem, seafood is caught during the day and processed fresh, at a fairly affordable price. Some culinary places you can refer to are Quan Con Sao, Son Hai, Love friends' house …
Other activities: In addition, hunting for dawn and dusk, and with the villagers going fishing, fishing, and squid fishing at night are also unforgettable experiences in Rach Vem. Visitor comments:
Nguyen M: "Rach Vem has a clear blue sea, few raft houses, so it feels more airy and clean than Ham Ninh. The road here is a rather bad section, so it is a 7-seater taxi ride".
Phuong: "This place is still wild and rustic. You can live virtual on the wooden bridges that go straight to the sea, but check-in is for a fee. Food in the hut is very cheap, fresh seafood".
Claire: "The food here is fresh and cheaper than in Ham Ninh. Herring salad and fried rice are must-try".
Paul Bull: "The road is quite dusty and bumpy." Follow zingnews
You might be interested in