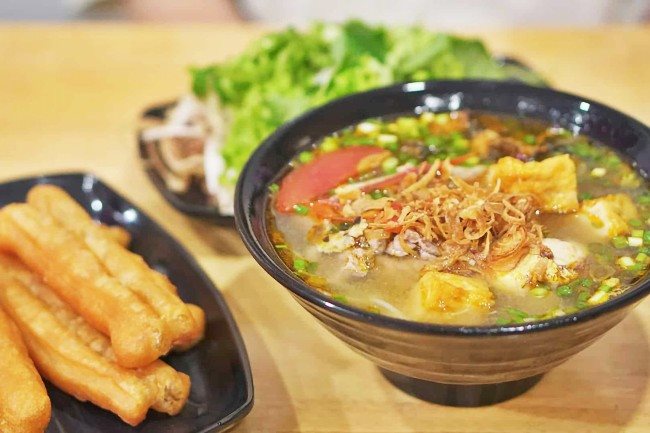 A bowl of Hanoi-style crab noodle soup - PHOTO: DAO QUAN
HCMC - This specialty of Hanoi has plenty of versions which combine special ingredients such as fertilized duck egg, beef and stir-fried snail, to name but a few. However, the version with fertilized duck egg may give an interesting gastronomy experience.
The main ingredients are of course crab flesh and fertilized duck egg. Rice-field crab is the best choice for the dish. A good field-crab has yellow roe, small pincers and glossy shell. In addition, its flesh will be quite chewy and have a sweet flavor after being cooked.
Healthy crabs are expected to run quickly and have all eight legs and a chubby body. Moreover, their pincers are always upward. Especially, when their belly shell is pressed, air bubbles soon appear. Those having a small belly shell are male crabs while those with a big belly shell are female. Female crabs have more roe than male ones. To remove the stink of crabs, their roe must be steamed first, which also makes the dish more delicious.
About the second main ingredient, a local cook often chooses young fertilized duck eggs which have no space inside when being put under light. Moreover, fresh fertilized duck eggs will sink in salty water.
The Hanoi-style crab noodle soup is served with hot Vietnam-style bagel twists, herbs, sliced banana flowers and mam tom (shrimp paste).
In HCMC, food lovers can find the dish in some eateries in Phu Nhuan and Tan Binh districts, districts 10, 1, 3, 7 and 5.
You might be interested in