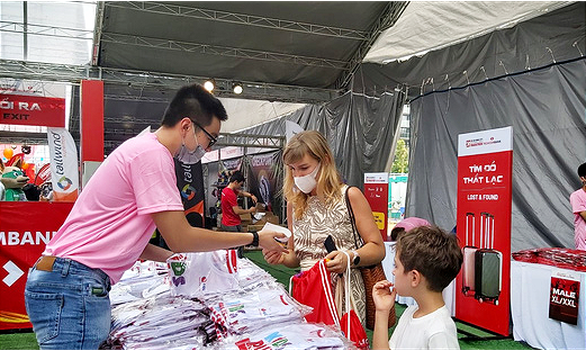 As the COVID-19 outbreak is put under well control in Vietnam, many big sports activities have been resumed across the country, including the three-day Techcombank Ho Chi Minh City International Marathon 2020+1, which started on Friday.
The competition, which has been delayed since December last year, will be wrapped up on April 11, the main racing day of the event.
The sports event is seen to kick-start the summer sports season of the city this year, Nguyen Thi Anh Hoa, director of the Ho Chi Minh City Department of Tourism, said at a press conference on Friday.
The marathon competition has received the registration of participation from more than 13,100 marathoners from 42 provinces and cities and nearly 1,000 others who carry the foreign nationalities of 48 countries and territories and are working and living in the city.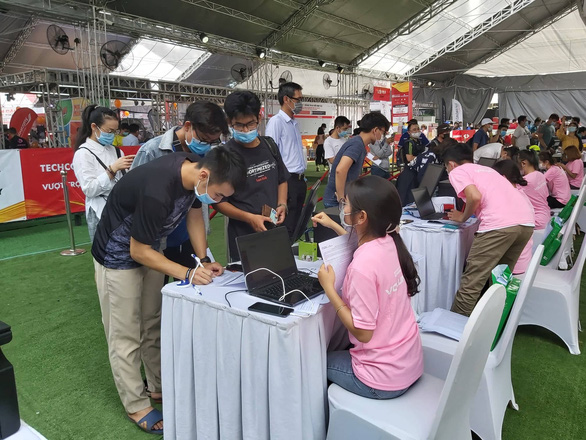 Marathoners carry out procedures to register their participation in the marathon in Ho Chi Minh City, Vietnam, April 9, 2021. Photo: N. Binh / Tuoi Tre
The route of this year's marathon (42.195 km) runs through six districts of the city, where many cultural and historical architectural works are situated, including the Notre Dame Cathedral, City Post Office, Nguyen Hue Pedestrian Street, International Square, and Thu Thiem Bridge. Therefore, the sports event will contribute to promoting the city's beauty spots to both domestic and foreign marathoners.
With an aim to give marathoners the best experience and impressions, the organizing board has applied many technological applications to the event.
For example, marathoners simply use their QR codes (issued be the organizer) and their citizen ID cards or passports to receive their race kits.
"The city will focus on domestic tourism development this year, so many cultural and sports activities will be organized to serve domestic travellers," Hoa said.
Tourism combined sports is a model that Ho Chi Minh City is aiming at in the post-pandemic tourism recovery process. Such sports activities many help the city revive the tourism industry and related services such as hospitality, gastronomy and shopping.
You might be interested in