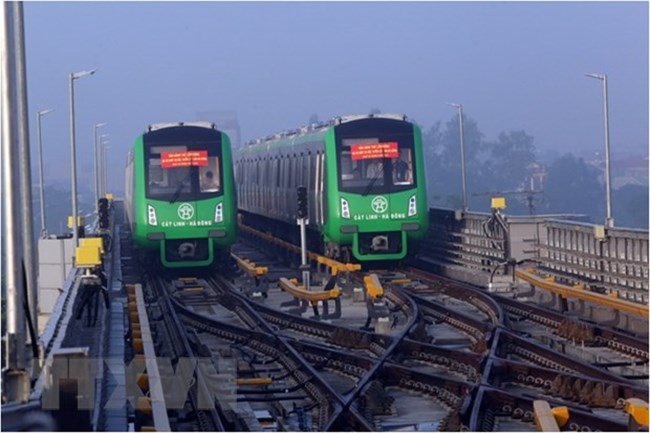 Two trains are seen on the Cat Linh-Ha Dong metro line. The first urban railway of Hanoi City will be handed over to the Hanoi government this month - PHOTO: VNA
HCMC – The Ministry of Transport will hand over the Cat Linh-Ha Dong metro line project in Hanoi to the municipal government this month so that it can be put into commercial operation later this month, said Minister of Transport Nguyen Van The.
At a traffic safety conference on April 9, The said the Ministry of Transport had cooperated with the Hanoi government to act on the consulting firm's recommendations on the safety of the project, the local media reported.
Earlier, Hanoi Vice Chairman Duong Duc Tuan had proposed the ministry direct the project's management board to coordinate with Metro Hanoi Co., Ltd to eliminate shortcomings in the project.
Tuan also suggested the ministry issue licenses for train drivers of the metro line.
At the conference, Deputy Prime Minister Truong Hoa Binh required the relevant agencies to prevent further delays and ensure the safe operation of the project.
Since March 31, the Ministry of Transport, the Hanoi government and the Chinese contractor have reviewed assets to hand over the project to Hanoi. The process will last for three to four weeks.
Thus, after a decade, the construction of the 13-kilometer Cat Linh-Ha Dong metro line with 12 elevated stations finally stands completed.
In December last year, the project was operated on a trial basis. French consulting firm ACT later issued a safety certificate for the project.
You might be interested in