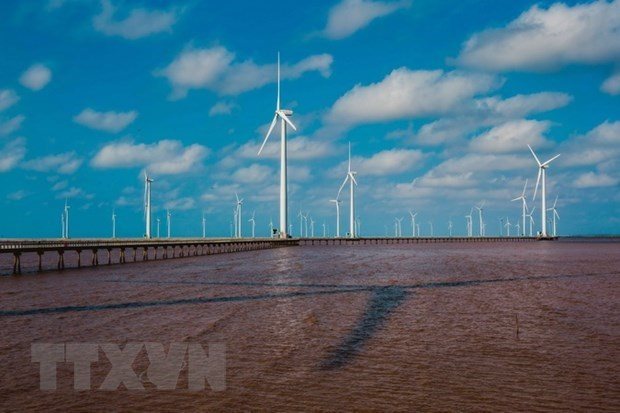 A wind power plant in Bac Lieu Province. EVN mobilized approximately 7.8 billion kWh of power from renewable energy sources during the first three months of the year – PHOTO: VNA
HCMC – The State-run utility Vietnam Electricity Group (EVN) mobilized approximately 7.8 billion kilowatt hours (kWh) of power from renewable energy in the first three months of the year, surging 181% against the 2020 figure. Of this, the amount of electricity from solar energy accounted for over 7.13 billion kWh, according to EVN's recently-released report.
In the first quarter, the volume of electricity produced in the country and imported from overseas reached some 60 billion kWh, up 4.1% compared to the same period last year. Of the amount, EVN and its subsidiaries generated 29.22 billion kWh, or 49%, while non-EVN businesses were in charge of the remaining volume.
While the amount of power from renewable energy soared sharply, that generated from traditional sources saw a decline.
Among the traditional power sources, more electricity from hydropower plants was supplied to the national power grid, at nearly 14 billion kWh. The volume of electricity generated from coal-fired and gas-fired power plants contracted 12-21% year-on-year at 29.75 billion kWh and 7.44 billion kWh, respectively. Further, imported electricity also plunged 58% versus last year's figure to 405 million kWh.
The soaring supplies of renewable power have prompted EVN to face a number of obstacles in mobilizing various sources of power. For instance, hydropower generators had to change their capacity flexibly to offset the changes in the volume of renewable power, thus leaving an impact on the power supply at the end of the dry season. Besides, if the capacity of power generators at coal- and gas-fired power plants is activated or changed numerous times, it could lead to possible incidents.
As the volume of electricity from renewable sources now accounts for an increasing proportion and the second quarter will be in the peak dry season, the local power sector will adopt measures to ensure the safe operations of the national power system and local power market, including cutting down on renewable power supplies, EVN said.
You might be interested in