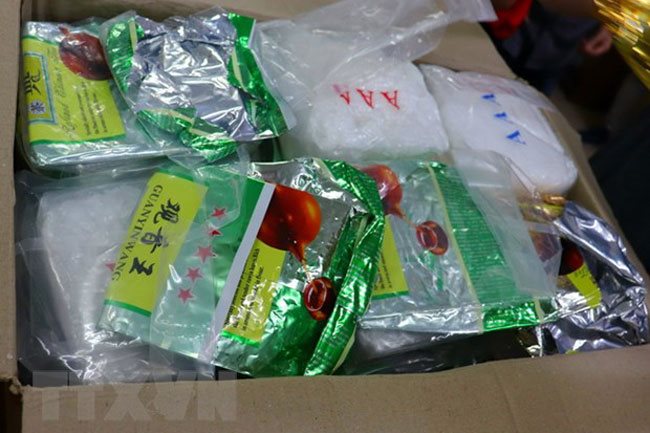 Packs of illicit drugs seized from the massive drug trafficking ring in Hanoi City – PHOTO: VNA
HCMC – The Investigation Police Division on Drug-related Crimes under the Hanoi Police Department has cracked down on a massive drug trafficking ring and seized some 60 kilograms of illicit drugs, Senior Lieutenant Colonel Pham Quynh, deputy head of the division, said today, April 7.
The police also apprehended seven suspects involved in the ring and seized multiple vehicles, documents and exhibits.
Earlier, after discovering the ring was illegally trading and transporting a large number of drugs in the city, the police mapped out a detailed plan to bust it. On March 26, the police arrested three suspects who were transporting drugs illegally at the D'Capitale Tan Hoang Minh Apartment Building in Cau Giay District and seized 31.6 kilograms of methamphetamine.
The investigation showed that Nguyen Nhu Ly, alias Meo, or Chen, aged 29, who lives in Nghe An Province, provided the ring with the illicit drugs. However, he ran away while the police were laying siege to detain the three.
On March 30, the division arrested the leader of the ring, identified as Nguyen Thi Kim Huong, aged 36, and two other traffickers, VietnamPlus news site reported.
The police confiscated over 221,060 grams of drugs and an electronic scale.
On the same day, Nguyen Nhu Ly was arrested while hiding at 87 Linh Nam Apartment Building in Hoang Mai District.
After searching his residence in Room 2102 at FLC Building in Cau Giay District's Dich Vong Ward, the police seized over 26.8 kilograms of methamphetamine and eight smartphones.
The division is teaming up with the relevant agencies to expand the investigation into the ring.
You might be interested in