Sweet and sour stir-fried squid is an easy-to-make recipe yet goes well with both typical family meals and drinking occasions.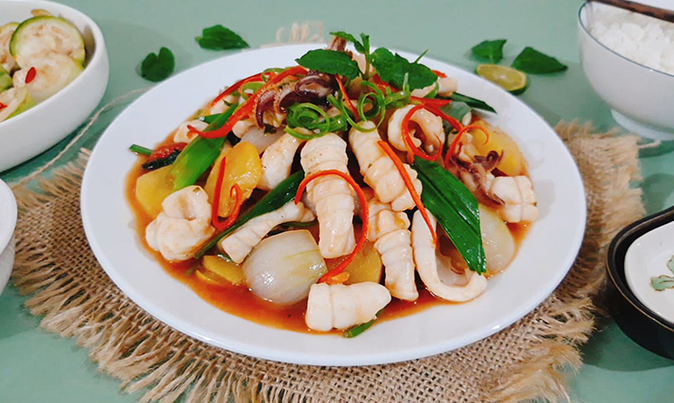 Photo: VN Express
Total cooking time: 20 minutes (preliminary processing: 14 minutes, cooking: 6 minutes)
Level of difficulty: Easy
Serving: 4-5 people
Calorie: 992 kcal
Ingredients
- 700- 800 grams of fresh squid. Choose squid that has shiny color, clear and bright eyes, with head firmly attached to the body.
- A little salt, crushed ginger, and white wine to remove the squid's fishy smell.
- 2 tablespoons fish sauce.
- 1 tablespoon of oyster sauce.
- 1 tablespoon of sugar.
- 1 tablespoon of minced garlic.
- 1 teaspoon of vegetable seasoning.
- 1 teaspoon of pepper.
- 2 teaspoons of cornstarch + a little water to make the sauce (optional)
- 1/2 ripe pineapple
- 1 onion
- 1 cucumber
- 2 tomatoes
- Side vegetables (optional): Celery, scallion, leek.
- Vegetable oil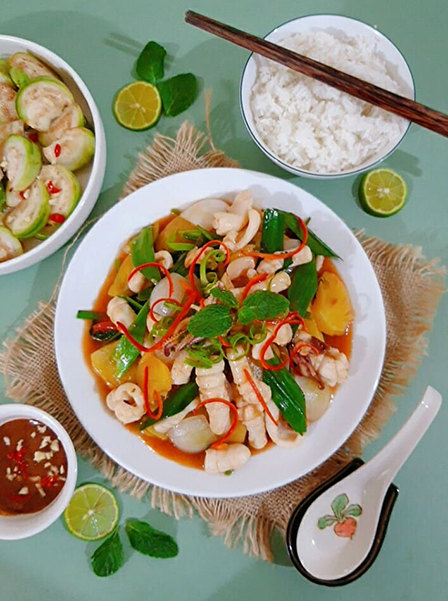 Photo: VN Express
Instruction
- Clean and soak the squid with lemon and salt, then rinse with clean water. Slice the squid.
- Boil a pot of water with a little crushed ginger and salt then put the squid in. Quickly boil the squid then take it out.
- Peel and crush pineapple
- Wash, peel and cut onions into square pieces.
- Wash and cut tomatoes
- Wash and slide vegetables.
- Make the sauce
+ Mix the sauce parts (fish sauce, oyster oil, sugar, seasoning) together in a bowl, stir well
+ Mix cornstarch with a little water, stir to dissolve.
+ Fry half of the prepared garlic, saute squid on high heat, add half of the sauce, stir for 2 minutes then put aside.
+ Fry the other half of garlic, then add pineapple, then cucumber, tomato, onion. Add the rest of the sauce to the stir fry for a few minutes.
- Then add the squid, stir well. At this step, you can add the leeks, celery, and green onions. If you want the sauce to thicken, add the cornstarch then give it a quick stir, then turn off the heat.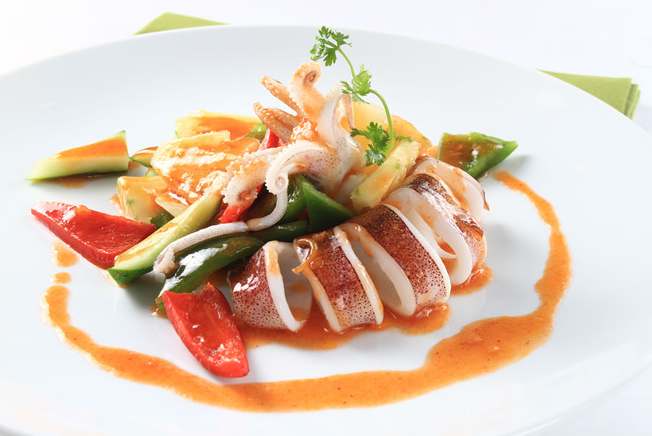 Photo: Phu Nu Suc Khoe
Decoration & Note
- Present squid on a plate, sprinkle on some pepper, onion, chili, and enjoy with hot rice.
- You should cut the squid into large pieces because when frying, it will shrink.
- It is advisable to cook the sauce first so that when you fry the squid, you can quickly add the sauce to avoid prolong the waiting time.
- Stir-fry the squid with high heat to keep the squid crispy. Avoid cooking for long, which may result in tough and dry squid.
- The vegetable portion can be customized according to taste. You can replace it with red and green bell peppers.
Valerie Mai
You might be interested in