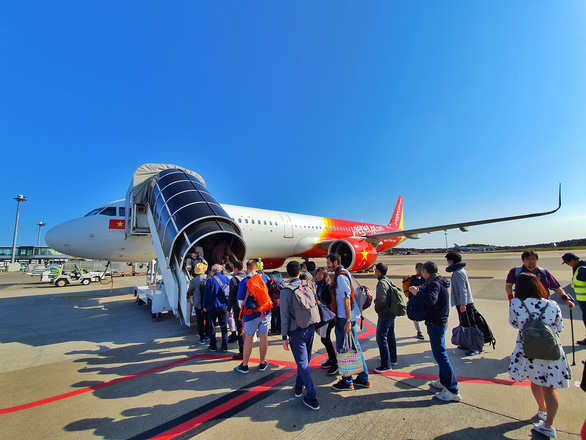 Vietnam's no-frills airline Vietjet has decided to re-operate regular international flights to Bangkok (Thailand), Tokyo (Narita, Japan), Seoul (Incheon, South Korea), and Taipei (Taiwan), the carrier said in a statement on Friday.
Flights from Ho Chi Minh City to Bangkok are scheduled to depart every Friday.
A service from Hanoi to Seoul is to take off on April 15.
Flights from Hanoi to Tokyo are slated to depart on April 6, 7, 10, 11, 12, 13, 14, 19, 20, 23, 26, 29, and 30.
Those from Hanoi to Taipei will depart on April 11.
Flights from Vietnam will only serve passengers who meet immigration rules, who are Vietnamese people flying to study, work, and visit relatives, and who are foreigners returning home from the Southeast Asian country, according to current regulations.
Passengers should actively seek information at the embassies and diplomatic agencies of related countries to complete paperwork in accordance with their regulations, Vietjet said. 
Those planes carrying passengers into Vietnam from other countries will continue to comply with the current regulations of the Vietnamese government and will have to fit plans drawn up by the Civil Aviation Authority and the Ministry of Foreign Affairs of Vietnam.
Vietnam Airlines has also announced the resumption of regular flights from Hanoi to Narita, Incheon, and Sydney as well as from Ho Chi Minh City to the Australian city between April 1 and June 30.
The carrier expects to offer flight packages which include airfares and quarantine fees for passengers from Japan, South Korea, and Taiwan, subject to approval from relevant authorities.
Vietnam is working on plans to open its sky again to international flights after having kept COVID-19 at bay.
The nation has closed its borders to inbound commercial flights since March last year to stem COVID-19.
Since then, only Vietnamese repatriates, diplomats, foreign experts, and skilled workers have been allowed entry into the country under stringent requirements, while outbound commercial flights are maintained only in limited frequency.
The Southeast Asian country has recorded 2,617 COVID-19 patients so far, with 2,359 recoveries and 35 deaths.
It has basically put local transmission under control in recent times.
You might be interested in