China will conduct a military drill in the Bien Dong Sea (internationally called the South China Sea) on Monday and Tuesday as tensions in the region continue to rise.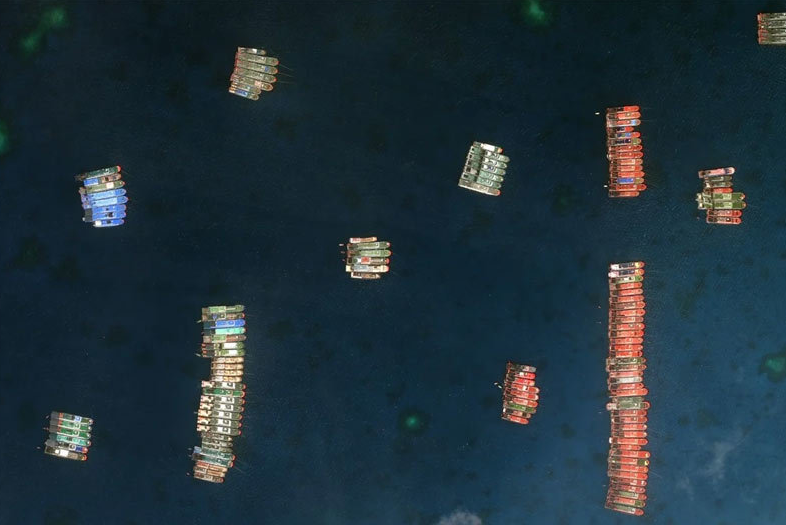 Around 220 blue-hulled Chinese fishing vessels have been moored in line formation at Whitsun Reef. (Photo: SCMP)
South China Morning Post recently quoted the China Maritime Safety Administration as it issued a notice that an area between China's southernmost province Hainan and the Paracel Islands will be closed to marine traffic due to military training.
"This exercise would invariably contribute to tensions. Though the current situation appears calm as all sides maintain restraint, there's no guarantee this could remain the case", said Collin Koh, a research fellow from the S. Rajaratnam School of International Studies at Singapore's Nanyang Technology University.
The Philippines is protesting the presence of more than 200 Chinese fishing vessels anchored at Whitsun Reef, a shallow coral region located in the Spratly Archipelago. In addition to invoking sovereignty issues, the ships' presence at the reef has raised fears that China may be targeting the reef for island-building activities to strengthen its claim to disputed territories in the Bien Dong Sea.
Around 220 blue-hulled Chinese fishing vessels have been moored in line formation at Whitsun Reef, since as early as March 7, the National Task Force for the West Philippine Sea (NTF-WPS) said in a statement released March 20. New satellite images released March 26 show the ships, in varying numbers, may have been anchored at Whitsun since December 2020, three months longer than previously reported.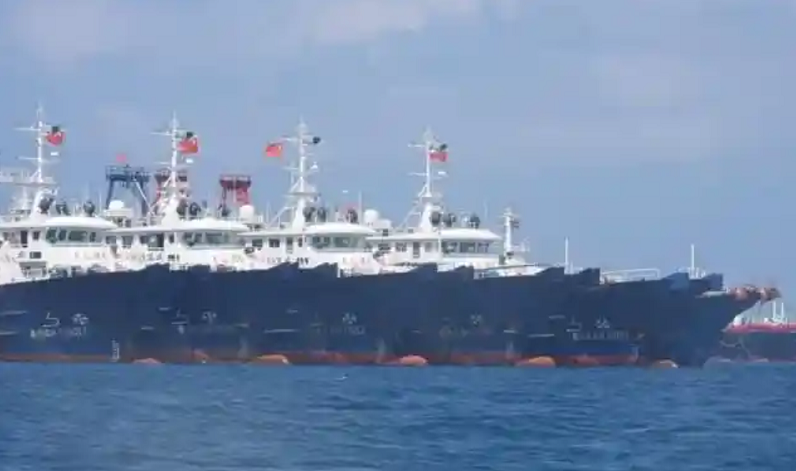 A photo from the Philippine Coast Guard shows Chinese vessels moored at Whitsun reef in the disputed South China Sea on March 7. (Photo: EPA)
The Philippine military is sending light fighter aircraft to fly over hundreds of Chinese vessels in disputed waters in the Bien Dong Sea, its defense minister said, as he repeated his demand the flotilla be withdrawn immediately. The Philippine military aircraft were sent daily to monitor the situation, Defence Secretary Delfin Lorenzana said in a statement late on Saturday. Philippine President Rodrigo Duterte reaffirmed to China's ambassador, Huang Xilian, the Philippines had won a landmark arbitration case in 2016, which made clear its sovereign entitlements amid rival claims by China, his spokesman said last week, according to Reuters.
Vietnam on March 25 demanded China to stop violating Vietnamese waters in Grierson Reef in the Spratly Islands following the docking of more than 200 Chinese boats on the island earlier this month. Vietnam wants China to end violations, respecting Vietnamese waters, and showing goodwill in enforcing the UN Convention on the Law of the Sea (UNCLOS) 1982, the Declaration on the Conduct of the Parties in the South China Sea (DOC), and refrain from complicating the situation and troubling the negotiations of the Code of Conduct of Parties in the South China Sea (COC), Spokesperson Le Thi Thu Hang of Vietnam's Ministry of Foreign Affairs said at a press conference.
Grierson Reef of Union Bank in Spratly Island is part of Vietnam's Sinh Ton Commune in Truong Sa District of Khanh Hoa Province. Hang said Vietnam's coastguard was "exercising its duties as regulated by laws", including international law, Hanoitimes reported.
Valerie Mai
You might be interested in