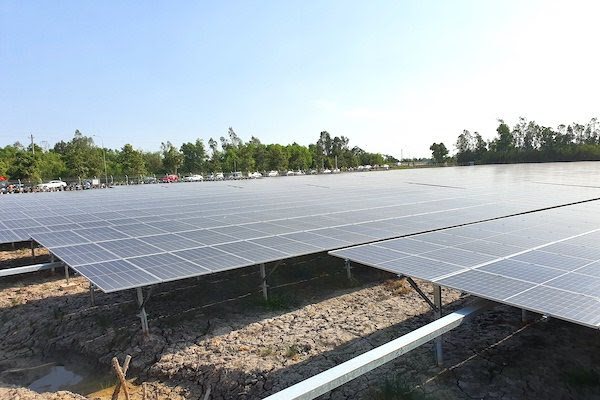 A view of the Hau Giang solar power plant, which has been put into operation - PHOTO: TRUNG CHANH
CAN THO - The first solar power plant in the Mekong Delta province of Hau Giang, which was invested by Halcom Vietnam JSC and Japan's SE Group, was officially put into operation today, March 12, featuring 79,000 solar panels.
The 35-megawatt-peak solar farm is expected to generate some 50,800 megawatt hours of electricity and bring annual revenue of VND80 billion.
The VKT-Hoa An Solar Plant JSC is in charge of managing the plant.
After six months of construction since June 2020, the VND700-billion project, covering an area of 33 hectares, was connected to the national grid late last year.
Nguyen Quang Huan, chairman of Halcom Vietnam JSC, said the project was just the first step in a long-term and sustainable investment plan of the company in Hau Giang. The company has received approval from the province to develop the Hau Giang II solar power project with a capacity of 40 megawatt peaks to optimize the available infrastructure.
In addition, the firm expected to invest in infrastructure, urban development, water supply, wastewater drainage and other sectors in the circular economy, contributing to the province's development and making it an attractive destination for investors.
The Hau Giang solar power plant marks the company's success in creating clean energy. It is expected to reach a capacity of 300-500 megawatts by 2025, Huan noted.
Besides the plant, Halcom Vietnam last year put into operation the Phuong Mai 3 wind power project in the Nhon Hoi Economic Zone in the south-central province of Binh Dinh.
You might be interested in