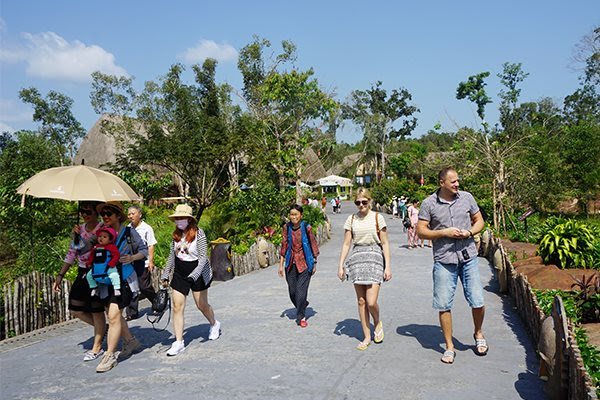 Tourists are seen on Phu Quoc Island off Kien Giang Province. Vietnam seeks to allow international tourists to come back - PHOTO: DAO LOAN
HCMC – Many local tourist sites are preparing plans to welcome international tourists back as Covid-19 vaccinations are being ramped up worldwide.
Nguyen Huu Tho, chairman of the Vietnam Tourism Association, told the Saigon Times on March 5 that some tourist destinations near Vietnam had reconnected with foreign tourism markets.
If Vietnam is not prepared, it would lag behind other regional countries with the same source markets.
Many entrepreneurs agreed that the later the country opens its borders to foreign tourists, the more it will lose when it comes to competing with regional rivals to attract international tourists.
Vietnam will have a greater edge if it opens its market before Thailand does, but this may be hard due to the short preparation period, said Pham Ha, CEO of Lux Group.
He expected the Government would reopen its borders to international travelers in the third quarter of this year so that local travel firms can bring in tourists in the last quarter. The country's success in the fight against the pandemic and its plan to vaccinate locals against Covid-19 will make the country safe for foreigners.
However, tourism management agencies and travel companies have to prepare to reconnect with source markets, including issuing tourism safety protocols, resuming visa-waiver policies, launching promotion programs and developing new products and services suitable to each market.
In positive news for the resumption of the international tourism segment, Deputy Prime Minister Vu Duc Dam is allowing people who have receive Covid-19 vaccine in other countries to enter Vietnam without being quarantined.
Nguyen Thi Thanh Huong, deputy head of the Vietnam National Administration of Tourism, said the administration and the Vietnam Tourism Association are working on a plan to allow international tourists to get back. However, a specific plan has yet to be worked out, but the resumption would be weighed carefully, with safety being the top priority.
In the initial stage, tourists from big source markets and those of all-in tours to isolated resorts may be welcomed first.
According to Tho, Vietnam should open its market for countries in the Asia-Pacific region as tourists from these markets had earlier accounted for three fourths of the country's total foreign visitors. They can also easily access the country by air and many countries in the region have brought the pandemic under control.
During the pandemic, Vietnam conducted several online promotion programs to retain customers and build their confidence in the country's ability to combat Covid-19.
In the coming periods, local tourist sites should continue informing customers of the local measures being taken to fight the pandemic and develop products appropriate to the new tourism trends during and after the pandemic.
You might be interested in