Even though they are over 70 years old, Mr. and his wife Minh (Long Xuyen, An Giang) are still together traveling through Vietnam by motorbike, through some Southeast Asian countries, and in America.
Before 1975, Mr. Mong Phuoc Minh (73 years old) was an agricultural engineer, his wife, Nguyen Thi Ngoc Cuc (71 years old), a chemical engineer, worked at Can Tho University. But 4 years later, the couple quit teaching together about handicraft production. In 2003, they retired because of illness.
Travel through Vietnam by motorbike for 40 days
When the children are grown up, the grandchildren have grown up, and the husband and wife of Mr. Minh have chosen to "rest" and entertain by "traveling" from North to South by an old motorbike to discover the beauty of country, nature, people.
The U70 rider couple has a healthy diet and daily exercise, so their health is still supple, optimistic, and consider "phoning" as a way to enjoy life and joy in old age.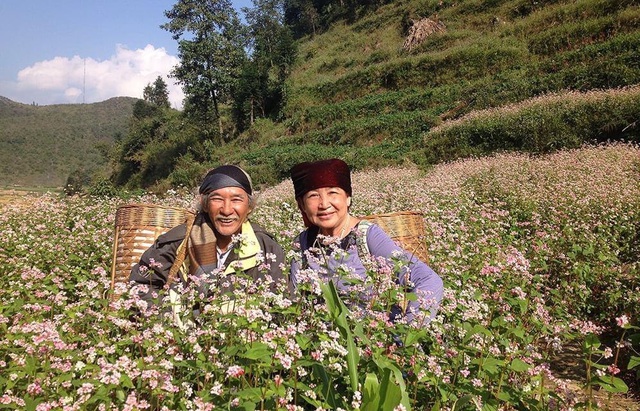 Mr. Minh and his wife on the triangular flower hills in Ha Giang, during a trip through Vietnam in 2015.
"I do not drink alcohol, only for a long time in a strange street on the road, smoking a cigarette by a coffee cup to be …" miss home light a cigarette, smoke rising into the tree … ". minutes of exercise, my wife does some Tai Chi exercises to maintain fitness, "said the U70 player.
In particular, both Minh and his wife have a passion for photography and also have a little knowledge about photography, so trips outside to explore and enjoy the beautiful scenery are also an opportunity to practice the "photography industry".
Since 1994, Mr. Minh has made "bold" decisions such as renting a car to haul his wife and two children from Long Xuyen to Bac Lieu, a year later, the whole family traveled from Long Xuyen to Phan. Set by car cup wings swallows to see total eclipse.
In September 2015, he and his wife stacked things up on a Daehan120cc car bought in 2000, and set off for 40 days to travel across Vietnam, before that he took his wife to travel to some Southeast Asian countries such as Laos, Cambodia. , Myanmar …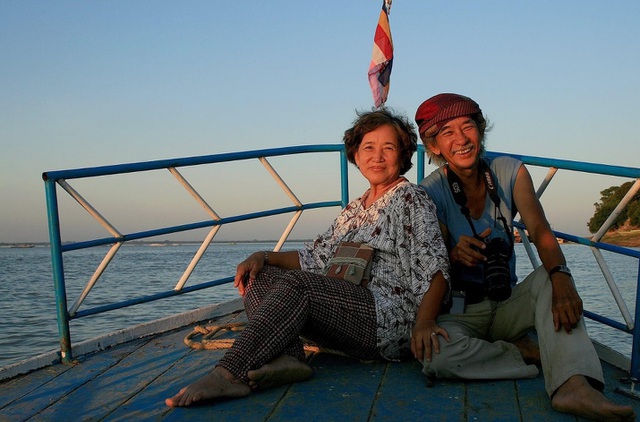 An elderly couple living in Myanmar in June 2013.
Mr. Minh said: "Everywhere I go, I miss my home, I miss my country. Going to understand more about the world, to satisfy my curiosity about the culture of the country, but when I look back, to me, there is only the countryside. Huong, our country is the most beautiful, the most lovely ".
Therefore, in dozens of trips, he created his own album "Vietnam my hometown", to save photos along the S-shaped strip of land that the couple went through, each time looking back. The splendid natural scenery recorded by himself, he shed tears.
"When I visited Ban Gioc waterfall (Cao Bang), I fainted while watching the splendid beautiful waterfall of my country", Mr. Minh recalled emotionally.
"Having a wife sitting behind you can go anywhere"
The old couple went to the forest to go to the sea together, conquering the treacherous passes not inferior to the young adventurers.
After each wandering trip, Mr. Minh sat down to edit the photos he had taken, record the trip diary through photos and share with friends. When the social network Facebook was not popular, he shared it via email, via forum pheo.
"It's really a very busy and interesting job because photo editing is also so great. I honestly rewrite what I see, what I think. Many times write passionately until 1, 2 am. This has Facebook, I share information about the trip more often on this website ", Mr. Minh said.
Traveling by motorbike thousands of kilometers for people over 70 years old is not easy. But with Mr. Minh and Mrs. Cuc now becoming "addicted", somehow every year they also have to take a trip to "get out of their soul".
And at least a little dusty adventure, self-exploration, not guided outing, in luxury motels.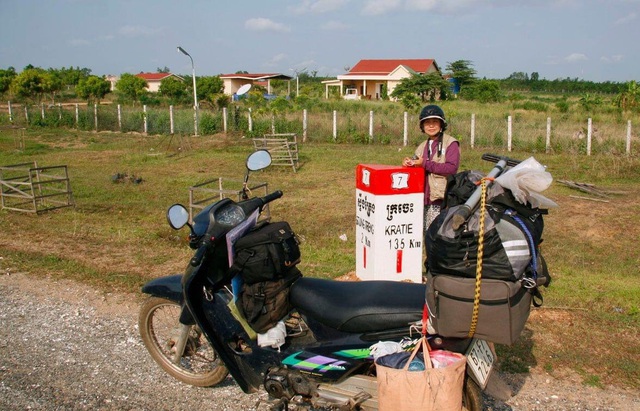 "Going out is as easy as going to the beginning of the alley to have a little coffee, so stay at home. But going out must be careful, ensure safety, not risk your life!", Touriser U70 contemplated.
That is not only the principle but also the responsibility of himself for himself and for his children, grandchildren, relatives, friends … Therefore, Mr. and his wife always have plans to cope with vertical difficulties. way.
Every trip goes with her wife, so before the trip, Mrs. Cuc will arrange her belongings from clothes to food to bring. On the way, she acted as a guide for Mr. Minh to cross the provinces of her country, your country.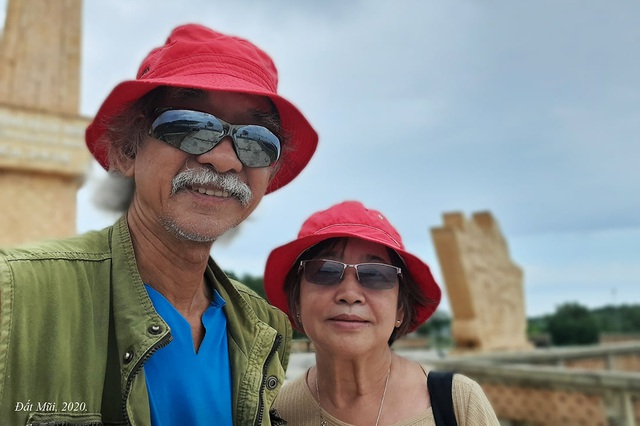 Mr. Minh and his wife always accompany each other in every trip.
Mr. Minh recalls the image always in his mind: "One afternoon at Khaosan Street (Thailand), when he took the car behind his wife to the bus stop to the Measot border gate to pass Myanmar. , looking at the woman in the front, also riding a bicycle, very dusty, I shed tears because for decades, she has always been sitting behind the motorbike to conquer all the roads with me! ".
"In a nutshell, if the wife leads the way, don't worry, wherever you go, as long as the husband and wife are always accompanying", the old adventurer concluded.
Follow Dan trí , Photo: NVCC
You might be interested in