A locality rich in cultural identity, revolutionary tradition and endowed with many beautiful landscapes by nature, Kbang district is the place with the most tourism potential in the northeast of Gia Lai province. Community-based tourism is bringing high efficiency, effectively supporting the locality to promote and preserve the traditional cultural beauty of the local Bahnar people.
In order to "relax" after a year of hard work and pressure, the family of Mrs. Nguyen Thi Hong Hanh (Ho Chi Minh City) chose Kbang district, Gia Lai province as a destination to explore and relax. Ms. Hanh said, in order to discover the indigenous culture, her family chose to stay in a homestay in Stơr resistance village, To Tung commune. After only 2 days here, her family was impressed with the rustic but delicious traditional dishes, such as grilled chicken with blue rice, sesame salt; Bitter tomato noodles, grilled pork in giant umbrella … Here, Ms. Hanh can also watch artists performing gongs, folk songs, knitting, weaving. All of these and the friendliness of the local people made Ms. Hanh more fond of people and culture in the Central Highlands.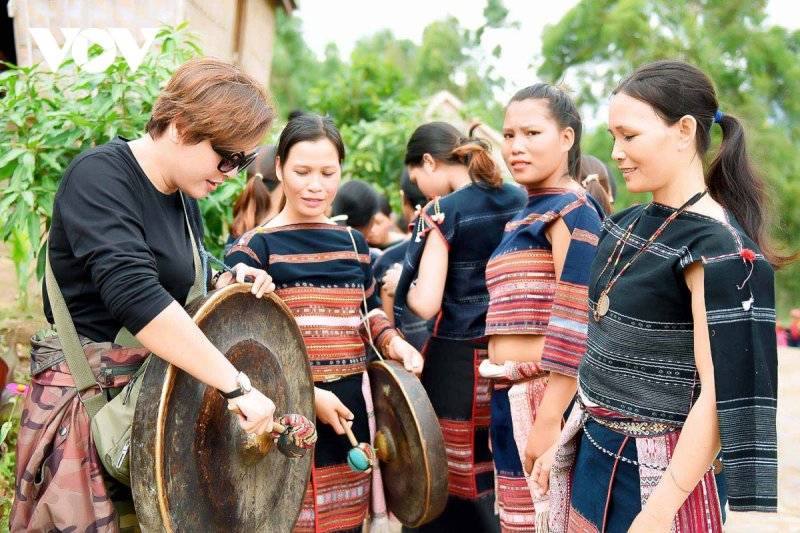 Tourists explore the culture of Bahnar gongs. Source: Duc Thuy
Mr. Dinh Grie (SN 1964) in Stơr resistance village, To Tung commune said that every day, the Stơr resistance village relic welcomes an average of 20-30 visitors from many provinces to visit. Therefore, with the guidance of the district cultural officials, the villagers told each other to keep the village streets and alleys clean; do not litter, protect trees to preserve landscape. The families serving the guests are also trained more in food processing to ensure hygiene, communication skills with guests. The gong team of Stơr village in which he is a member also tries to play the most joyful and bustling songs to introduce to visitors the unique art of his people:
Mr. Dinh Grie said: "The art of gongs of the Bahnar people we have is very diverse and unique. Every new rice celebration, new house celebration, buffalo stabbing, weddings, funerals have different gongs. Visitors coming here, we will perform the gong "Welcome to Victory." This song has a fast, joyful, bustling rhythm; expressing the joy of the Bahnar people in 1975, when the country was reunified. free cell ".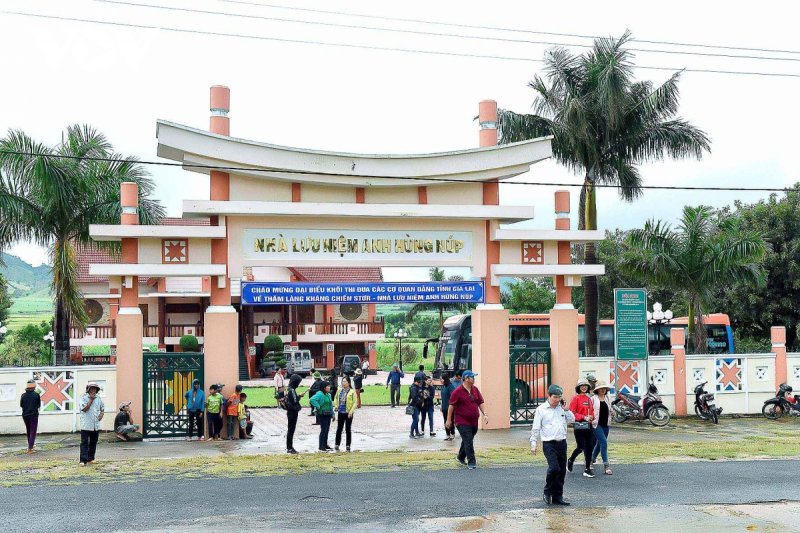 Hero hiding house in Stơr village. Source: Duc Thuy
Mr. Dinh Moi, an officer of the Kbang District Culture and Information Office, added: "Visitors to Stơr village will enjoy the art of gongs, ethnic musical instruments, and Bahnar folk songs. All are served by the villagers. Thanks to the community-based tourism, local people have an income, and the preservation of traditional Bahnar culture is also more effective. "https://4c3843cd4a5aaf11d2838a1a63b7582a.safeframe.googlesyndication.com/safeframe/1-0-37/html/container.html
Mr. Nguyen Dinh Chi, Head of the Kbang District Culture and Information Office, said that there are currently 4 local community-based tourism villages, namely Chieng village (Kbang town), Mo Hra village, Kjang village (Kong Long Khong commune) and Stơr resistance village (To Tung commune). From 2017 to now, Kbang District People's Committee has issued 2 plans for local community tourism development. Accordingly, from now to 2025, the district is determined to build 7 community-based tourism villages in the communes of Son Lang, To Tung, Krong, Dak Krong, Kong Long Khong and Kbang town, to meet tourism needs. of over 20 thousand visitors per year.
Accordingly, localities are implementing specific jobs such as restoring traditional occupations such as Can wine production, knitting, brocade weaving, making ethnic musical instruments, tools and utensils. daily activities of the people … to serve tourists to visit and experience. Along with that, now the district is maintaining 90 gong teams for children, along with hundreds of gong teams from the villages to preserve cultural space of gongs.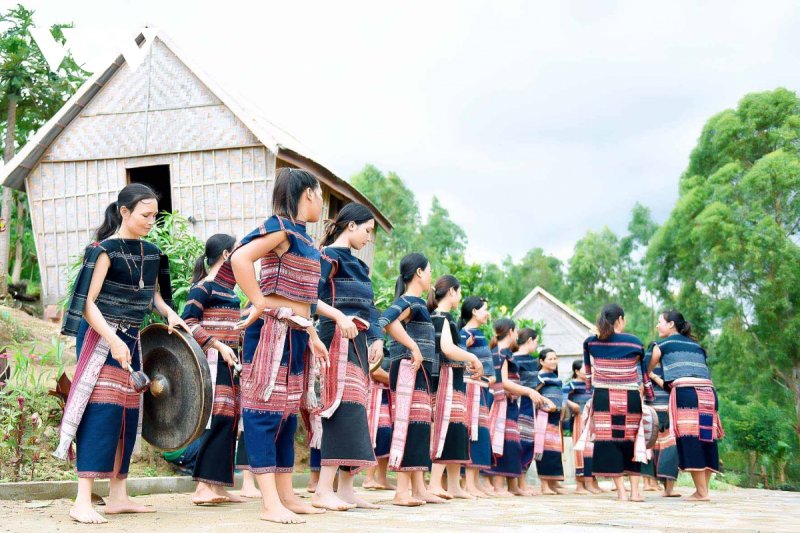 A female gong team in Kbang district. Source: Duc Thuy
Mr. Nguyen Dinh Chi said: "The community-based tourism model is determined by the district from 2019 to 2020, with an orientation to 2025 in the direction of taking community based tourism as the foundation for cultural conservation, taking cultural conservation to do. community tourism. We maintain gong festivals, restore festivals, traditional crafts of the nation, invest in fostering craftsmen. Every year the district organizes those activities associated with the tourism festival ".
The form of community based tourism in Kbang district is a sustainable economic development, not only helping the locality to exploit its historical advantages, but also helping to preserve the traditional Bahnar culture more effectively and practically./
VOV
You might be interested in