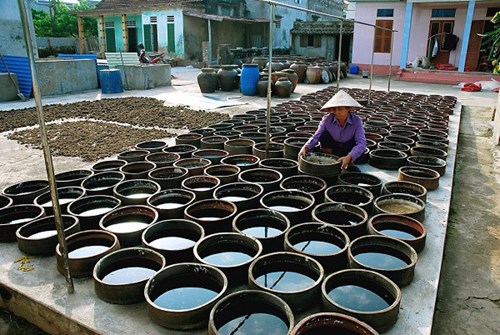 The fish-sauce making village of Nam Ô in Đa Nẵng City's Lieu Chieu District has been recognised as a national intangible cultural heritage. VNA/VNS Photo
HCM CITY — The traditional craft of fish-sauce making in Nam Ô Village in Đa Nẵng City's Lieu Chiểu District has received national intangible cultural heritage status.
The recognition from the Ministry of Culture, Sports and Tourism came early this month after it met criteria related to local cultural identity, cultural diversity and human creativity preserved for generations.
Located about three kilometres from the foot of Hải Van Pass, Nam Ô is one of Viet Nam's oldest and most famous fish-sauce making villages, with a history of more than 400 years. 
More than 100 households make 50,000l of the sauce every year. Black anchovies are their main raw materials. A kilo of the fish can produce half a litre of sauce.
Fish sauce is considered the soul of Viet Nam's cuisine, and is included in cooking as a key component or used as a dipping sauce. — VNS
You might be interested in