Lam Binh Tuyen Quang tourist area – one of the destinations that gives you the feeling of living in harmony with nature, mountains and forests. Therefore, this tourist destination always creates a great attraction for tourists when coming to Tuyen Quang to explore.
Not only bringing interesting experiences when seeing the beautiful landscape of this place, Lam Binh is also the place where many unique festivals take place. Therefore, coming here to visit will help you discover many new things. You can both enjoy the scenery and learn about the unique cultural beauty of this place.
1. Introduction to Lam Binh Tuyen Quang tourist area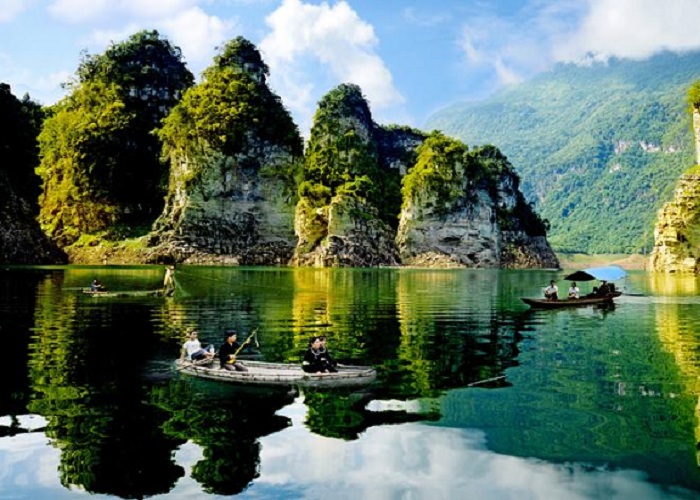 Lam Binh is a land with very beautiful natural scenery
As a district of Tuyen Quang province, Lam Binh is considered to have great potential for economic development. This is one of the tourist destinations that are having many different breakthroughs. Currently, this place has been exploited a lot to promote and promote economic development. 
In the area of ​​Lam Binh tourist area, there are 10 ethnic groups living together, so the culture of this place is also very interesting and unique to exploit. Having this, this area has more conditions to develop stronger tourism.
There are many different festivals such as the Trong Tong festival, the fire dance festival … Therefore, when visiting here, you will discover and learn a lot of new things.
In addition, this resort also has a lot of delicious dishes that are the products of the Northwestern mountains such as duck eggs, corn wine, or spring beef … All of these dishes have bold flavors of this place. . Therefore, this Tuyen Quang tourist destination will be a great suggestion for you in this trip to explore the Northwest mountains.
2. What's beautiful in Lam Binh tourist area?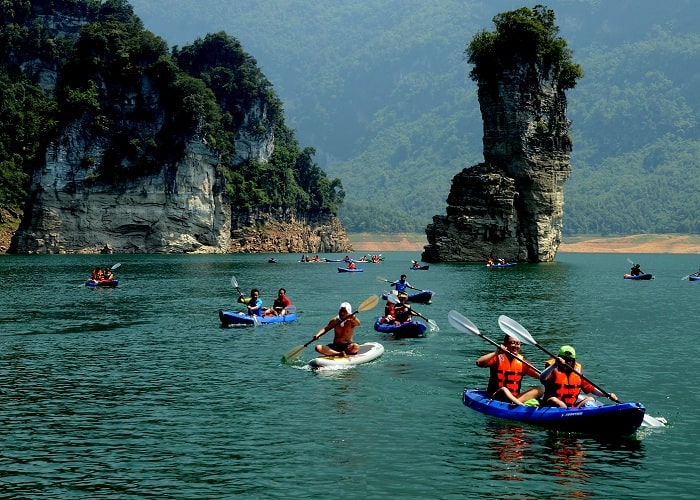 Many tourists want to come here to explore and enjoy the natural scenery
Every spring, Lam Binh is the place where many tourists choose when visiting Tuyen Quang? This place has beautiful natural scenery. Because surrounding this area is 99 majestic Thuong Lam mountains. This is the favor that nature has bestowed on this place. The feeling of coming to this land is great. You will be able to breathe fresh, cool blue air and enjoy the freedom to explore the beautiful scenery. 
At this Lam Binh Tuyen Quang tourist area , you will visit the ecological lake, admire the immense green primitive forests. All of them contribute to creating an extremely attractive natural picture that just seeing you feel excited.
There are many interesting experiences when participating in this exploration trip. In particular, cruising here by yacht on the lake or kayaking is the most popular activity today.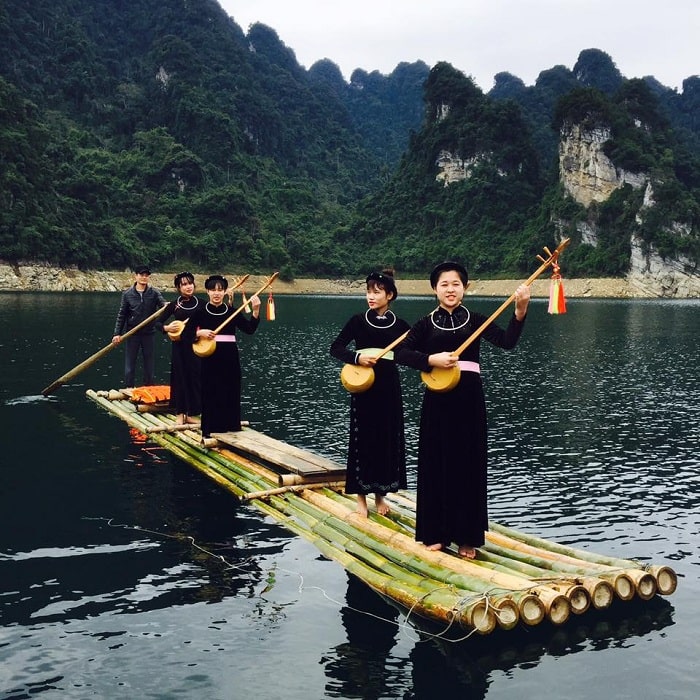 Coming to Lam Binh tourist area, you can also listen to key songs bearing the cultural beauty of Tuyen Quang
You will be guided by the lovely Tay, Mong and Dao girls and act as your tour guides. Chu du on the lake and hearing the sweet song of Then is nothing more wonderful.
In addition, Lam Binh tourist area has something interesting that will not be missed to mention the famous major festivals of this area. In particular, the cage festival is one of the major festivals of Lang Can commune, Lam Binh district. In this festive season, this place welcomes a large number of visitors to explore.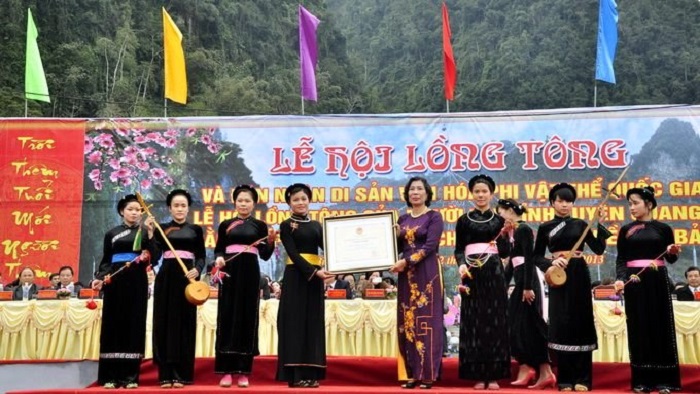 The Tong Tong festival is one of the famous special festivals of Tuyen Quang
In addition, there is a fire dance festival located in Hong Quang commune. At this festival, you will enjoy a lot of unique folk tunes and discover many traditional trades of this land such as vermicelli making, cotton weaving … Therefore, Tuyen tourism Quang's development is also largely thanks to the unique cultural features of the people here. Because besides the attractive natural scenery, Lam Binh is also marked by its 1-0-2 cultural beauty.
In order to develop tourism more and more strongly, the local government here has a form of mobilizing local people to continue to try and promote the old cultural values. At the same time, the forms of cooperation with tourism companies to promote tourism are also what Lam Binh district is promoting so that more and more people come here to travel here.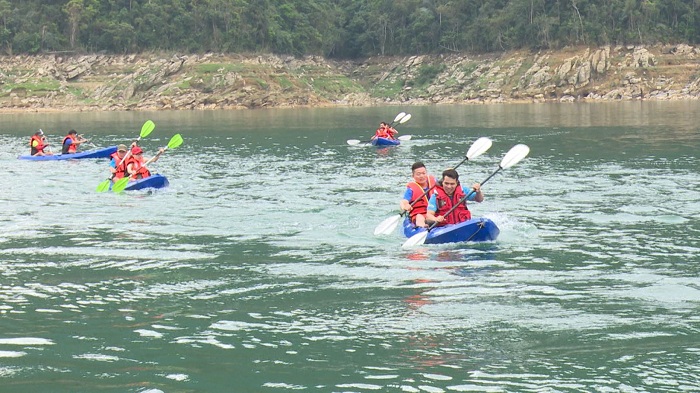 Kayaking is an interesting experience for those who travel to Lam Binh to explore
The memorable experiences that you can explore here are mountain biking to explore the natural beauty here or participate in the upland market that contains bold cultural imprints of the British peoples. I live in Lam Binh.
Next is spiritual tourism in Lam Binh. This is also one of the things that helps Lam Binh Tuyen Quang tourist area become increasingly potential for development of the province. In the area of ​​Lam Binh district, there are many famous temples such as Pu Bao temple, Phuc Lam pagoda … Therefore, tourists coming to this highland district often visit this place to enjoy the scenery. and pray for peace.
3. What to eat when traveling to Lam Binh?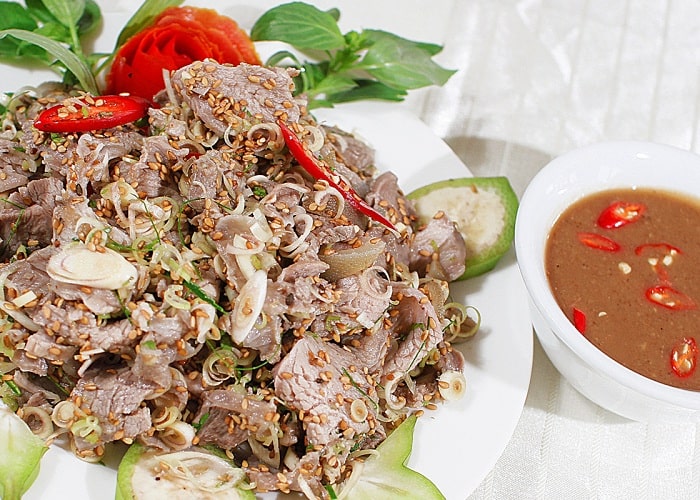 In Lam Binh, there are many delicious dishes waiting for you to enjoy
As mentioned above, Lam Binh is a land with many delicious and exotic dishes for you to explore and explore. Therefore, the next strength that Lam Binh tourist area in Tuyen Quang has is that it has many attractive products to please visitors. In which, sudden fish, Khau Mut tea, lake duck eggs or open beef vegetables, Tho Binh goat meat … are delicious and attractive dishes that you must definitely enjoy when you have the opportunity to experience here.
Although they are just rustic dishes, in this highland place, you will find these dishes very special. It represents the culinary beauty of the Tuyen Quang people in general and Lam Binh people in particular.
4. Accommodation in Lam Binh
In terms of accommodation, visitors to Lam Binh can be completely assured. Because this place has an investment to promote tourism development. Therefore, in this Lam Binh Tuyen Quang tourist area , there is a system of houses on stilts developing in the direction of homestay tourism, so when you come here you will not worry about accommodation.
There are many places to rest and stay so you can enjoy a proper vacation when you come here to visit.
You might be interested in