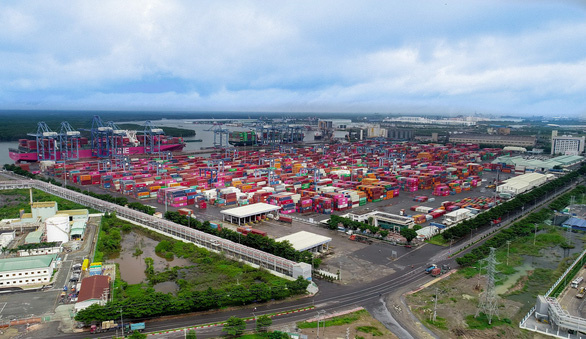 Tan Cang – Cai Mep International Terminal (TCIT) in the southern province of Ba Ria – Vung Tau was awarded the Green Port Award by the APEC Ports Service Network (APSN) Council, making it the second seaport in Vietnam to have claimed the prestigious award.
Saigon Newport Corporation, which manages TCIT, announced the honor on Thursday.
The Green Port Award System (GPAS) program is a green evaluation system for ports in the APEC region developed by APSN. 
It represents an integral part of APEC Transportation Working Group's ongoing efforts to promote green growth in the port industry.
The objective of GPAS is to encourage green and sustainable development in port and port-related industries.
In particular, it aims to provide a platform for the sharing of best practices among ports in the APEC region, to raise the profile of ports committed to green practices, and to improve their capacity for sustainable development.
"The Green Port Award is an acknowledgment of the APEC Port Community on the efforts of the board of directors and all employees of TCIT in recent years in port development and sustainable environmental protection," Saigon Newport Corporation said in a statement.
The firm claimed that since the beginning of its operations, TCIT has invested in a vast system of electrical-operated equipment, including Ship-to-Shore cranes (STS) and electric-Rubber Tyred Gantry cranes (e-RTG), neither of which rely on diesel fuel, thus reducing CO2 emissions. 
In addition, TCIT has constantly invested in equipment which runs off clean and natural energy sources in order to further improve the port's operational efficiency and protect the local environment, including replacing the entire lighting system with a more energy-efficient set-up and installing LEDs on its crane system. 
By continuously improving its handling productivity, TCIT not only helps customers by saving costs and reducing waiting time at the terminal but also by minimizing its negative impacts on the environment. 
Other solutions introduced by the seaport include systems to reduce dust in the air, the planting of trees along berths to reduce noise and radiation, building internal roads to improve the landscape and surrounding air environment, and installing specialized treatment and recycle systems for hazardous and solid waste. 
TCIT has also revamped its staff training programs on environmental protection as well as organized many activities to protect the local environment.
"The Green Port Award is a remarkable and encouraging milestone for the Vietnam seaport system in general and TCIT in particular when continuing to be recognized by reputable worldwide organizations, taking the lead in 'green port' system targets," the company's statement reads.
Before TCIT, Tan Cang Cat Lai Terminal in Ho Chi Minh City was the first seaport in Vietnam to receive the award in 2018.
You might be interested in