A campaign attracts domestic tourists
ahead of Lunar New Year
The campaign itself has attracted the participation of many famous local YouTubers, including content creators who have a significant influence over young people and have huge subscriber numbers.
As part of the drive, creators will discover many of the country's most popular dishes, explore the daily lives of local people, and take in nature throughout the nation, with all of their experiences being uploaded on to the VNAT's official YouTube channel.
It is hoped that their videos will contribute to promoting the Vietnamese tourism industry by showing vivid films and true emotions, reported Vietnamnet.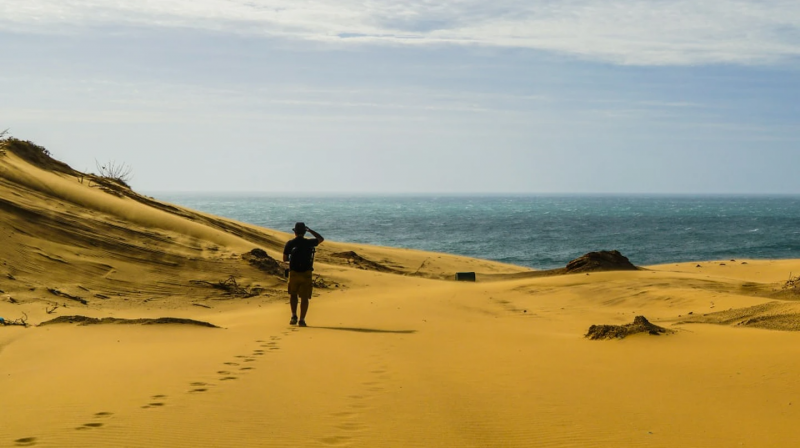 Sand dunes at Mui Dinh, Vietnam (Photo: Shutterstock)
In May 2020, the Vietnamese Ministry of Culture, Sports and Tourism announced a sixth-month campaign encouraging Vietnamese citizens to travel domestically to support local businesses after social distancing measures against novel coronavirus disease (COVID-19) were eased.
According to Youth News, the campaign was introduced when the domestic market was regarded as the primary driver for the recovery of Vietnam's tourism industry from the crushing impacts of the pandemic.
Named 'Vietnamese people travel to Vietnamese destinations,' the campaign aimed at promoting tourism destinations in the country, creating new attractive tourism products and high-quality tourism services for local residents via the implementation of diverse tourism stimulus packages, and discounts and promotions offered and committed by enterprises in the industry.
Golden rice fields in Mu Cang Chai, a photo by Tran Tuan Viet featured on the Facebook of Vietnamtourismboard.
Vietnam to develop domestic tourism with the guideline "Connection, action and development"
According to Nhandan, in 2021, the VNAT will still focus on the target of developing domestic tourism with the guideline "Connection, action and development".
The VNAT's General Director Nguyen Trung Khanh said that, due to the influence of the Covid-19 pandemic, the world tourism industry in general and Vietnam's in particular suffered heavy losses. In 2020, international visitors to Vietnam only reached about 3.7 million, a decrease of 79.5% compared to 2019; domestic visitors reached 56 million, down 34.1%. Total tourism revenue reached VND312 trillion, down 58.7% - a decrease equivalent to US$19 billion.
After the pandemic was controlled, the VNAT actively advised the MoCST to launch the domestic tourism stimulation programmes 'Vietnamese people travel Vietnam' and 'Safe and attractive Vietnamese tourism'. The programmes received a positive response from localities and businesses, attracting tourists and helping minimize damage to the tourism industry.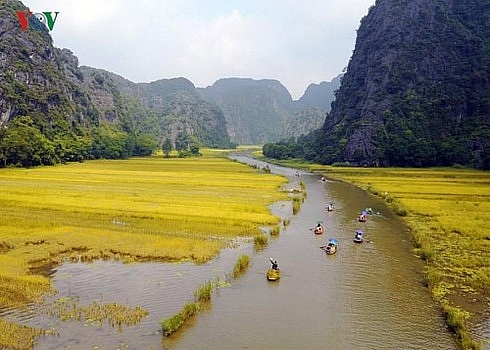 Tam Coc-Bich Dong tourism site in Ninh Binh province. Photo: VOV News
Deputy Minister of Culture, Sports and Tourism Nguyen Van Hung affirmed that in 2021, the Vietnam tourism industry implements the guideline "Connection, action and development", continuing to focus on restoring and developing domestic tourism.
Some specific tasks for the coming year are strengthening linkages within the industry to develop tourism products; building institutions, reviewing proposals to amend legal documents on tourism to suit the reality and development requirements in the new situation.
"Why not Vietnam?" - A safe and enticing destination for tourists in 2021
Recently, the Viet Nam National Administration of Tourism (VNAT) has partnered with CNN International to launch a new television commercial inviting travellers to consider Vietnam for their first holidays post COVID-19, reported Vietnam Travel.
The 30-second clip, which features some of Vietnam's top tourism products and destinations, ends with the sentence, "When you're ready to travel again, why not Vietnam?" VNAT leaders said the ad aims to remind travellers of Vietnam's charms and suggest the country as a safe and enticing destination for vacationers in 2021.
The video was created with support from the Vietnam Tourism Advisory Board (TAB), and can be viewed during commercial breaks on CNN Asia for six weeks from October 15, as well as on the national tourism website (www.vietnam.travel) and its social media channels.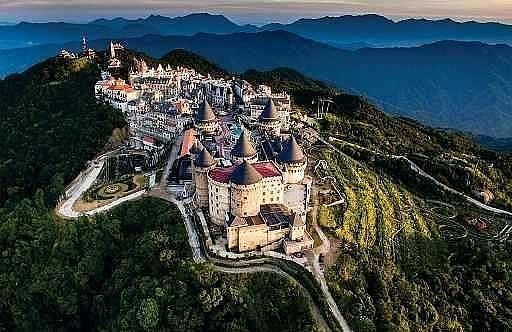 An aerial view of Ba Na Hills in the central coastal city of Da Nang (Source: VNA)
Vietnam will soon launch more activities to accompany the 'Why Not Vietnam?' video, including giveaways on social media, ad banners, and articles that highlight Vietnam's capable handling of the coronavirus and its commitment to the safety of its guests and citizens.
"The story of how Vietnamese came together to fight the virus and support each other is one that we want to share with our friends overseas," said Mr. Dinh Ngoc Duc, Director General of the Tourism Marketing Department at VNAT. "Through the 'Why Not Vietnam?' campaign we will put forward suitable tourism experiences for travellers looking to escape and unwind after COVID-19 passes, and emphasize Vietnam as a safe destination within the region."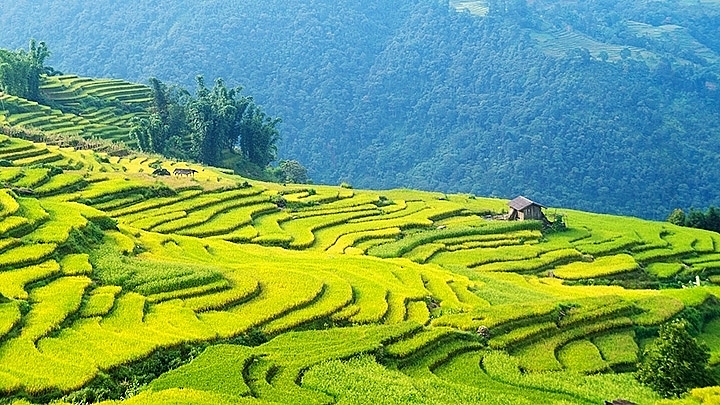 The forest and mountain in Y Ty Commune, Bat Xat District, Lao Cai Province create a golden carpet in the season of ripening rice. Photo: Nhandan
Vietnam's strong safety record since the start of the pandemic and its ability to provide socially distanced holiday options are top reasons for travellers to consider the country for upcoming trips, Mr. Duc said. He added that Vietnam has a wealth of beautiful lesser-known destinations where travellers can have peace of mind while still enjoying Vietnam's delicious food and timeless culture.
You might be interested in