UK's weather forecast
Forecasters warn more severe cold snaps are on the way later this month, as cold air outbreaks move in from Scandinavia, Express reported. The weather front looks set to spark unsettled conditions, including plummeting temperatures and heavy snow across the whole country, according to the latest weather charts.
The wintry conditions are expected to hit the UK by Tuesday January 19, with a weather chart by Netweather showing snow is forecast for much of Britain.
The map, valid for 6pm, shows much of Scotland and the north of England covered in patches of white and red, indicating between an 80-100 percent risk of snow.
Parts of Wales, Northern Ireland and the Midlands are also covered by the bright colours. The east of England has a moderate snow risk, as indicated by the yellow and green colourings.
By 6am the next morning the snow risk has increased significantly, with almost the entirety of Scotland, northern England and Wales showing a 100 percent risk of snow.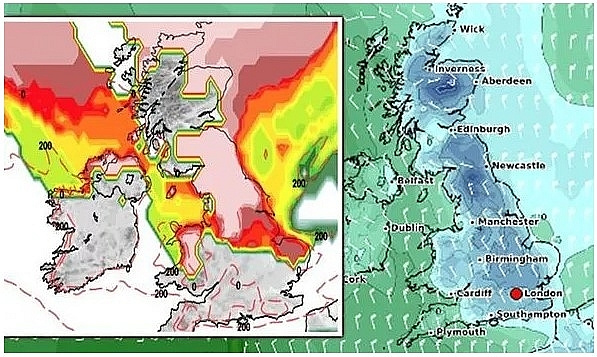 As Thursday morning approaches, the snow risk moves southwest with the West country and the south of England expected to be blanketed in snow at 6am.
By 6pm the weather front moves further east, as the snow risk chart shows the whole of the south of England, including the capital, turn white indicating a 100 percent chance of snowfall.
Weather charts also show Friday, January 22 is set to bear the brunt of the wintry conditions. Snow depth charts by WXCharts show parts of Scotland can expect 7.5inches (19cm) of snow by 6am, while the north of England is forecast to see up to 4.3inches (11cm).
Wales is expected to receive up to 3.5inches (9cm), with the south of England forecast to receive similar amounts of snow, according to the chart. Alongside the snowfall, temperatures are also forecast to plummet well below freezing.
A second weather map focusing on the minimum temperature by WXCharts forecasts the mercury could fall to as low as -12C in parts of Scotland at 6am on Friday January 22.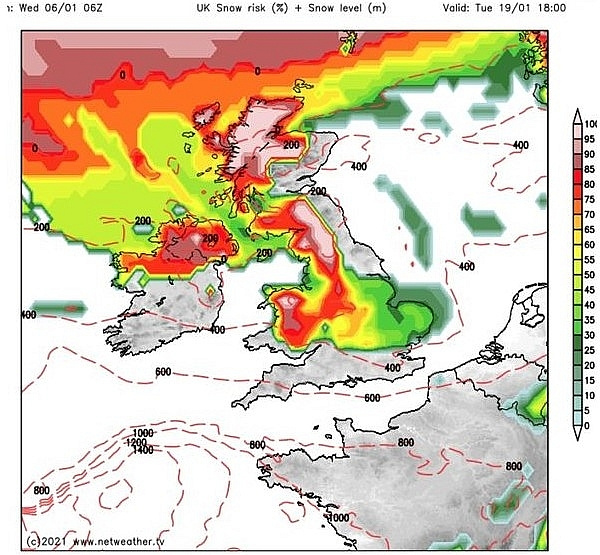 The Met Office has said the period between Wednesday, January 20 and Wednesday, February 3 is set to be characterised by unsettled conditions, as the north sees cold air outbreaks move in from Scandinavia while the south is expected to have milder conditions.
They said: "This boundary between the cold and milder conditions could also allow for some significant snowfall where the two air masses meet."
BBC forecasters also expect the end of January to be hit by unsettled, wintry conditions.
They said: "Heading later into January there is a growing risk of some of these cold snaps become more widespread and longed-lived."
"They are still expected to be the exception rather than the norm like we saw over the holiday break, but by late-January there is potential for some sharp cold snaps between fronts."
Brian Gaze at the Weather Outlook also expects colder conditions to return at the end of the month.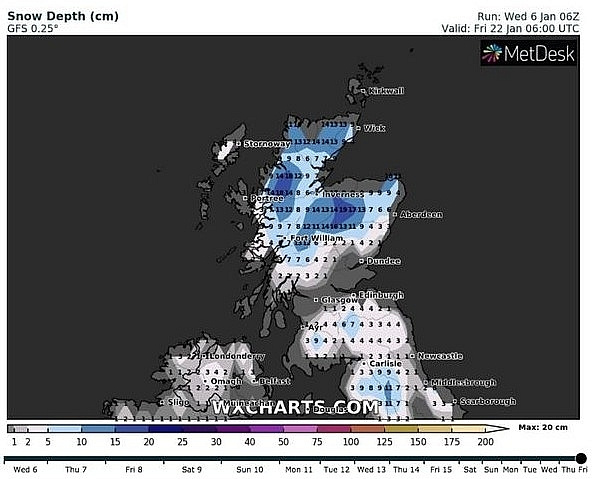 According to Weather Online, an area of snow showers affects eastern Scotland and drifts into North East England on Friday. They will be broken cloud for many areas with some sleet or snow flurries here and there. The highest risk of these is through the Midlands and Wales. Central and western Scotland as well as match of Ireland should be dry and bright but remaining cold. Some showers affects eastern parts of Ireland where it will also be breezy. Highs at 1 to 3C.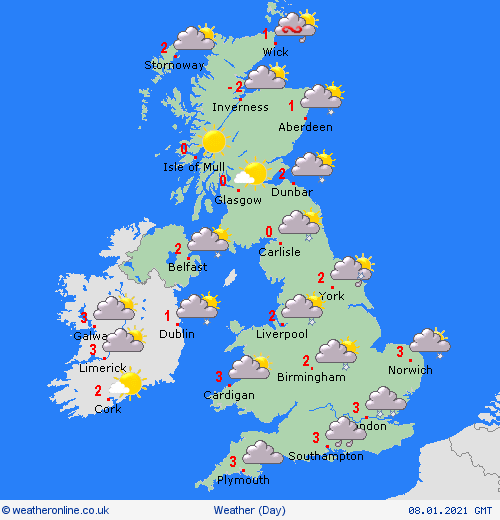 Europe's weather forecast
Heavy rain across eastern and southern Spain and Portugal with snow on the hills. More rain in the Balearics. Showers for Corsica and Sardinia as well as southern Italy. Northern Italy should be dry and fine. Greece will have sunshine and should be staying dry. A dry day too for Turkey with more sunshine to come here.
Fair for France but cold with sunshine. Showers in the Low Countries and northern Germany, these heavy and wintry. Fair in southern Germany. Poland will have sunny spells but some showers to the north. Hungary, Austria and Switzerland should all be fair with sunny spells. Coo, with wintry showers in Denmark. Cold for the Baltic States and Finland but mostly dry. Chilly too in Sweden with some showers in the east, fair for most areas. Norway will have some wintry showers on the coasts.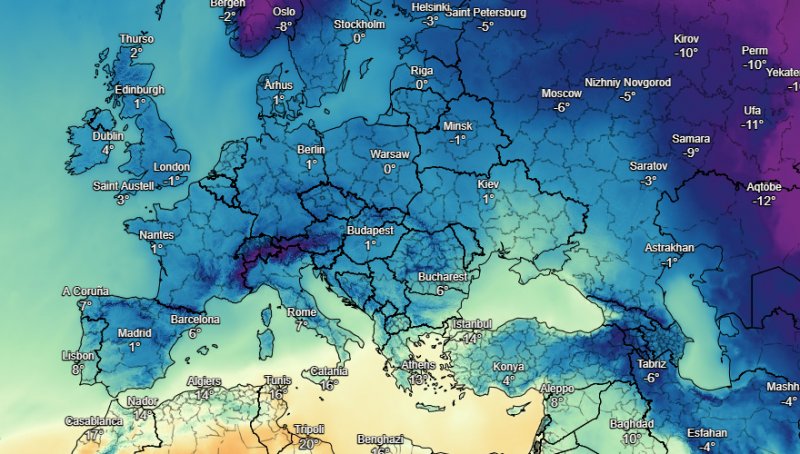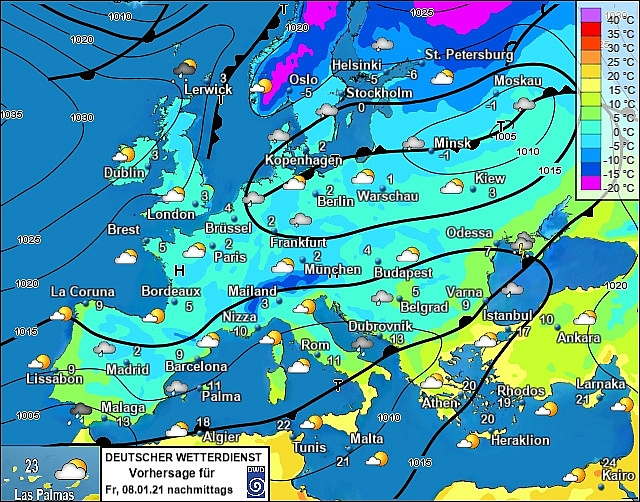 Photo: Stirimeteo
On January 8
Heavy rain in southern and eastern parts of Spain. Bright and dry for northern and western Spain and Portugal. Rain too in the Balearics and Sardinia with dry weather in Corsica. Southern areas of Italy will be wet, although most of the rest of Italy will be dry with sunshine. Fair for Greece and Turkey with both countries seeing sunshine.
Some morning fog in France, slowly lifting to leave dry weather and sunny spells. Scattered showers in the Low Countries . Wintry showers for Germany. Poland will be dry with sunny spells. Hungary and Austria as well as Switzerland will be dry with more spells of sunshine here.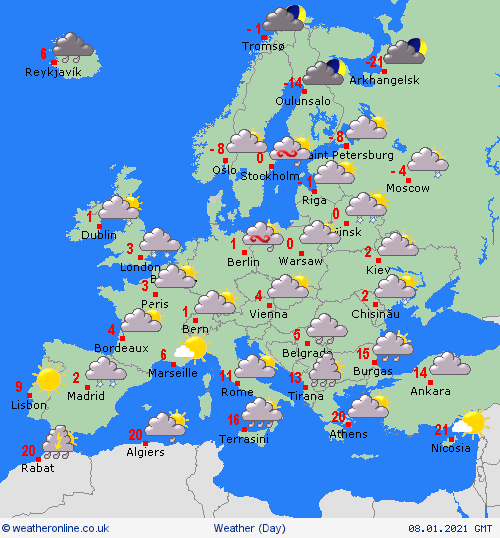 Cloud and outbreaks of snow in Denmark. Further snow in the Baltic States. Cold and dry in Finland. Some snow in the far south of Sweden, fair in central and northern areas although always some snow flurries on eastern coasts. Norway will be fair overall, although some snow showers over western coasts.
You might be interested in