According to Skymet Weather, a Western Disturbance is over Pakistan and adjoining Jammu and Kashmir.
An induced cyclonic circulation is over Southwest Rajasthan and adjoining areas.
The Confluence zone is over Northwest and adjoining Central parts of the country. South westerly humid winds from the Arabian Sea are merging with south easterly humid winds from the Bay of Bengal.
Rain and snow will continue over many parts of Western Himalayas until January 5th, intensity off will reduce on January 6th.
Light to moderate rain and thundershower with few intense spells will occur over Punjab, Haryana, Delhi, West Uttar Pradesh, east and North Rajasthan and parts of West Madhya Pradesh until January 5th. Hail storm activities are also possible at isolated pockets.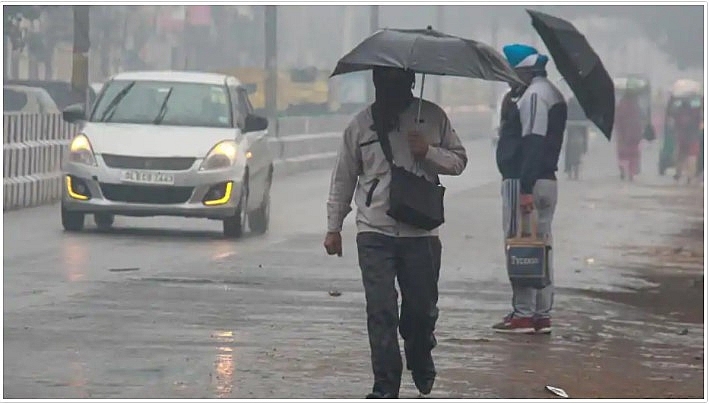 Pedestrians holding umbrellas walk in rain. (PTI Photo)
Rails will reduce significantly by January 6th. Good rains are also possible over Tamil Nadu and scattered over south Karnataka and Kerala during the next two days.
According to Hindustan Times, several parts of Delhi recorded moderate rain and thunder showers early Sunday morning. It continues to rain in many parts of the city and neighbouring parts of northwest India. Delhi recorded 25.1 mm rain in the past 24 hours till 8.30 am this morning. The normal rain expected in the entire month is 27.1 mm.
"There is intense thunder and lightning and light to moderate rain in different parts of the city now," said Kuldeep Shrivastava, head, regional weather forecasting system.
Weather department officials added that current cloud patch has almost crossed the Delhi region. However, another patch is approaching towards Delhi region from northeast Rajasthan and southeast Haryana, which is most likely to give moderate to intense spell of rain over parts of Delhi and neighbouring areas during next 2-3 hours.
The minimum temperature recorded till 6.30 am was 9.9 degrees Celsius.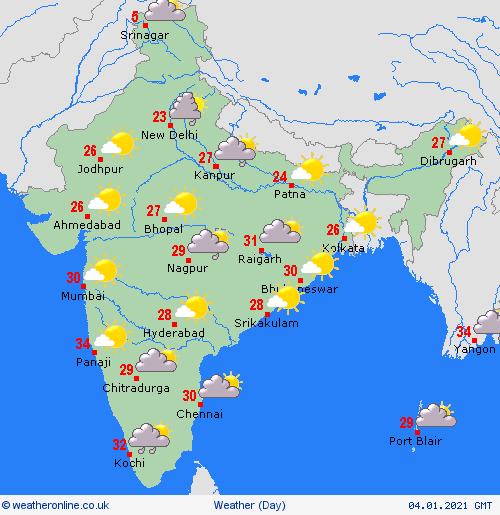 Photo: Weather Online
A western disturbance as a cyclonic circulation is lying over central Pakistan. It is likely to remain practically stationary during subsequent 2-3 days. An induced cyclonic circulation lies over southwest Rajasthan and neighbourhood and it is likely to persist over the same area during the next two days.
The confluence of south-westerlies in association with the western disturbance and lower level south-easterlies is very likely to continue over plains of northwest and adjoining areas of central India during January 3 to 5, India Meteorological Department (IMD) said in its bulletin.
Under the influence of these systems, moderate and widespread rainfall/snowfall is likely over western Himalayan region during January 4 to 5 with its peak intensity on January 4 and 5.
Widespread rainfall accompanied with thunderstorms are likely over Punjab, Haryana, Chandigarh, Delhi, north Rajasthan, West Uttar Pradesh and northwest Madhya Pradesh with maximum intensity on January 3 and 4.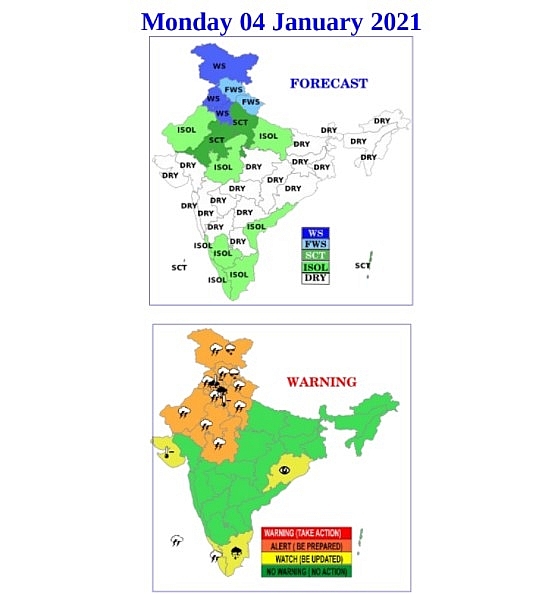 Photo: IMD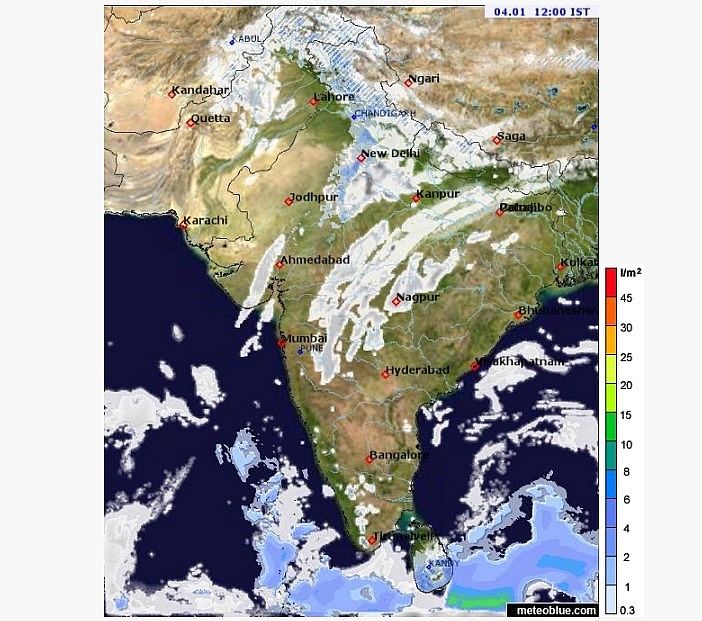 Photo: meteoblue
Hailstorm is likely at isolated places over Jammu & Kashmir, Himachal Pradesh, Uttarakhand, Punjab, Haryana-Chandigarh, west Uttar Pradesh and Delhi during the same period.
According to a MeT Department official, heavy rainfall was reported in areas across Delhi and minimum temperatures have increased due to clouding and easterly winds.
"Safdarjung observatory recorded a minimum temperature of 9.9 degrees Celsius, an increase of 6.7 degrees with 25 mm rain. Palam observatory recorded a minimum temperature of 11.4 degrees Celsius with 18 mm rain. Rain with hail storm is expected until January 6," the official said.
You might be interested in