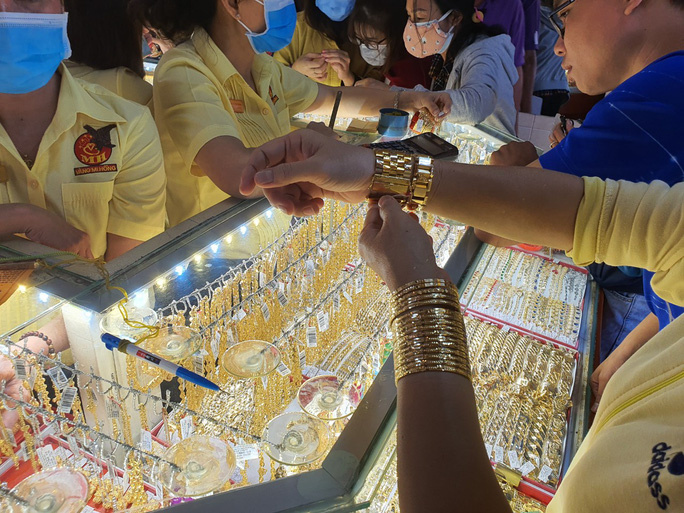 Gold jewelry prices increased. Photo: Linh Anh
At 8:30 a.m. on January 3, the price of SJC gold in Ho Chi Minh City was bought by listed businesses at 55.75 million dong / tael, sold out 56.05 million dong / tael, stable compared to yesterday.
The difference between buying and selling prices was also narrowed down to about 300,000 VND / tael by businesses to stimulate demand for transactions during the weekend.
The domestic gold market is quite quiet, slowing down when the world gold market is off trading on the occasion of the New Year. Meanwhile, the price of 24K gold jewelry of all kinds tends to go up.
Currently, the price of gold jewelry, 24K ring gold of all kinds is traded at around 54.85 million VND / volume purchased, 55.15 million VND / volume sold, an increase of 50,000 VND per tael compared to yesterday.
24K gold jewelry price is about 900,000 dong / tael lower than SJC gold price but still 2 million dong / tael higher than the world gold price.
On the international market, the world gold price is closing for the holiday at 1,898 USD / ounce, equivalent to 53.1 million VND / tael.
In 2020, the world gold price has increased by 22.5% compared to the end of 2019. And precious metals are still forecasted optimistic about an uptrend this year. Recently, Kitco survey results show that investors are still quite optimistic about the expectation of gold price going up in 2021.
Specifically, about 2,000 investors participated in the Kitco special survey on gold prices by the end of 2021. Up to 84% of respondents said the price of gold exceeded $ 2,000 / ounce by the end of 2021. Some investors It is expected that gold prices can reach 2,500 – 2,600 USD / ounce.
Many international financial institutions such as Goldman Sachs, Commerzbank, CIBC … also predict the world gold price will reach 2,300 USD / ounce this year, in the context of economic stimulus packages and monetary easing policies. many countries apply.
On the foreign exchange market, the central rate was kept by the State Bank at 23,131 VND / USD before closing the weekend. The USD price at commercial banks is around 23,035 VND / USD bought, 23,215 VND / USD sold, has been stable in recent days.
Thai Phuong
Source: nld.com.vn – Translated by fintel.vn
You might be interested in